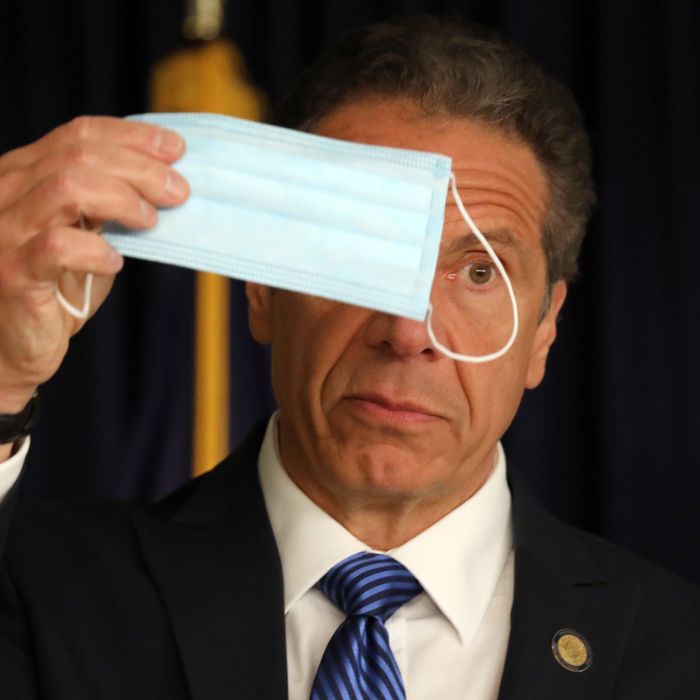 New York Governor Andrew Cuomo holds up a face mask at a news conference on May 21.
Photo: Spencer Platt/Getty Images
We're committed to keeping our readers informed. 
We've removed our paywall from essential coronavirus news stories. Become a subscriber to support our journalists. Subscribe now.
New York State, having experienced the world's biggest and deadliest coronavirus outbreak, remains far behind most other states in coming out of lockdown. But for much of the state, the reopening is finally underway.
As of May 20, seven of New York's ten regions will have begun a four-phase reopening process following the statewide lockdown which was ordered in response to the coronavirus pandemic: the Capital District, Central New York, the Finger Lakes, the Mohawk Valley, the North Country, the Southern Tier, and Western New York.
Mid-Hudson and Long Island are beginning the process of reopening this week, while New York City likely remains weeks away from beginning the process. The Mid-Hudson region began reopening on Tuesday, and Long Island followed on Wednesday, following the launch of its contact tracing program.
What requirements must each New York region meet to begin reopening?
In order to reopen, regions must first meet (or continue to meet) a variety of criteria including, most importantly, these seven health-related benchmarks regarding infection, death, and hospitalization rates, health-care-system capacity, and test-and-trace capacity.
Hospitalization and death rates
A 14-day decline in coronavirus hospitalizations and deaths from the virus on a three-day rolling average.

15 or fewer total new confirmed cases of COVID-19 or five or fewer new deaths from the coronavirus on a three-day rolling average

Fewer than two new coronavirus patients admitting to hospitals per 100,000 residents
Health-care capacity, after elective surgeries resume
30 percent of both total hospital beds and ICU beds must be available.

Hospitals must have a 90-day stockpile of PPE.
Testing and contact tracing
In order to reopen, regions must have:
Capacity to conduct 30 diagnostic tests per month for every 1,000 residents, via an appropriate number of well-advertised testing sites depending on the region's population, and testing needs to prioritize people who show symptoms or have been in contact with people with confirmed cases of COVID-19.

At least 30 contact tracers for every 100,000 residents, or more if projections warrant that.
Regions must must also continue to make sure essential workers are protected and have set up a regional control room to monitor all indicators of progress throughout the reopening phases. They will need to collect and evaluate their infection-rate data, and test-and trace programs and the reopening of public transportation systems and schools must be coordinated with surrounding regions.
Which regions have already reopened and how close are the others?
As of May 22, seven qualifying regions have begun phase one of reopening:
Capital Region (as of May 20)
Western New York (as of May 19)
Central New York (as of May 15, as were the regions below)
Finger Lakes
Mohawk Valley
North Country
Southern Tier
The progress of the regions in the seven health-related benchmarks is being tracked by the state on a regional monitoring dashboard.
New York City, where most of the coronavirus cases have been concentrated, has only met five out of seven benchmarks — it is currently the only region with a share of total beds available is less than the threshold of 30 percent.
Here is where the regions stood as of May 25:
When will New York City be able to begin reopening?
That's not yet clear, but Mayor Bill de Blasio has estimated that the city will meet the state's reopening criteria sometime in the first half of June. Governor Cuomo also expects a mid-June opening for the city.
Regarding the metrics it hasn't yet met as of May 25:
The city is working to hire contact tracers and is expected to have them ready soon, but it does not yet have the required 30 tracers per 100,000 residents.

The city's hospital-bed vacancy rate is 28 percent, but must be at least 30 percent.
What happens if a reopening region experiences a new outbreak and no longer meets the requirements?
It's not yet clear how state and regional officials will handle that if it happens.
What are the four reopening phases?
In regions where the above requirements are met, businesses will be allowed to reopen in four phases, prioritizing industries that pose the lowest risk of infection for employees and customers.
Phase One will allow construction, manufacturing, wholesale supply chain businesses to reopen, as well as many retailers for curbside pickup, in-store pickup, or drop off. Phase One retail categories include clothing and shoes, electronics and appliances, web and mail-order, florists, jewelry, luggage, and sporting goods, among others. Many nonessential retail businesses throughout the state were already been offering curbside pickup ahead of the reopening, but not all.
Agriculture, forestry, fishing, and hunting businesses can also resume, as can landscaping and gardening businesses, drive-in movie theaters, and low-risk recreational activities like socially distant sports such as tennis.
After two weeks, state and regional officials will evaluate the outcomes of the reopening and decide whether or not the region can move onto the next phase.
Phase Two will allow a wider range of businesses to reopen, including storefront retailers and businesses in the professional services, finance and insurance, administrative support, and real-estate and rental-leasing industries. Under the current guidelines, no region will eligible to begin Phase Two until at least May 30.
Phase Three will focus on the hospitality industry, allowing restaurants and other food-service businesses to reopen for dine-in service, as well as hotels — which are already considered essential businesses and are allowed to serve overnight guests, but this phase will likely mean they will be able to reopen their dine-in restaurants, spas, and gyms.
Phase Four, the final phase, will allow schools, and arts, entertainment, and recreation businesses to reopen — including theaters, movie theaters, and other entertainment venues, as well as museums and other artistic institutions. (No matter what, schools will remain closed in the state for the remainder of the current academic year.)
What else is open now?
Beaches and lakeshores in New York, New Jersey, Connecticut, and Delaware will be allowed to reopen on May 22 in time for Memorial Day weekend, provided they adhere to certain restrictions including a 50 percent reduction in capacity.
New York City
All New York City beaches are closed for swimming. Visitors must remain social distanced and cannot congregate or play sports.
Long Island
Many beaches will be open with reduced capacity and social distancing requirements. For the state-run beaches, lifeguards will on duty at Jones Beach State Park, Robert Moses State Park, Sunken Meadow State Park, and Hither Hills State Park. Lifeguards will not be on duty at Fire Island National Seashore beaches or Heckscher State Park. Wildwood State Park and Orient Beach State Park are also open.
Many county beaches (with lifeguards on duty) will only be open to county residents who can show proof of their residency. ABC7 has posted a detailed spreadsheet of which beaches are open to whom.
What else?
Horse racing tracks and the Watkins Glen International auto racing track will be allowed to reopen, without fans, on June 1.
Small gatherings are once again allowed statewide
All New York residents can once again gather in small socially distanced groups of ten people or less "for any lawful purpose or reason," Governor Cuomo announced on Friday night. The surprise move came after the New York Civil Liberties Union filed a lawsuit over Cuomo allowing gatherings of ten or fewer people for religious ceremonies to mark Memorial Day, but no one else.
Do businesses all know what phase they get to reopen in?
Probably not. The current plan is a work in progress and lacks a lot of detail — particularly beyond Phase One — and has led to confusion among businesses and industry groups. It remains unclear which industry categories some businesses will belong to as part of the plan, or how flexible the various phases may be region by region — or in reality, town by town.
The state is encouraging businesses to use an online lookup tool to determine what category they fit into and whether they are currently allowed to reopen.
Other questions also remain, like when will restaurants will be able to relax social-distancing measures after they reopen for dine-in service, or will any businesses be able to open earlier if they can serve customers by appointment only. Veterinarians, meanwhile, will be allowed to reopen statewide on May 26.
For a detailed look at how New York City restaurants are trying to handle reopening, read Grub Street's report here.
What are the requirements for businesses?
Governor Cuomo has emphasized that all businesses should begin working on their reopening plans immediately. In order to reopen, they must also meet the following criteria:
Strict cleaning and sanitation standards must be met.

Social-distancing protocols must be in place and workplace hours and shifts must be designed so as to reduce the density of people working at the business.

Mandatory face masks for all employees and customers in situations where there is frequent person-to-person contact.

Coronavirus cases must be traced, tracked, and reported to regional public-health officials.

Nonessential travel must be restricted for employees.

Liability processes must be in place (but it's not clear what this will actually entail yet).
Who is going to enforce the requirements?
The details of enforcement remain unclear, but local governments will undoubtedly be responsible for making sure businesses follow the rules. Face-mask mandates may yet prove controversial as they have in some other parts of the country, as well.
When will routine health care, dental care, and other health services be available again?
Elective surgeries are once again available in at least 47 New York counties and counting. Health care providers like dentists and ophthalmologists in the state have been able to serve patients needing emergency care, but not for routine care. It's not clear when they and other health-service providers will be able to resume business as relatively normal.
16 participating hospitals in the state have also begun a two-week pilot program during which they will once again allow family members to visit patients if they adhere to time limits, wear the PPE provided by the hospital, and submit to symptom and temperature checks.
When can you finally get a haircut?
Hair salons and barbershops will be able to reopen in Phase Two, Cuomo confirmed on May 22, but no regions have entered Phase Two yet, and it's still not clear when New York City will be able to begin Phase One.
What about travel between regions in different phases?
The reopening plan says that regions should not allow businesses to reopen if they prove to be a draw for large numbers of nonlocal visitors, but it's not clear what the metrics for that will be. The plan also says that regions must coordinate reopening plans with surrounding regions, but again, it's not clear how that will actually play out.
Will pro sports return to New York?
On May 24, Governor Cuomo announced that the New York Mets and New York Yankees could return to Citi Field and Yankee Stadium for a delayed spring training. "I believe that sports that can come back, without having people in the stadium, without having people in the arena, do it," Cuomo said. "Do it. Work out the economics if you can, we want you up." However, other professional leagues have discussed restarting the season in a centralized, sanitized location, like the NBA's discussions to return in July at the ESPN Wide World of Sports Complex in Florida.
Is there any kind of official certification or benefit available for people who have already been infected with the coronavirus and recovered?
No — nor is there conclusive evidence, at least yet, as to how much immunity the presence of coronavirus antibodies will confer.
This post has been updated throughout to reflect new information.