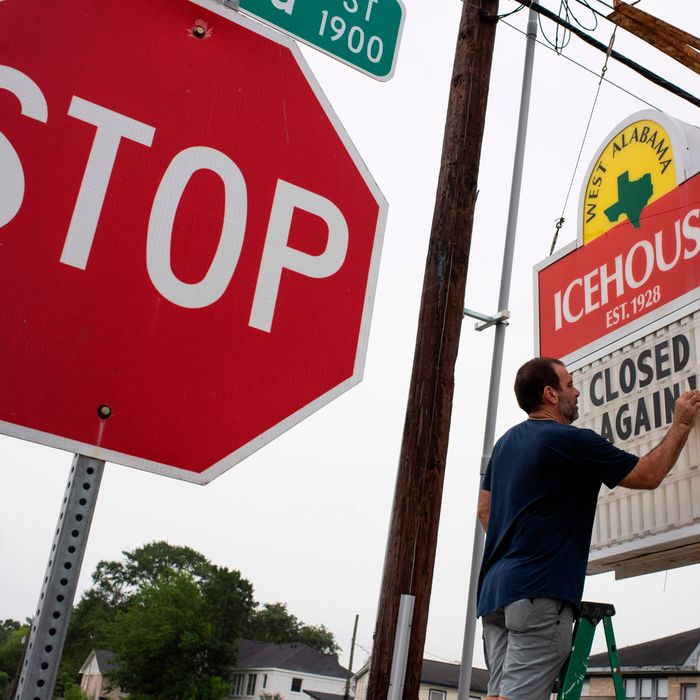 Bar owner Petros J. Markantonis changes the marquee outside his bar to "Closed Again" at the West Alabama Ice House in Houston, Texas, on June 26.
Photo: Mark Felix/AFP /AFP via Getty Images
We're committed to keeping our readers informed. 
We've removed our paywall from essential coronavirus news stories. Become a subscriber to support our journalists. Subscribe now.
As of Sunday, the U.S. has set single-day records for new coronavirus cases for at least five consecutive days, and the total number of nationwide infections has risen past 2.5 million — roughly 25 percent of the world total. Led by outbreaks in the South and West, the second peak of confirmed cases in the pandemic's first U.S. wave has now surpassed the initial peak in April, and over the last week, new coronavirus cases rose — in some cases exponentially — in 36 states, declined in only 2 (Connecticut and Rhode Island), and remained flat in the rest. Twelve states have paused or begun rolling back their reopenings.
Almost 126,000 Americans have already lost their lives to the coronavirus, and many more are going to die before the pandemic is over, even if federal, state, and local leaders — and Americans — put on their masks, roll up their sleeves, and do what's necessary to flatten the many curves and permanently suppress the coronavirus until a vaccine is available.
The hastily and inconsistently implemented U.S. reopening — encouraged by President Trump and his administration after an ineffectual, and at times indifferent, federal response — isn't just a nationwide failure that seems unlikely to resurrect the economy as planned. It has become a brand-new disaster. And there is no end in sight. Again.
Below is a look at the current scope of the crisis and just some of the distressing news from the last several days around the country.
The nationwide surge, visualized
All that is needed to understand the scale of what's currently happening with the pandemic in the U.S. is to once again look at these scary charts:
Regarding the geographic trends:
Memorial Day, bars, and the coronavirus's new youth movement
A week ago, NBC News flagged infection spikes in more than a dozen states since the Memorial Day holiday weekend, which coincided with many of those states further relaxing their lockdowns. "It's basically the same reason for all these states: It was Memorial Day," the Johns Hopkins Center for Health Security's Dr. Eric Toner told NBC. "And in the last week of May, most states began to seriously relax community mitigation efforts."
Memorial Day also appears to be when coronavirus infections began a dramatic demographic shift toward younger people in the country, per USA Today:
People under 45 made up 42% of cases before Memorial Day weekend but 55% of cases reported since then, a new USA TODAY analysis has found. The trend holds in places where new cases are surging and in those that are not, according to the analysis of data from 25 states and the Centers for Disease Control and Prevention … Total cases among people younger than 45 have grown nearly twice as fast as for people 65 and older since late May, USA TODAY's analysis of CDC data shows. The younger the age cohort, the more rapid the pace of growth. Had all age groups experienced the same, lower growth rate as seniors, the country would have added 30% fewer new cases over the past month.
One possible explanation, experts told USA Today, was that older Americans have remained cautious amid the reopening while younger people have been more willing to take risks. The reopening of bars in numerous states, in particular, has emerged as a focal point for public-health officials across the U.S. — and there have been reports from multiple states of outbreaks traced back to bars.
In Minnesota, where coronavirus infections have recently trended up and total cases climbed past 35,000 on Saturday, people in their 20s now make up a majority of infections. According to MPR News:
More than 100 cases of COVID-19 have been reported among Minnesotans in their 20s in the Mankato area who said they went to bars on June 12 and 13 — the first weekend bars and restaurants were allowed to serve indoors. Two Mankato bars — Rounders and The 507 — were the focal points of that young adult outbreak, Ehresmann said Friday. Officials were also following up on a cluster of 30 cases at two Minneapolis bars — Cowboy Jack's and Kollege Klub. Social media from those bars shows they were crowded, with no room for social distancing, and people who were standing and not masked[.]
Meanwhile in Pennsylvania, Allegheny County (which is home to Pittsburgh and some 1.2 million people) prohibited the consumption of alcohol in bars and restaurants on Sunday (effective Tuesday), following a spike in coronavirus cases linked to bars and young people. The county reported a record high 96 new cases on Sunday and 393 new cases in the last seven days. Two-thirds of the new cases have been among 19- to 49-year-olds. Bars were also closed last week in Idaho's Ada County, where more than 150 news cases of coronavirus have been linked to bar-hopping in Boise. Outbreaks in several other states have been sourced to bars as well.
As Kaiser Health News explained last week, packed bars are perfect-storm transmission points:
[B]ars are emerging as fertile breeding grounds for the coronavirus. They create a risky cocktail of tight quarters, young adults unbowed by the fear of illness and, in some instances, proprietors who don't enforce crowd limits and social distancing rules … Bars are tailor-made for the spread of the virus, with loud music and a cacophony of conversations that require raised voices. The alcohol can impede judgment about diligently following rules meant to prevent contagion … On top of that, the very act of drinking is incompatible with wearing a mask, a primary way of limiting the spread of infection.
It is also possible that the Black Lives Matter protests that have taken place across the country since George Floyd was killed by Minneapolis police on Memorial Day weekend have contributed to the spikes — but available data doesn't show much evidence of that yet, as Vox's German Lopez explained in detail Friday.
Bad and getting worse in Arizona
The outbreak is Arizona has already spiraled out of control, and the state is now home to the highest rate of new infections on a per-capita basis in the world. The state's positive test rate has climbed quickly since May 25, ten days after the its stay-at-home order expired and it quickly began reopening — clearly too soon. On Sunday, it was 11.7 percent, up from 6.7 percent on May 31. Maricopa County, which is home to the Phoenix metropolitan area, has been recording more than 2,000 new cases a day and is already home to over 60 percent of the cases statewide. More than a third of the new cases there have been reported in less than the last two weeks. Statewide, as in Florida, younger people make up a majority of the new cases.
The 3,857 new cases Arizona reported Sunday constituted a record high, up 5.5 percent from the 3,591 reported Saturday, which was 5.4 percent higher than the 3,428 cases reported Friday. As a result of the ongoing surge, the state's hospitals and ICU units are about to reach capacity. As of Saturday, 85 percent of inpatient beds in Arizona were filled (including a record 2,691 people with COVID-19), as were 87 percent of its ICU beds (including a record 666 people with suspected COVID-19). Forty-four percent of the state's ventilators are in use, and seven hospitals in the state implemented surge plans on Friday. More than 800 people have been coming to Arizona emergency rooms every day with suspected COVID-19 symptoms since June 5, up to a record 1,249 on Thursday and still over 1,100 on Saturday. At least 1,588 people have been killed by COVID-19 in Arizona since the pandemic began, including a record 79 reported deaths on June 24. Testing in the state, meanwhile, has not been able to keep up with the demand amid the surge in infections.
Last week, Arizona's Republican governor, Doug Ducey, asked residents to stay home, wear masks, avoid gathering in large groups, and practice social distancing. But he's done nothing to require it, against the advice of medical experts. Instead, he has implemented policies that put the needs of businesses ahead of the guidance of public-health experts and failed to model safe behavior himself. He banned face-mask mandates in the state until two weeks ago, when, under enormous pressure, he began allowing cities and counties in the state, including Maricopa County, to order and enforce their own face-mask mandates. He has also recently directed Arizona businesses to come up with coronavirus policies that follow CDC guidelines, instead of just recommending it as he had before. It was too little, too late. Public-health experts and local officials say Ducey and other state leaders could have prevented the current crisis but instead helped bring it about. Last week, the Washington Post reported:
At critical junctures, blunders by top officials undermined faith in the data purportedly driving decision-making, according to experts monitoring Arizona's response. And when forbearance was most required, as the state began to reopen despite continued community transmission, an abrupt and uniform approach — without transparent benchmarks or latitude for stricken areas to hold back — led large parts of the public to believe the pandemic was over.
There has also been a partisan conflict in the state over the coronavirus response at every stage, with protests and rogue sheriffs against the stay-at-home order when it was in place, as well as ongoing objections to face masks. Now the state is paying a huge price, and it's not clear when it will be able to regain control of the outbreak or if it will be able to handle the consequences.
In Florida, a fivefold increase of new cases in two weeks
On Saturday, the state reported its second straight record-setting day of new cases — 9,585 new infections, following the 8,942 that were reported on Friday. 8,530 new cases were reported Sunday, bringing the state's seven-day total of new cases to 43,784 — over 31 percent of the state's more than 141,000 total cases. 12.4 percent of tests in the state are coming back positive, up from 3 to 5 percent in May and 10 percent in mid-June — which indicates that increased testing is not responsible for the spike in new cases, as Florida Governor Ron DeSantis has claimed in the past. South Florida has been hardest-hit, and the median age of the newly infected has been between 33 and 37. At least 3,419 Floridians have died from COVID-19 since the pandemic began, including 258 people in the last week.
The state began quickly reopening in May — including restaurants, bars, and gyms in the first phase. Now it's partially reversing course: On Friday, bars were closed statewide and Miami-Dade County announced it was closing its beaches over the coming July 4 holiday weekend and banning gatherings of more than 50 people. On Sunday, Broward County closed its beaches for the holiday weekend as well. (Some residents attending the announcement "could be heard shouting for freedom and calling the [county] mayors socialists," according the NBC Miami.)
There is no statewide face-mask mandate in Florida, with DeSantis explaining Friday that the state was "going to continue to put out the guidance, and we're going to trust people to make good decisions." He also questioned the efficacy of the indoor face-mask mandates in place — and working — in more than a dozen other states. "You catch more flies with honey than vinegar," DeSantis has also said regarding the issue. Some Florida leaders have begun mandating masks, but the topic has become political in the state — with Democrats passing or pushing for mandates and Republicans rejecting and fighting them, as the Sarasota Herald-Tribune reported on Sunday:
Masks are now required in certain public settings in Tampa, Miami, St. Petersburg, Orlando and a number of other Florida cities and counties. … Most of the Florida communities with new mask rules are controlled by Democrats. Democrats tend to be more concentrated — and control the levers of government — in larger urban areas where the coronavirus often is more prevalent, but they also have been much more willing to embrace mask-wearing …




Some Republican-led municipalities have rejected mandatory mask requirements. The Manatee County Commission, which has a GOP majority, this week opted against a local ordinance mandating masks in public. And Florida GOP leaders are challenging local mask regulations in court.
On Sunday, DeSantis — who boasted on May 20 that the state had "succeeded" in its pandemic efforts — claimed the state was still doing fine and maintained that Florida businesses and residents could be trusted to lead themselves, as he has since coronavirus cases began spiking in mid-June. He brushed off questions about whether he would consider another shutdown to stem the spread of the virus. DeSantis has stressed that hidden cases surpass known cases, as well as the need to maintain proper social distancing, wear face masks, and avoid closed spaces, crowded places with poor ventilation, and close-contact settings. But the Republican governor hasn't done everything he could to make sure that happened.
On Sunday, he blamed socializing younger people — whom "you can't control" — for not following guidelines and driving the spread of the virus, noting that the test positivity rate of 25- to 34-year-olds was nearly 20 percent and that young people, while at lower risk of serious illness from COVID-19, were putting their older friends, colleagues, and relatives at risk. "They're younger people; they're gonna do what they're gonna do," DeSantis said in explaining the need to shut down Florida's bars. He also said he thought "we'll be fine" by the time the GOP plans to hold the Republican National Convention in the state in late August.
Florida is also apparently exporting outbreaks. New York Governor Andrew Cuomo said on Saturday that the state was investigating a cluster of new coronavirus cases in Westchester that appears to have been started by a student who had recently traveled to Florida.
A mess in Texas
Texas has reported more than 5,000 new cases of the coronavirus daily for six consecutive days, and on Sunday it finally broke a 16-day streak of record hospitalizations.
On Friday, Governor Greg Abbott ordered all bars in the state to close and all restaurants to reduce their capacity to 50 percent, and banned gatherings of more than 100 people without the approval of local officials. The state has also reimplemented safety mandates at childcare centers after repealing them in the middle of the month. For the first time, it has also mandated that the centers also follow CDC guidelines.
At an event with Vice-President Mike Pence on Sunday, Abbott acknowledged that the state's outbreak "has taken a very swift and very dangerous turn" in a matter of a few weeks and, along with Pence, asked Texans to wear face masks and practice social distancing. (There was also large choir at the event, and they sang without face masks even though the CDC has said that singing may be a very high-risk activity and has been linked to super-spreader events.)
Abbott has refused to order businesses to close again amid the escalating outbreak. The number of new infections in the state had risen since it began quickly reopening in May, then began rising much more rapidly in June. Texas has no statewide face-mask mandate, and Abbott has banned local governments from imposing penalties on Texans who don't wear face masks in public — though two weeks ago he supported a county judge's decision to order businesses to require employees and customers to wear face masks whenever social distancing was not possible.
Testing in Texas has experienced a bottleneck, with reports of failing websites, testing sites unable to keep up with demand, long waits at drive-through sites, and as long as ten-day waits for results.
Bars are reclosing in seven California counties amid ongoing spikes in new cases and hospitalizations in SoCal
Amid growing outbreaks across California, and particularly in Southern California, Governor Gavin Newsom partially reversed the state's gradual reopening on Sunday by ordering bars closed in seven counties, including Los Angeles County, where public-health officials reported 2,542 new cases on Sunday — the second-highest total reported by the county since the pandemic began. The spike is not simply due to increased testing, as local officials has originally claimed amid the rise, and 41 percent of the county's new infections have been reported among younger people age 18 to 40. The county's seven-day average positive test rate has risen to 8.7 percent from 5.8 percent two weeks ago, and COVID-19 hospitalizations have also spiked.
"COVID-19 is still circulating in California and, in some parts of the state, growing stronger," Newsom acknowledged in his statement announcing the bar closures, which reversed an earlier stance leaving such decisions up to local authorities. He also said that the reopening of the state may need to be scaled back in other sectors, as well — though he hasn't ordered anything yet. Newsom issued a statewide face-mask mandate on June 18 for residents in any high-risk situations.
The state has reported record-setting numbers of new infections over the past week, averaging more than 5,300 new cases per day as well as more than 60 new deaths per day. Nearly 6,000 Californians have lost their lives to COVID-19 since the pandemic began — 78 percent of whom were over the age of 65 and nearly 3,000 of whom were nursing-home residents.
A total of 15 counties in California have been regressing in transmission or hospitalization rates. Statewide, hospitalizations have been up more than 32 percent over the past two weeks, and ICU hospitalizations have gone up 19 percent. Orange County recorded a record daily total of new infections (502) on Saturday and a new record daily number of hospitalizations on Sunday (492) amid a 16 percent rise in its three-day average of daily hospitalizations. Coronavirus hospitalizations in San Bernardino, Riverside, and Ventura Counties have also risen. San Bernardino hospitals were nearing surge capacity on Friday. In Riverside County, nurses at one hospital launched a strike on Friday to protest understaffing and a lack of PPE.
Imperial County has seen the highest spikes in infection and positive test rates on a per-capita basis in the state, and hospitals there began to be overwhelmed last week. On Friday, Newsom recommended that the county reimpose a stay-at-home order.
Newsom's bar-closure order also applies to Fresno, Kern, San Joaquin, Tulare, Kings, and Imperial Counties, and the governor recommended that officials in eight other counties — Contra Costa, Santa Clara, Sacramento, Riverside, San Bernardino, Ventura, Santa Barbara, and Stanislaus — also issue orders closing their bars.
Bad signs — and confusion — in Nevada
On Saturday, the state reported a record daily number of new cases, 1,099 — which is more than double its previous high and was the fourth record-setting single-day report of new cases in a week. The cases were mostly from the Las Vegas metro area, and state health officials later attributed Saturday's spike to the inclusion of 600 cases that should have been reported earlier in the week.
On Wednesday, Nevada Governor Steve Sisolak ordered a statewide mandate requiring residents and visitors to wear face masks in public — after previously refusing to issue such an order, citing his fear that it would outrage residents. On Friday, the Reno Gazette Journal reported that state officials have been unable to explain the rise in infections in the state amid a 5.9 percent positive test rate:
[Nevada officials] anticipated a surge after the cautious reopening of casinos, bars and other long-shuttered "nonessential" businesses, though they never specified how big that bump might be or how much of it might be explained by more widespread testing, as opposed to spotty mask-wearing. They still haven't … 




[Nevada's Deputy Administrator of Community Health Services Julia Peek] told reporters she didn't know off-hand how much of the virus' resurgence could be explained by the state's expanded ability to track patients and conduct coronavirus tests. Sisolak's office deferred further questions on that topic to the Department of Health and Human Services, where officials sounded similarly uncertain about the specifics of the state's latest COVID surge.
There are also ongoing concerns about whether the state will be able to properly conduct contact tracing thanks to the many players involved (and not yet sufficiently networked) in the process, as well as in uniquely challenging environments like Las Vegas, as the Nevada Independent reported Sunday:
Casinos are trying their hardest, leveraging their existing surveillance systems to help along with other technology and good old-fashioned sleuthing through interviews. The reality is a little more complicated.




"It's going to be impossible to identify all close contacts, especially if someone is here for a weekend of just gambling and wandering through the casino floor and playing on this machine and this table and over here," [explained Devin Raman, senior disease investigator for the Southern Nevada Health District.] "There really is no way to track everyone who may have been exposed in a situation like that, unfortunately."
This post has been updated to include additional information about the nationwide surge.