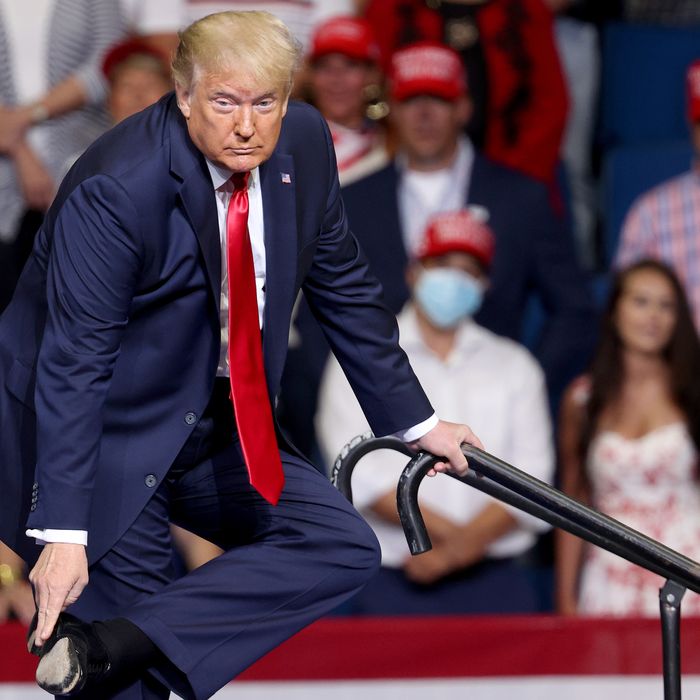 He stepped in it.
Photo: Win McNamee/Getty Images
Ahead of President Trump's indoor campaign rally at the BOK Center in Tulsa on Saturday night, much of the public attention was on (1) the risk of holding an indoor rally with thousands of people not required to wear face masks or remain socially distanced amid the ongoing coronavirus pandemic; (2) the decision to hold the rally in a state that the president is expected to win easily in November; and (3) the decision, amid popular nationwide protests over racial injustice, to hold the rally — originally on Juneteenth — in a city that was the setting of a horrific massacre of Black Americans by a mob of their white neighbors in 1921.
Regardless, Trump and his campaign didn't just brush off all external concerns, but set extraordinarily high expectations for how many people would attend and how important the event would end up being for Trump's campaign. They bragged about how many people had registered for tickets, estimated that 100,000 would show up, and in Trump's case, even threatened anyone who planned on coming to the rally to protest.
But reality crashed Trump World's bubble on Saturday, and it was brutal. Less than 6,200 people showed up to cheer Trump on, and the fallout is already upending the Trump campaign. Below is more on that and everything else that went wrong.
At least eight event staff members, including two who were at the rally, have tested positive for COVID-19
Hours before Saturday night's rally was set to begin (in an acknowledgment that reportedly enraged the president) the Trump campaign announced that six members of the event's advance team had tested positive for the coronavirus — though it insisted that the staffers and anyone they had been in close contact with would not be at the rally. Despite that admission, the campaign still did not require attendees to wear face masks or follow social-distancing guidelines.
Then on Monday, the campaign announced that another two staff members who were at the rally tested positive after the event — though it stressed that they had been wearing face masks the whole time. More positive tests are likely:
Turnout was low — and far below overinflated expectations
The BOK Center, the indoor arena in Tulsa where the rally was held, has a capacity of 19,000 people — and Trump and his campaign predicted demand would far exceed that capacity on Saturday night. The president said there wouldn't be an empty seat in the house and convinced Tulsa's mayor to partially lift his curfew around the arena so that supporters could camp out in line overnight. The Trump campaign — which bragged that it had received more than a million ticket requests in what current campaign manager Brad Parscale crowed was the "biggest data haul and rally signup of all time by 10x" — was so sure of a big crowd that it built, at what was surely considerable expense, a large stage outside the venue so that Trump and Vice-President Mike Pence could address the overflow crowd.
Those pre-rally overflow appearances then had to be abruptly cancelled because there was no overflow crowd to speak to.
When the indoor rally began (after the campaign had texted supporters that "there's still space" if anyone wanted to show up at the last minute), the arena looked maybe half full. The Trump campaign later claimed that 12,000 people had attended, which was even less the Fox News had charitably suggested at the start:
But according to the Tulsa Fire Department, less than 6,200 people attended the rally — amounting to less than a third of the arena's capacity.
Putting far aside the public health benefits of there being a much smaller crowd than anyone expected, the rally's low turnout would be a disaster for any presidential reelection campaign (four months before Election Day and not during a pandemic) — but it is a catastrophe for the Trump campaign, which had been trying to frame the event as a cure-all spectacular that would get the campaign, Trump's base, the nation, and the president back on track after several dispiriting months. That notion, along with the insistence that there is still some massive "silent majority" of Americans who are clamoring for the return of Trump being Trump, seem plainly absurd following Saturday night's debacle.
The impact the low turnout will have on Trump, who is notoriously obsessed with public perception of the sizes of crowds and other things, is not going to be pretty — and the knives were already out in Trump World on Sunday, while the blame-shifting started before the rally had even begun.
Trump reportedly flipped out backstage, then looked defeated afterwards
The New York Times reported Sunday that the president was rattled after seeing the small crowd in person at the rally:
The president, who had been warned aboard Air Force One that the crowds at the arena were smaller than expected, was stunned, and he yelled at aides backstage while looking at the endless rows of empty blue seats in the upper bowl of the stadium, according to four people familiar with what took place. 
And this is what Trump looked like afterward when he got back to the White House on Saturday night:
The blame-shifting started before the rally did, and by the end, Trump's campaign was left in disarray
While news of the low turnout was spreading on Saturday night, the Trump campaign quickly and falsely blamed protesters for preventing attendees from getting inside. Extra security measures in the city clearly didn't make it easy to attend the rally, but that wasn't the fault of peaceful protesters.
In an interview with the New York Times published Sunday, current Trump campaign manager Brad Parscale insisted the low turnout wasn't his fault, blamed Tulsa police for making it too difficult to get to the rally, and claimed to have seen thousands of messages from supporters who couldn't get in. He also blamed the media:
"The fact is that a week's worth of the fake news media warning people away from the rally because of Covid and protesters, coupled with recent images of American cities on fire, had a real impact on people bringing their families and children to the rally," he said.
It is undoubtedly true that some Trump supporters steered clear of the rally over concerns about protests and the coronavirus, but it's also likely true that some of those supporters, unlike the president and his political advisers, may have concluded on their own that an indoor rally in the middle of a pandemic that has killed more than 120,000 people wasn't a very good idea. And some Trump officials are apparently privately conceding that point as of Sunday, along with other realities about the present and future.
Jared Kushner and Ivanka Trump, meanwhile, are reportedly blaming Parscale for the expectation setting and shattering, and the rally's breathtaking failure has also reportedly rattled Republican leaders and Trump donors. Kushner, whose previous efforts to handle enormous responsibilities within the administration are more of a running joke than a track record, has apparently taken on the role of de-facto campaign manager and was one of the people who reportedly helped plan the Tulsa rally.
"It's politics 101: You under-promise and overdeliver," a frustrated Trump ally told NBC News on Sunday. It's now also not clear if or when there will be more Trump rallies, or how they will be different, per the Times' report:
Several White House officials called the rally a disaster, and an unforced error that heightened tensions among some of the president's government advisers and his campaign aides. What's more, Mr. Trump's White House advisers had repeatedly cautioned campaign aides against announcing an added appearance at an outdoor space, advice that was ignored as Mr. Parscale and campaign surrogates talked about it publicly.




The event does not portend additional large Trump rallies this summer, people familiar with the discussions said. 
Expectations might have been lower if not for an Iowa grandmother on TikTok and those meddling kids
Regarding the million-plus registrations for rally tickets that the campaign was so proud of, the Trump campaign now says that it was only sure that about 300,000 of them were legitimate — as in from registered Republicans. As for the rest, the campaign got trolled, and campaign leaders likely knew about it, yet still heralded the big inflated number like it was the truth.
In the week leading up to the rally, there were reports of teenagers and K-pop fans mass-registering for tickets in a virtual public action against Trump and his campaign. The campaign was aware of the efforts, but dismissed the chance of empty seats on Saturday and argued that the joke was actually on the trolls.
Explained current campaign manager Brad Parscale to the Times, "Leftists and online trolls doing a victory lap, thinking they somehow impacted rally attendance, don't know what they're talking about or how our rallies work. Registering for a rally means you've RSVP'd with a cellphone number and we constantly weed out bogus numbers, as we did with tens of thousands at the Tulsa rally, in calculating our possible attendee pool."
"All they are doing is giving us access to their contact information," the campaign's deputy communications director, Erin Perrine, said last week as news of the trolling broke. As to what value the Trump campaign expects to extract from the contact information of anti-Trump teenagers, assuming they even submitted real contact information in the first place, officials have now said the data will help them avoid getting trolled in the future.
As CNN reported Sunday, the mass-trolling was apparently sparked by an Iowa grandmother on TikTok:
While the TikTok effort seems to have overwhelmingly involved teens and other young people, Mary Jo Laupp, a 51-year-old grandmother living in Fort Dodge, Iowa, appears to have played a central role in encouraging people to go to Trump's website, register to attend the event – and not attend.




"All of those of us that want to see this 19,000 seat auditorium barely filled or completely empty go reserve tickets now and leave him standing alone there on the stage," Laupp told her then-1,000 or so followers on TikTok.




And then, alongside the choreographed dances, comedic dares and schoolyard pranks, the grandmother's prompt became a challenge of its own. Inspired users began posting videos showing they too registered for the event. Similar posts on Instagram and Twitter clocked up thousands of likes.
Many K-pop stans, who have also been working to drown out white supremacists on social media in recent weeks, joined the effort too.
Trump, whose reelection campaign motto is "Keep America Great," championed Confederate "heritage" in the middle of a popular national protest movement against racial injustice
You neither need be a dog nor tone-deaf to hear this whistle:
Trump treated the coronavirus like a joke and said he asked to slow down testing
Considering how President Trump and his campaign tried to dismiss the risk of holding the rally in the first place, as well as much of everything else Trump has said or not done about the coronavirus, no one expected him to suddenly become the president the pandemic-stricken country needed on Saturday. Instead, Trump wore no mask at the rally, equated legitimate fears of the virus with fake news soon after he began speaking, demonstrated how confused he still was about the threat (at one point referring to COVID-19 as "sniffles'), and bragged about what a great job he was doing in response to the pandemic — which has already devastated the U.S. economy, killed more than 120,000 Americans, and will undoubtedly kill many, many more.
He also complained about how increased testing for the coronavirus — a critical part, and failure, of the government's response to the pandemic which Trump and his administration deserve much of the blame for — was making him look bad. In a comment which may prove to be a nightmare for the president and his campaign, Trump tried to dismiss the ongoing surge of coronavirus cases as a matter of increased testing, then told the crowd that he asked his staff to "slow the testing down please."
Everyone should expect to see that video many more times over the next several months. Campaign officials are emphasizing that it was a joke, but that doesn't mean Trump didn't say it, mean it, and expect it to happen.
He also made a racist joke about the virus' origins
And he made it clear that personal tragedies caused by the pandemic were less important to him than saying something like this
Ahead of the rally, an earnest Trump supporter gave this distressing interview
Trump derailed his own rally's buzz by firing a U.S. attorney
The president reportedly spent much of Saturday concerned that coverage of his rally was being overshadowed by his campaign staff members' positive COVID-19 tests and his and Attorney General William Barr's abrupt ouster of U.S. Attorney Geoffrey Berman. Per CNN:
He was frustrated about the coverage of Berman's ouster and the six staffers because he hoped to see the cable news covering the crowd outside the rally arena, [one person familiar with the matter] said.




Trump was also peeved at having to do the rally on a Saturday night instead of Friday because he believes fewer people will tune in, another person familiar said. The rally was originally scheduled for Friday evening, but Trump announced last week he was pushing it back by a day to avoid coinciding with Juneteenth.
There was an epic, overlong digression in which Trump overcompensated for his bizarre conduct at West Point
Everyone should have been prepared for this to happen after Trump got so defensive last week about his ramp-inching at West Point's graduation ceremony, but few could have predicted the overcompensation would last so long and be so painfully awkward:
Of course he slowly reenacted it, too:
And Commandering-in-Chief is hard work, folks:
He even got into why he drank a glass of water with two hands — then showed off drinking a glass of water with one hand for the crowd, then chucked the glass offstage.
The explanation was so weird, Slate's Matthew Dessem transcribed the entire thing and published it verbatim — because in this case the best parody of what Trump said is just highlighting the entirety of what he actually said.
This isn't 2016, and Hillary Clinton isn't walking through that door
Saturday night also provided a live demonstration of why Trump's campaign and allies are worried that the president won't be able to land many effective attacks on Biden: the former vice president is a hard target, and going after him is not as energizing for Trump or his base as attacking Hillary Clinton was. Trump's 2016 campaign and his entire political career has always been far more about who he was against than anything he was for — and all he typically has to say about Biden is either about the former vice president's age or the vague notion that Amtrak Joe is beholden to the very elements within the Democratic Party that he defeated to win the nomination.
Here is what Trump told the small crowd at one point while attempting to conjure the idea that Biden is a puppet of the far left and that if he becomes president, "the rioters will be in charge and no one will be safe and no one will have control":
He's not radical left. I don't think he knows what he is anymore, but he was never radical left, but he's controlled by the radical left, and now he's really controlled. … he has no control — does anybody honestly think he controls these radical maniacs? You know what he says to his wife when he's not confusing her with his sister? "Get me the hell out of here. These people are crazy."
That kind of rhetoric seems unlikely to prompt lock-her-up-like loathing. And so the president is stuck running against the idea of a progressive hellscape rather than his actual opponent — and Donald Trump is far more comfortable with (and capable of) bullying people than ideas.
Trump celebrated the potential of his supporters — for violence
There would have been one less empty seat in the arena if the Trump campaign hadn't made police remove a woman wearing an "I Can't Breathe" shirt from the line
Tulsan Sheila Buck was just sitting in line before she was confronted by police, at the request of the Trump campaign, according to the Associated Press:
Police said in a news release the officers tried for several minutes to talk Buck into leaving and that she was taken into custody for obstruction after the Trump campaign asked police to remove her from the area.

Buck was wearing a T-shirt that said "I Can't Breathe" — the dying words of George Floyd, whose death has inspired a global push for racial justice. She said she had a ticket to the Trump rally and was told she was being arrested for trespassing. She said she was not part of any organized group.
Trump bragged about all the televisions on Air Force One
Finally, an issue a country in the middle of a historic recession can relate to:
Trump framed the event as the launch of his reelection campaign — it wasn't, even before it exploded on the pad
Trump's reboot was a low-effort remake
The Trump administration waived its European travel ban for one special guest in "the national interest"
Nigel Farage, who is one of the UK's biggest nativists and Brexit cheerleaders, and arguably its number one Trump fan — got special treatment ahead of the rally:
The campaign says a lot of supporters streamed the rally at home
It is never a good idea to presume that Trump supporters will stop supporting Trump for any reason, but if Trump's and his campaign's flailing about on Saturday night is going to turn off any of his base — or his donor base — a lot of them were apparently paying attention to what happened. The Trump campaign, in its post-rally spin efforts, boasted that 4 million people had streamed the rally over its various digital platforms. Also:
This post has been updated throughout to include new information and analysis.