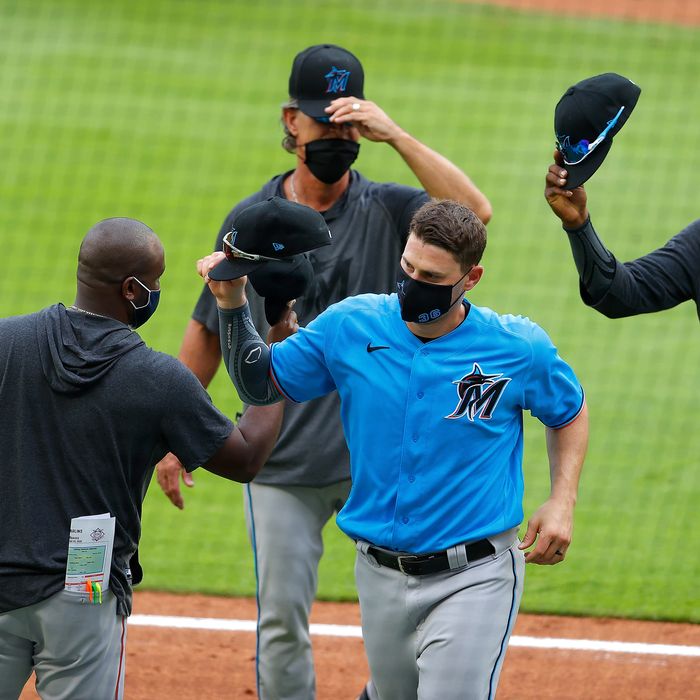 The Miami Marlins are the first MLB team with a serious coronavirus outbreak.
Photo: Kevin C. Cox/Getty Images
More than a dozen people with the Miami Marlins have tested positive for COVID-19, the first major outbreak among a Major League Baseball team since the league restarted play last week. Less than a week after the start of the MLB season, it already appears to be in jeopardy.
The cases, involving at least 12 players and two coaches according to the New York Times, have led to the postponement of two games, including the Marlins home opener against the Orioles and the Phillies game against the Yankees, which was scheduled to be played on Monday in Philadelphia.
In a statement Monday, MLB said the two games are being canceled for "additional COVID-19 testing." Marlins president Derek Jeter said in a statement that players and staff have again been tested and will remain in Philadelphia as they await the results. A report from ESPN also makes it clear that there were some concerns from the Yankees about using the visitors' clubhouse in Philadelphia, where the Marlins just finished a weekend series.
Before the Phillies-Yankees game was postponed, the Yankees were informed that the visitors' clubhouse had been completely fumigated several times, sources told ESPN's Marly Rivera. The Yankees also brought their own clubhouse personnel down from New York City to work the game, but those actions don't appear to have been enough.
The outbreak among the Marlins first became clear on Sunday when several players learned of their positive test. According to The Athletic, neither Major League Baseball nor the Marlins considered postponing Sunday's game.
By Tuesday, the MLB had come to terms with the severity of the outbreak, announcing that the Marlins season would be temporarily suspended as its players and coaching staff quarantine for a minimum of two weeks. But the suspension is showing the cracks in baseball's imperfect system: The announcement caused suspensions among teams that were not playing the Marlins this week, and the Marlins will need to make up at least seven games, making their chances of playing out a 60-game season unlikely.