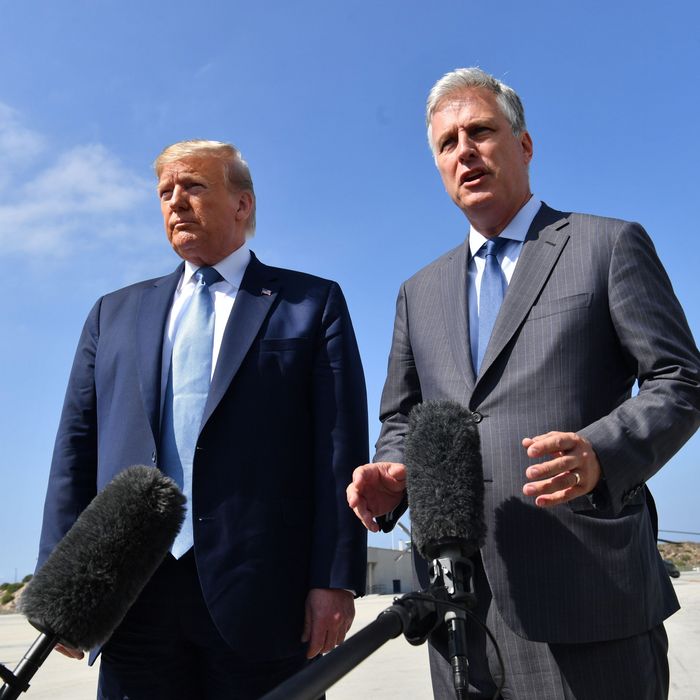 Donald Trump and Robert O'Brien.
Photo: Nicholas Kamm/AFP via Getty Images
Donald Trump's national security adviser, Robert O'Brien, has tested positive for COVID-19, the White House said in a statement Monday.
"He has mild symptoms and has been self-isolating and working from a secure location off-site," the statement said. Bloomberg News, which first reported O'Brien's positive test, says he "came down with the coronavirus after a family event."
According to CNN, O'Brien was last in the office Thursday and left "abruptly." His positive test was reportedly not communicated to staffers on the National Security Council, some of whom learned of his positive test from press reports.
O'Brien and Deputy National Security Adviser Matthew Pottinger were recently in Paris, where they met with leaders from France, Britain, Germany, and Italy and discussed issues related to China. O'Brien has been critical of China's response to the virus, saying in May that "the cover-up that they did of the virus is going to go down in history along with Chernobyl."
While O'Brien is the highest-ranking White House official to test positive for COVID-19, he's far from the first West Wing–adjacent worker to contract the virus. Last week, a White House cafeteria worker tested positive, leading to the closure of the cafeteria and Ike's Eatery, a popular stop for White House employees.
"There is no reason for panic or alarm," the White House wrote in an email to staffers after the worker tested positive, NBC News reported. "The White House Medical Unit has already conducted contact tracing and based off of their interviews, they have determined that no EOP staff should self-quarantine due to exposure."
In June, former White House economist Tomas Philipson tested positive, as did two people on the Trump campaign who attended his ill-fated Tulsa rally. And in May, Mike Pence's spokesperson, Katie Miller, and one of Trump's personal valet's contracted the virus.