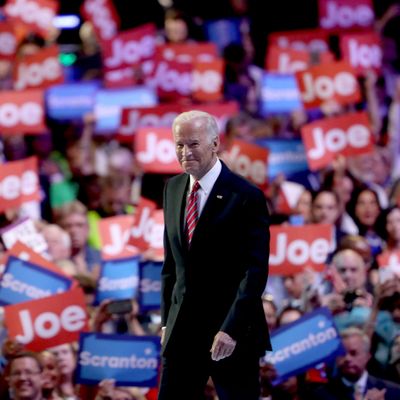 Picture this, minus the crowd.
Photo: Justin Sullivan/Getty Images
After being pushed back from July due to the pandemic, the first-ever virtal Democratic National Convention finally concludes tonight with Joe Biden's acceptance speech. The televised portion of the event has been condensed to just a few hours of "prime time" programming, set to run from 9 to 11 p.m. ET. Tonight's headliners include Biden primary challengers Cory Booker, Pete Buttigieg, Andrew Yang, and Michael Bloomberg. Here's everything you need to know about the convention, and how to tune in.
Where is the convention being held?
At a location of each speaker's choosing. The New York Times reports:
To add more visual pizazz for viewers, Democratic officials have encouraged their remote speakers to set up cameras in symbolic and visually interesting locations, rather than drab Zoom backgrounds, like bookcases and spare rooms, that are common to cable talk shows.
While some limited party business will still take place in Milwaukee, the convention will be mostly virtual. Like Harris, Biden will deliver his speech from the Chase Center in Wilmington, Delaware. A Biden campaign official told The Hill that none of the speakers will appear before a crowd.
How can I watch it?
The events will stream online at the DNC's website, and on social-media sites including Facebook, Twitter, YouTube, and Twitch. The DNC has directions for tuning in on various devices here.
You can also tune in the old-fashioned way, on an actual television, but as the New York Times reports, coverage will be limited:
The major broadcast networks, ABC, CBS and NBC, plan to carry an hour of the convention live each night, from 10 to 11 p.m. on the East Coast. Cable news channels will air the two-hour nightly proceedings in full, but the Democrats' jampacked schedule poses a risk that local affiliates in swing states could cut away at 11 p.m. if speakers aren't wrapped up.
Thursday, August 20 Lineup
Theme: "America's Promise." What that means, according to the DNC:
A former public defender, a leading senator, and two-term vice-president, Joe Biden is one of the most experienced candidates to ever seek the office. Throughout his career, he has been tested by historic recessions, global conflicts, pandemics, divisive politics, and the never-ending quest for justice and fairness in America. Every step of the way, he has risen to the moment with steady and effective leadership. Being president doesn't change who you are, it reveals who you are. Joe Biden is a man of character and decency, and of empathy and compassion who believes in America's promise. On the final night of the convention, we will hear from those who can speak to Joe Biden's leadership and character. Joe Biden will speak about his vision for uniting America to move us forward out of constant chaos and crisis, and for delivering on that promise for all.
The evening's proceedings will be hosted by Julia Louis-Dreyfus.
The Chicks will perform the National Anthem.
8 p.m. ET: Pod Save America Live pre-show, in which podcast hosts Jon Favreau, Jon Lovett, Tommy Vietor, and Dan Pfeiffer will "lead us into the final night of the convention with a look back at the week's highlights as well as classic moments from conventions past." Watch at crooked.com/convention.
9 p.m. ET: Former vice-president Joe Biden, Senator Cory Booker, Governor Gavin Newsom, Pete Buttigieg, Mayor Keisha Lance Bottoms, Senator Tammy Baldwin, Senator Tammy Duckworth, Senator Chris Coons, Andrew Yang, and Michael Bloomberg.
Ashley Biden and Hunter Biden will speak about their father, and there will be a tribute to their deceased brother, Beau Biden.
10 p.m. ET: Former vice-president Joe Biden's acceptance speech.