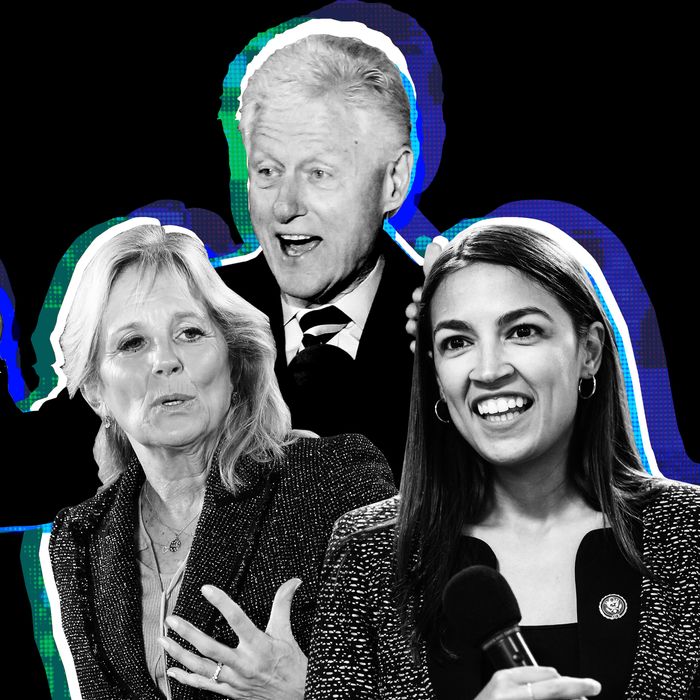 Photo-Illustration: Megan Paetzhold. Photos: Getty Images
On night one of the all-virtual Democratic National Convention, the party unloaded all of its Trump attack lines. Nevertheless, the DNC persisted. On Tuesday night Democrats will return to "prime-time," with speeches from former presidents Jimmy Carter and Bill Clinton, brief appearances by Stacey Abrams and Representative Alexandria Ocasio-Cortez, and a keynote address by former Second Lady Dr. Jill Biden. Follow all the socially distanced fun right here as Intelligencer staffers provide live updates on day two of the 2020 Democratic National Convention.
Updates will appear in reverse-chronological order.
Jill Biden wraps the night up, discussing personal and national loss
Cindy McCain details the friendship between Joe Biden and her late husband
Former Republican Secretary of State Colin Powell endorses Joe Biden
A new dig from the former secretary of State
A powerful message from health-care activist Ady Barkan
Biden has officially been nominated, and invited to deliver an acceptance speech
The balloon drop, however, left something to be desired:
It's roll call time
Around 9:45 p.m., representatives for the states and territories began announcing their primary results, with Biden, naturally, winning the bulk of the vote.
Small but mighty, Rhode Island may have won the roll call tour:
Bob King and AOC nominate Bernie Sanders
New York Times security guard Jacquelyn Brittany is the first to nominate Biden
This line, and 'It is what it is,' are in heavy rotation
In his 11th DNC speech, Bill Clinton says Trump still isn't up for the job
Chuck Schumer: "America, Donald Trump has quit on you"
Schumer also boasted of his view of a New York City icon, which did not translate on-camera:
Sally Yates: 'We need Joe Biden'
The up-and-coming Dems are now up
Stacey Abrams closed the segment of emerging Democratic lawmakers:
The DNC gets some of the technicalities out of the way
After an introduction from Milwaukee Mayor Tom Barrett, the DNC's credentials committee cleared the candidates for nomination, while the rules committee announced a push to end caucuses in 2024, due to the disaster in Iowa in February. The platform committee also approved the DNC's policy priorities in the coming election.
The DNC has quietly dropped its demand to end fossil fuel subsidies
As HuffPost reports, the Democratic National Committee rescinded language in the Party platform calling for and end to fossil fuel subsidies. In an email to the outlet, a DNC spokesperson claimed that the issue was "incorrectly included" in the Party platform and was removed "after the error was discovered" — despite similar calls for an end to subsidies and tax breaks by both Joe Biden and Kamala Harris on the campaign trail.
Cindy McCain and Colin Powell will also be making appearances
On Tuesday afternoon, the Associated Press reported that Cindy McCain, the widow of Arizona senator and 2008 Republican nominee John McCain, will also appear by video on Tuesday. According to the AP, McCain will detail her husband's friendship with Biden, but she is "not expected to offer an "explicit endorsement," contrasting with other Republicans, like John Kasich, who stated their intention to vote blue on Monday night. During the 2016 election, McCain did not endorse Donald Trump, and the two clashed until the senator's death in August 2018. McCain explicitly asked that the president not attend his funeral.
Shortly after 7 p.m., MSNBC reported that former George W. Bush Secretary of State Colin Powell will be on the schedule. Powell has not spoken at a national convention since the 2000 RNC, and since 2008, he has endorsed the Democratic nominee.
Bill Clinton will be adjusting to a new role
At the past two national conventions, the former Democratic president has had prominent speaking slots, with speeches running longer than 40 minutes; this time around, Clinton will have a five-minute window to make his case. According to a recent CBS News poll, 56 percent of Democrats wanted to hear Clinton at the digital DNC, compared to 63 percent who wanted to hear Alexandria Ocasio-Cortez. Much of this division has to do with the reassessment of the president's legacy in the wake of #MeToo, though Clinton has reportedly secluded himself during the pandemic, worried over his health, due in part to his quadruple bypass in 2004.
Ex-presidents (except for W.) unite against Trump
The DNC made a late addition to its schedule: former president Jimmy Carter. Here's who's set to appear during the "We Lead from the Oval Office" segment:
Remarks

Caroline Kennedy

Former U.S. Ambassador, daughter of President John F. Kennedy




Jack Schlossberg

Grandson of President John F. Kennedy




Remarks

The Honorable Jimmy Carter

39th President of the United States




Rosalynn Carter

Former First Lady of the United States




Remarks

The Honorable Bill Clinton

42nd President of the United States