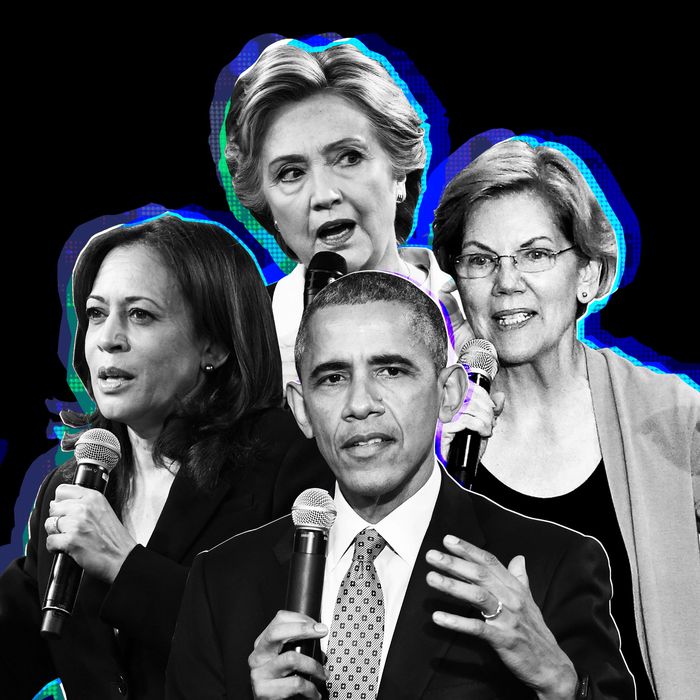 Photo-Illustration: Megan Paetzhold. Photos: Getty Images
On night one of the all-virtual Democratic National Convention, the party laid out all of its arguments against the incumbent president, capping the evening with a powerful speech from Michelle Obama. On night two, it took care of some convention essentials with a surprisingly entertaining roll call, before inviting former Democratic presidents and more Republicans to the virtual podium to make the case for Joe Biden.
On night three, the DNC will focus on the theme of "A More Perfect Union," featuring host Kerry Washington and speakers including Nancy Pelosi, Hillary Clinton, Elizabeth Warren, Kamala Harris, and Barack Obama. Follow all the socially distanced fun right here as Intelligencer staffers provide live updates on day three of the 2020 Democratic National Convention.
Updates will appear in reverse chronological order.
Harris takes the stage as the official VP nominee for the first time
A look behind the theater
Obama talks 'the stakes of this election'
Trump, meanwhile, isn't pleased by what's on cable news:
Warren: 'I love a good plan and Joe Biden has some really good plans'
A night of policy focus
Counter-programming from the Republican Party
Nancy Pelosi: 'Who is standing in the way? Mitch McConnell and Donald Trump'
Hillary Clinton kicks off the marquee speeches
A damning segment on Trump's immigration policy
Another Grammy-winner makes the case against Trump
The DNC shifts to climate
The DNC addresses gun violence for the first time this convention
Harris opens the night discussing the importance of voting rights
"I think we need to ask ourselves, 'why don't they want us to vote?,'" Harris asked, of the GOP's latest efforts to suppress turnout. "Why is there so much effort to silence our voices? And the answer is because when we vote, things change. When we vote, things get better … Each of s needs a plan — a voting plan."
'This can't be another woulda coulda shoulda election'
According to an excerpt of her speech obtained by the New York Times, 2016 nominee Hillary Clinton will remind voters of the stakes of voting for the incumbent. "For four years, people have said to me, 'I didn't realize how dangerous he was,' 'I wish I could go back and do it over,' or worst, 'I should have voted.' Well, this can't be another woulda coulda shoulda election."
Obama's choice of setting is a statement in itself