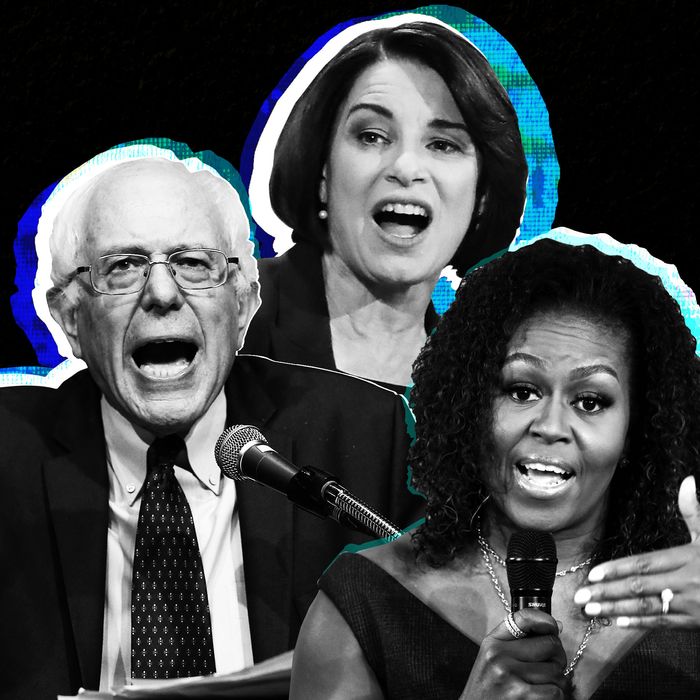 Photo-Illustration: Megan Paetzhold. Photos: Getty Images
What does a political convention look like without balloons drops, packed convention centers, and occasional booing from unruly delegates? We're about to find out. Democrats had originally scheduled their convention for July in Milwaukee, but due to the COVID-19 pandemic it morphed into an all virtual event in August. Now the party plans to make its case for electing Joe Biden in just two hours of "prime-time" programming over the next four nights. Tonight's big attractions: keynote speeches from Senator Bernie Sanders and former First Lady Michelle Obama. Follow all the socially distanced fun right here as Intelligencer staffers provide live updates on day one of the 2020 Democratic National Convention.
Updates will appear in reverse-chronological order.
And this is how night one ended
Michelle Obama calls for 'empathy'
She said she hates politics:
And there was a call-back, and reiteration, regarding a much-debated line she delivered four years ago at the last DNC:
Plus what was likely a subtweet of Kanye:
A couple interesting side-notes:
A good collective point:
Here's the full speech:
'Nero fiddled while Rome burned. Trump golfs.' —Sanders asks his supporters to get behind Biden
Can't have the Bern without fuel:
The utility of all these clips
Intelligencer's Gabriel Debenedetti notes:
One thing this format has going for it is the clips like Kasich's are highly-produced videos instead of eye-rolly speeches, so if the Biden people really believe in their efficacy at swinging voters, it's a lot easier for them to just pump out these clips again and again.
A very short segment from Whitman
A dissent from one of our own:
Literally at a crossroads
What Kasich said, per NBC News:
"I'm a lifelong Republican, but that attachment holds second place to my responsibility to my country," he said. "That's why I've chosen to appear at this convention. In normal times, something like this would probably never happen, but these are not normal times."




He did not mention the president by name, but said the administration has led the country down a path of "division, dysfunction, irresponsibility, and growing vitriol," which is why he is backing Biden, who he called "a good man, a man of faith, a unifier."
Enter Whitmer
Twice tonight, the Postal Service was the sole focus of segments
First there was montage of people talking about the importance of receiving their prescription drugs through the mail. Then a video featuring Nevada Senator Catherine Cortez Masto. The New York Times summarizes:
Senator Catherine Cortez Masto of Nevada on Monday defended the integrity of voting by mail. President Trump has assailed voting by mail for months, claiming baselessly that the process is riddled with fraud. Ms. Cortez Masto, the former attorney general of Nevada, pushed back.

"Despite what the president says, voting by mail has been a secure, proven option for decades," Ms. Cortez Masto, the first Latina senator in history, said. She added that Mr. Trump was "putting the lives of Nevada's seniors at risk by trying to defund the Post Office."
Cuomo takes his COVID-19 press conference to prime time, pushes 'America Tough'
And there was Powerpoint.
But will there be an America Tough poster?
Maine's coastline, and Democratic Senate candidate, appears
A powerful, gut-wrenching Covid-toll testimonial
"George should be alive today"
And afterwards:
A Springsteen (montage) appearance
Cookie Monster FTW
Early reviews not so great, as expected
Meanwhile…
It begins.
This may not come as a shock
The Washington Post reports that:
The St. Louis couple who became famous after wielding guns at protesters on their private street will be part of the largely digital Republican National Convention next week, party officials said this week. The couple — Patricia and Mark McCloskey — will appear on behalf of the president during the virtual weeklong event and express their support for him, the officials said."
Feel the Bern rather than feeling the burn
There's no convention floor to have a fight on this year. No way for viewers at home to hear delegates jeering at anyone on stage they dislike or disagree with. There are other key differences: Sanders and Biden are personally more friendly to each other than Clinton and Sanders were; Biden sewed up the nomination earlier, giving Sanders less leverage this year; and, of course, Trump isn't a hypothetical president as he was in 2016. He is the president, and Sanders has made clear that he sees 2020 as an existential election for the country.

Given all that, the question becomes how Sanders balances his own ideological fervor — which highlights distinctions between himself and Biden — with his personal affinity for the nominee and their shared mission to defeat Trump.
Some pre-convention expectation setting
Perez says he's anti-caucus
DNC Chair Tom Perez told the Associated Press on Monday that the 2024 primary cycle should not include caucuses, a result of the disastrous night in Iowa in February, stating that he intends to "use the bully pulpit as a former chair to make sure we continue the progress," as his term as chair will expire before then.
Michelle Obama preview
A taste of what's to come, via the Washington Post:
[The former first lady] will vouch for Biden as "a profoundly decent man guided by faith," according to an excerpt of her remarks released ahead of tonight's Democratic National Convention. "He was a terrific vice president," the former first lady will say. "He knows what it takes to rescue an economy, beat back a pandemic and lead our country. And he listens. He will tell the truth and trust science. He will make smart plans and manage a good team. And he will govern as someone who's lived a life that the rest of us can recognize."
But will there be a mountain?
Governor Cuomo is keeping mum about his convention visual-aid plans, though outlining everything he will talk about:
Taking strategic leaking to an attack-ad level
Ahead of the tonight's DNC kickoff, one of the anti-Trump groups is out with a new video from a former Trump administration staffer excoriating the president:
Intelligencer's Jonathan Chait has more on Taylor's account here.
Here come the pro-Biden Republicans
The DNC has revealed that a number of Republicans will be speaking at the convention tonight during a section titled "We the People Putting Country Over Party."
Setting the scene in Milwaukee
Here's what's going on in the DNC host city which the Democratic Party has urged reporters and delegates to avoid, per the Washington Post:
As Democrats began their first ever "virtual convention" here, the streets of their host city were nearly empty. A concrete barrier, intermittently policed, ringed the Wisconsin Center where the party was anchoring its coverage. A gift shop with convention merchandise was tucked into the corner of a hotel where most reservations had been canceled. A protest by 60 antiwar activists, featuring a dozen Bernie Sanders delegates, was by far the biggest gathering downtown.




… There were a few, small signs of the street theater that typically unfolds around major party events. The antiwar protesters, who gathered Sunday afternoon, had to shoo away a lone motorcycle rider who parked, folded his arms and blasted songs like "Smoke on the Water" to drown out the speech. Some drivers leaned out of cars to shout "Trump 2020!" as they passed clusters of people whose buttons identified them as, if not delegates, probably Democrats.




But even making fun of liberals on their turf had lost some of its appeal. For much of Sunday, Bob Kunst, a conservative Democrat who had driven from Miami Beach to protest, stood outside a concrete barrier, talking to the few passersby who noticed his Trump flag. Behind him were giant posters with slogans he'd written over the weekend: "Kamala, the Black Hillary" and "Trump = Jobs, Biden = Mobs."




"It's very strange," Kunst said. "I was originally planning to stay all four days, but I might leave after two. It's a long drive back."
How they'll go crowd-less
The Washington Post explains how the DNC plans to make up for the lack of a convention crowd:
Over four nights starting Monday, a behind-the-scenes crew of about 400 with operation centers in New York, Milwaukee, Los Angeles and Wilmington, Del., plans to broadcast to the nation hundreds of live video feeds from living rooms, national monuments and stages around the country, according to interviews with three people involved in planning the event.




That includes dozens of speakers who have been mailed video-production kits, with basic equipment such as microphones, lighting and advanced routers, so they can produce and transmit their own shots. Other homebound delegates will be dialed in to quick feeds of the live speeches, so their real-time reactions can be broadcast to the country as if they were in the same room as the speakers.




In two-hour nightly chunks, only one hour of which the broadcast networks have vowed to air, the live footage will be mixed in real time with a roughly equal share of prerecorded performances, mini-documentaries and speeches.