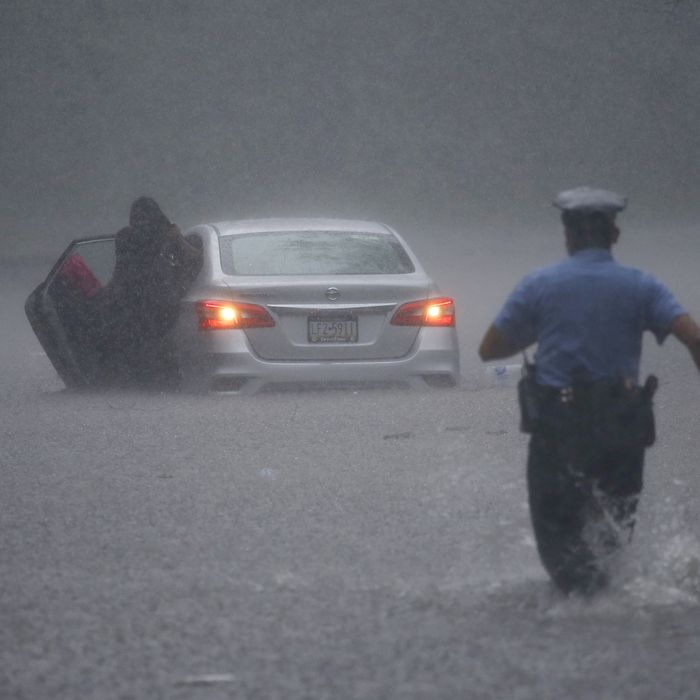 A Philadelphia police officer rushes to help a stranded motorist during Tropical Storm Isaias on Tuesday.
Photo: Matt Slocum/AP/Shutterstock
Tropical Storm Isaias ("ees-ah-EE-ahs") brought high winds, torrential rainfall, widespread power outages, and multiple tornados as it moved up the East Coast on Tuesday after making landfall as a Category 1 hurricane last night in North Carolina. At least five deaths have been linked to the storm so far.
Below is what we know, updated as we know it.
Where is Isaias now?
As of 8 p.m. Tuesday, the Isaias's center was over northern New England. The fast-moving storm tracked inland after traveling up the coast earlier Tuesday.
More than 3.1 million without power
New York: dangerous wind gusts, power outages, fallen trees, and at least one death in New York City
The New York metro area and Long Island got hit with more high winds than rain, and gusts near 80 mph were recorded across the region — but no tornadoes:
And though the sun came out soon after the storm passed, the wind gusts continued for a while, finally dissipating, along with the National Weather Service's tropical storm warning for the five boroughs, by 8 p.m.
As a result of the winds, numerous trees have fallen across the city and region — Mayor de Blasio gave a preliminary estimate of around 2,000 tress downed — and more than 500,000 people lost power in southern New York State:
As of Tuesday night, the number of outages in New York City was reported to be over 128,000 customers, and Con Edison said that the storm was the second largest weather event in the company's history behind Superstorm Sandy. Queens has had the most outages (more than 49,000), followed by Staten Island (more than 37,800 at the high point), Brooklyn (more than 22,800), and the Bronx (more than 21,900). Manhattan only saw three.
In Queens, a 60-year-old man was reportedly killed when his van was struck by a falling tree in Briarwood:
The city also apparently dodged a storm-surge bullet:
More than 1.4 million lose power in New Jersey
High winds took down trees and utility poles across the state, which sustained a direct hit from the storm, leaving more than 25 percent of the state without power. It could take days to restore electricity in some areas, state officials warned on Tuesday afternoon, as crews can't get to work until the winds from the back end of the storm die down.
At least one person was killed in Connecticut, where more than 674,000 lost power
NBC Connecticut reports that it was the fifth most powerful storm to ever strike the state:
Connecticut received a significant amount of the strongest winds from the southeast side of the system. Peak wind gusts reached as high as 68 mph in Bridgeport and 66 mph in New Haven.




A Naugatuck man was killed when he got out of his vehicle to try to move branches off the road and a tree fell on him, according to Naugatuck police. The man, identified as a 66-year-old Naugatuck resident, has not been publicly identified. …




Chief Meteorologist Ryan Hanrahan said this was the fifth largest power outage event in the state's modern history, behind the October Snowstorm, Tropical Storm Irene, Hurricane Gloria, and Hurricane Sandy.
Tornados were reported or suspected in at least six states, watches remained in effect through the evening in New England
Tornadoes caused by the storm have been reported in North Carolina, Virginia, Maryland, Delaware, Pennsylvania, New Jersey, and Vermont.
In Bertie County, North Carolina, at least two people were killed and another 12 hospitalized after a tornado struck a community of mobile homes overnight.
In Pennsylvania, one apparent tornado struck the campus of Doylestown Hospital in Bucks County, flipping over cars and heavily damaging a few buildings — though no injuries have been reported as of yet.
Widespread flooding near Philadelphia
As much as eight inches of rain fell in parts of Pennsylvania as Isaias moved across the state on Tuesday, and widespread flash flooding has occurred in the Philadelphia suburbs. Water levels are still rising in some places as the rainfall works its way through the region's rivers and streams, as NBC Philadelphia reports:
People had to be evacuated from homes along the Darby Creek, Cobbs Creek is swollen to its banks, and minor flooding is expected along the Schuylkill in Philadelphia and in Reading. Overflow from the Christina River in Delaware was causing major flooding … [T]he Schuylkill could rise to nearly 14 feet Tuesday night, Fire Commissioner Adam Thiel said. Flood stage is around 11 feet. Rescue workers have already been around the river to rescue people. Later Tuesday, images from SkyForce 10 showed the river spilling into roads. Upstream of the city, waters in the Schuylkill could rise up to 19 feet.
Nearly 300,000 people have lost power in Bucks, Chester, Delaware, Montgomery, and Philadelphia counties.
This post has been updated throughout.