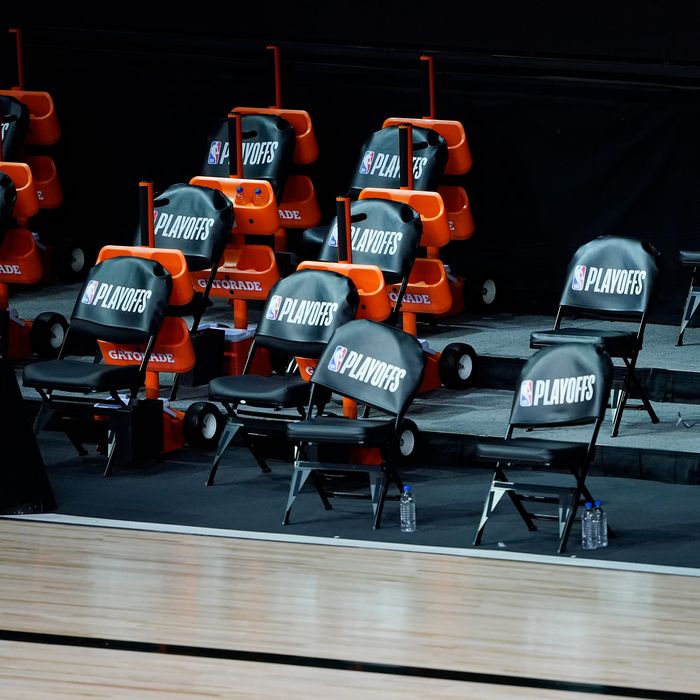 The Milwaukee Bucks bench remains empty after the scheduled start of game five against the Orlando Magic in the first round of the 2020 NBA playoffs.
Photo: Ashley Landis/Pool/Getty Images
The NBA and the NBPA announced on Friday that the NBA playoffs inside the Orlando bubble will resume on Saturday, and that the league and players had agreed to make a commitment to various social justice and police reform initiatives as well as the promotion of voting access. The news came after Wednesday and Thursday's playoff games had to be postponed following a dramatic work stoppage by NBA players in protest over racial injustice following the shooting of Jacob Blake by police in Kenosha, Wisconsin.
In their joint statement, NBA commissioner Adam Silver and players' union executive director Michele Roberts announced that league arenas controlled by team owners will be converted into polling locations for this fall's general election, and that the league will also work with players and broadcast partners to "create and include advertising spots in each NBA playoff game dedicated to promoting greater civic engagement in national and local elections and raising awareness around voter access and opportunity."
The NBA and NBPA said that team owners would work with local officials to set up the voting locations, and if that wasn't possible, they would try to use the arenas for other purposes supporting voters, like as voter registration or ballot collection sites. Many NBA teams had already announced that they would make their areas available for in-person voting on Election Day, including the Atlanta Hawks, Charlotte Hornets, Detroit Pistons, Houston Rockets, Milwaukee Bucks, Sacramento Kings, and Utah Jazz.
The NBA/NBPA statement also announced a plan to "immediately establish a social justice coalition, with representatives from players, coaches and governors, that will be focused on a broad range of issues, including increasing access to voting, promoting civic engagement and advocating for meaningful police and criminal justice reform."
There were multiple meetings on Thursday between players, coaches, and owners from the 13 teams participating in the postseason to address the work stoppage and the players' concerns. Teams then returned to practice on Friday.
On Wednesday night, the Milwaukee Bucks were supposed to play game five of their playoff series against the Magic. But after 29-year-old Blake was shot seven times in the back by police, leaving him paralyzed, outraged Bucks players decided not to participate in the game.
Within minutes, other sports journalists announced on Twitter that the protest had begun to spread beyond the Bucks. First it was the Thunder-Rockets game; soon, the entire slate of playoff games on Wednesday night was canceled.
It's not immediately clear if the NBA powers that be unilaterally canceled the games in anticipation of a widespread protest, or if the teams collectively agreed not to play. Regardless the actions prompted a full stoppage of NBA play on Wednesday and Thursday, as well as additional stoppages in other professional sports leagues, and could presage additional action when the NFL season begins.
The Bucks' move follows months of protest inspired by the police killings of George Floyd and Breonna Taylor, in addition to the shooting of Blake. It also comes the morning after a white teenager shot and killed two protesters amid demonstrations in Kenosha. Seventeen-year-old Kyle Rittenhouse of Illinois can be seen on video walking past the police after shooting the protesters. He wasn't arrested until today.
Some sports commentators called this a boycott. But the term is inaccurate, and dampens the political thrust of the Bucks' protest. They are not withholding their commerce. They are withholding their labor. This is a strike. A wildcat strike, to be specific, since it was not authorized by the players union and in fact appears to violate the NBA's collective-bargaining agreement:
That's courage, and a timely demonstration of power.
After the initial NBA action was revealed, strikes have spread to Major League Baseball, Major League Soccer, professional tennis, and the WNBA. UNITE HERE, which represents around 300,000 workers mostly in the service and hospitality industries, also tweeted a statement of support.
This is a developing situation, and this post will be updated as more information becomes available.