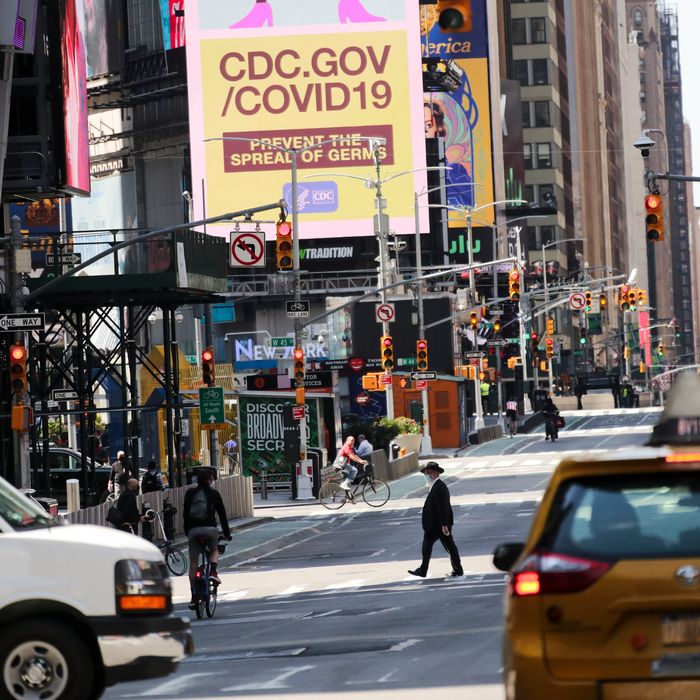 Photo: Xinhua News Agency/Getty Images
We're committed to keeping our readers informed. 
We've removed our paywall from essential coronavirus news stories. Become a subscriber to support our journalists. Subscribe now.
On Wednesday, Mayor Bill de Blasio announced that New York City is initiating a quarantine-checkpoint program at "key entry points" along major bridges and tunnels in an effort to halt the spread of the coronavirus. The New York City Sheriff's Office will be in charge of the checkpoints and will stop a random sampling of cars entering the five boroughs. If stopped, drivers from one of 35 states and territories with a substantial outbreak will be required to fill out a registration form to complete a two-week quarantine. On Thursday, the city will also station teams at Penn Station and the Port Authority Bus Terminal to conduct similar screenings on passengers coming from out of state.
"If you come here, you must quarantine," de Blasio said on Wednesday. "It is not optional," de Blasio said. "We do not want to fine you. We do not want to penalize you. In fact, we want to help you quarantine. But if you don't respect our laws, we will penalize you."
New York City Sheriff Joseph Fucito clarified to the Wall Street Journal that out-of-state residents will not be targeted. "In fact what we're looking to do is educate people who've spent time in COVID-19 hot spots regardless of their residence," he said. With a random sampling of cars being stopped and no authority to enforce the quarantine, the checkpoints will largely serve as a PR campaign to inform those traveling into the city about the rules for people who've spent times in other states.
De Blasio's abrupt announcement of the plan Wednesday was greeted with confusion by the Port Authority of New York and New Jersey, which operates NYC's bridges and tunnels, and said they were caught off guard by the announcement. In another sign of a somewhat chaotic roll out of the plan, the NYPD has also asked civilian staff to volunteer at the checkpoints.
Officially, there are penalties for violating the quarantine: $2,000 fine for a first violation, $5,000 for a second, and up to $10,000 if visitors cause harm. The state previously had Department of Health "enforcement teams" in the city's three major airports requiring incoming passengers to fill out a traveler form for contact-tracing purposes. Dr. Ted Long, director of New York City's Test & Trace Corps, announced on Wednesday that 20 percent of new COVID-19 cases in New York City are from out-of-state visitors.
After visitors make contact with Long's contact-tracing team, they will continue to hear from the Test & Trace Corps throughout the two-week quarantine through text messages and calls. "If we can't get through to you on the phone, we've deployed teams that are now knocking on your door and making sure you're safe," Long said, adding that the city is prepared to aid in the quarantine through free food deliveries and assistance with medications.
The quarantine order applies to any state that has a positive testing rate of more than ten per 100,000 residents or any states with a 10 percent or greater positive rate, both over a seven-day rolling average. (New York State's positive testing rate is now at one percent.) Those states and territories currently include Alabama, Alaska, Arizona, California, Florida, Georgia, Idaho, Illinois, Indiana, Iowa, Kansas, Kentucky, Louisiana, Maryland, Minnesota, Missouri, Mississippi, Montana, Nebraska, New Mexico, Nevada, North Carolina, North Dakota, Ohio, Oklahoma, Puerto Rico, Rhode Island, South Carolina, Tennessee, Texas, Utah, Virginia, Washington, and Wisconsin.