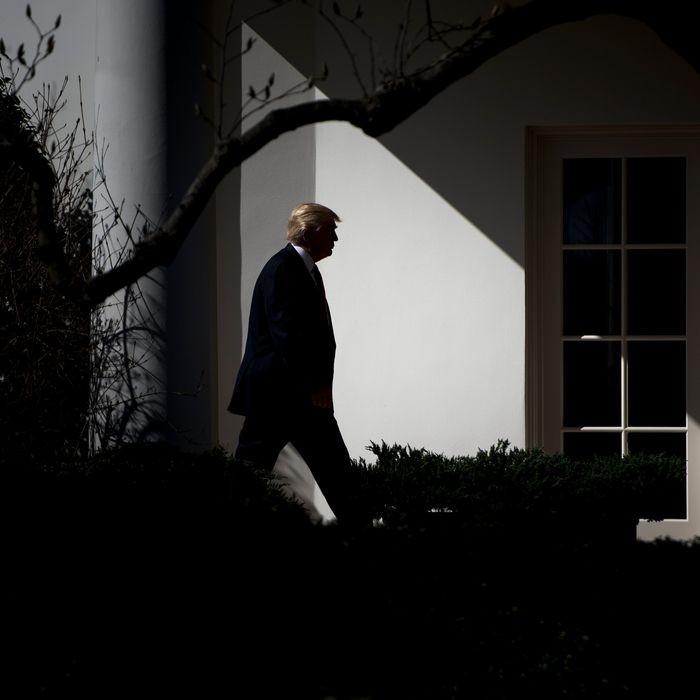 Photo: Brendan Smialowski/AFP via Getty Images
Two years ago, the New York Times published an anonymous op-ed from a figure who described himself as "part of the resistance inside the Trump administration." In the confession, he described how some staffers would work "diligently from within to frustrate parts of [the president's] agenda and his worst inclinations." When the op-ed was published, it was met with an abundance of speculation over the source and a bounty of ridicule over a self-important stunt from an apparatchik whose main concern was the style, not the substance, of an administration he still wanted "to succeed."
Though the derision will live on, the speculation ended on Wednesday, when Miles Taylor, the ex-chief of staff for the former Homeland Security secretary Kirstjen Nielsen, came forward as the author of the op-ed. President Trump aptly summarized the feeling that many had expecting a more notable "senior administration official," as the Times described him: "Who is Miles Taylor?" Trump tweeted Wednesday. "Said he was 'anonymous', but I don't know him — never even heard of him." As is common when the president makes such a statement, Taylor then provided pictures of himself with Trump:
For those who aren't familiar with his work since leaving the administration in June 2019, Taylor is now employed as the head of national security relations for Google, and has helped organize other Republicans to campaign against Trump and endorse Joe Biden, as he did shortly before the Republican National Convention.
While the tone of his initial letter was defined by its self-congratulatory rhetoric, the decision to come forward shifted more to a theme of self-serving. In the second sentence of his tweet coming forward, Taylor mentioned the book he wrote of his time in an administration stocked with "lieutenants [that] were alarmed by his instability," but not by policies like the separation of migrant children, the Muslim travel ban, and the turning back of asylum seekers — all of which were done by DHS. According to DHS emails obtained by BuzzFeed News, Taylor helped workshop talking points for Nielsen during the public outcry over family separation in 2018, including discussions about spinning a policy that placed migrant children in cages as a "Protecting Children Narrative." Taylor's decision also appears conveniently timed to maximize his own exposure: The outing comes just a week before he can no longer leverage the position of a Biden-voting Republican and a few months after the publication of his paperback, when sales tend to slow down.
It's unclear how the merger of Taylor's public anti-Trump Republicanism and his private facilitation of one of the administration's most horrendous policies will impact his successful return to polite society. Last October, some of his coworkers at Google filed a petition calling for his firing, describing him as "complicit in helping Nielsen tear apart thousands of immigrant families."