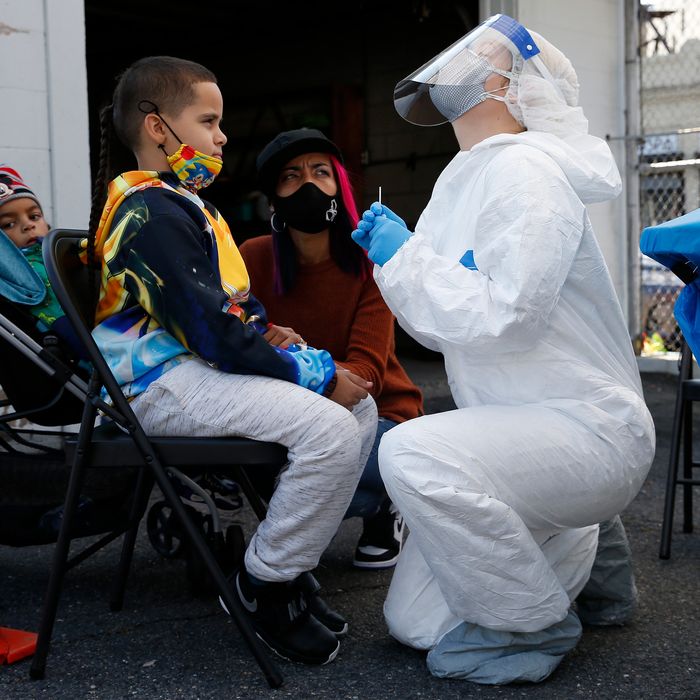 The virus is surging across America.
Photo: Jessica Rinaldi/The Boston Globe via Getty Images
The U.S. reported a record number of new COVID-19 cases on Friday as the the country's third wave of the pandemic continues to rise. According to the COVID Tracking Project, 83,010 new cases were reported Friday, surpassing the previous single-day record of 76,843 cases reported on July 17 during the second wave. (6,000 of the new cases reported Friday were from backlogs; the overall test positivity rate was 6.5 percent.)
As consistently cold weather arrives for much of the country — forcing many people indoors, where coronavirus is likely to spread more easily — almost every virus indicator in America indicates major trouble ahead. More than 73,000 new infections were reported Thursday, itself a new high since the summer. Surging outbreaks in the Midwest have fed a 13.5 percent rise in national cases since last week, the largest seven-day increase since the summer. And there is no sign that the current wave will plateau anytime soon.
Thirteen states have recorded more cases in the past seven days than in any previous week of the pandemic, and many other states are continuing to experience alarming surges:
Hospitalizations are also up 40 percent since last month (to a total of 41,485 on Friday), and deaths, always a lagging indicator, are rising, too (10 percent higher than last week). 1,038 new deaths were reported Thursday, the highest figure since late September, plus another 916 on Friday. The current coronavirus death toll in the U.S. stands at 223,490 as of Friday evening, according to the New York Times.
Unlike during previous case spikes, the virus is gaining ground not just in one corner of the country, but almost everywhere. The surge is most dramatic across the Midwest and West. Rural areas in states like North and South Dakota, Wisconsin, and Montana, which had largely been spared the worst during the spring, are now in crisis mode, as many localities spar over mask mandates and other restrictive measures amid rising case numbers. Record daily increases in cases have been reported for three straight days in Ohio, and neighboring Pennsylvania reported a new single day high on Friday, as well. Well over 5,000 people have tested positive in both North and South Dakota over the past week, troubling numbers considering the states' small populations. (On Wednesday, South Dakota governor Kristi Noem downplayed the importance of masks and claimed that the state was doing "really good.")
According to COVID Exit Strategy, only two states, Maine and Vermont, are currently trending better when it comes to new infections; every other state except New York and New Hampshire are facing uncontrolled spread or trending poorly:
Cases are rising across the South and in big states like Florida and Texas — despite President Trump's claim at Thursday night's debate that the spikes there were "gone." They're even inching up in places like New Jersey and New York, which previously had seen virus cases stabilize at a low level. (Though their current surges are nothing close to what they experienced in the spring.) New Jersey recorded its fifth straight day of more than 1,000 infections on Wednesday.
Meanwhile, President Trump continues to essentially claim that the third wave of the pandemic does not exist and that the country is rounding the final turn of the crisis, rather than climbing another peak. At a campaign rally on Friday, Trump said — as he did in March, in April, and a week ago — that the light at the end of the COVID-19 tunnel was near:
There is one piece of relatively good news amid the poor trends: Studies show that mortality rates have declined substantially among hospitalized COVID patients, including the elderly. This may make a return to the grievous daily death totals of the spring less likely. But it's cold comfort for a country eight months into a pandemic that it has never really had under control.