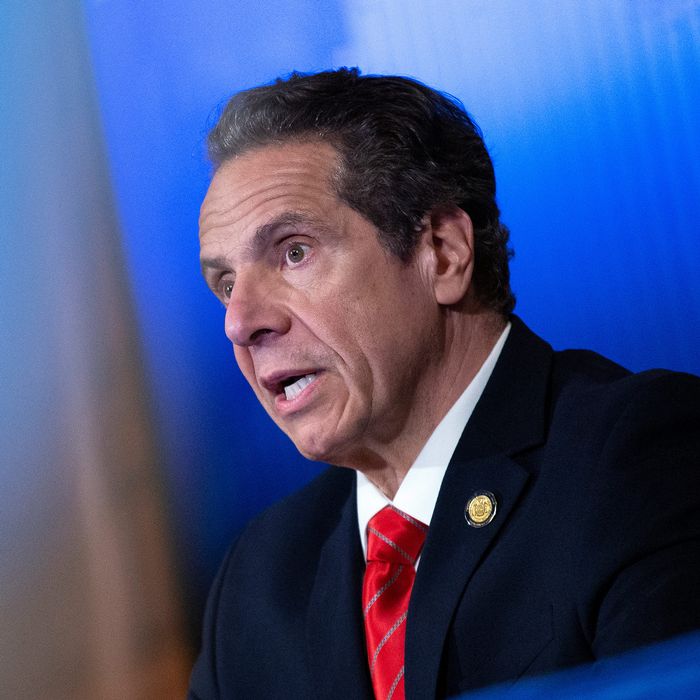 Photo: Stefani Reynolds/Getty Images
We're committed to keeping our readers informed. 
We've removed our paywall from essential coronavirus news stories. Become a subscriber to support our journalists. Subscribe now.
Governor Cuomo says he is closing schools in nine zip codes in Brooklyn and Queens on Tuesday, in response to the ongoing spread of COVID-19 in those communities. The news follows Mayor Bill de Blasio's announcement on Sunday that the city was planning to reinstitute a lockdown in those Zip Codes, including both schools and nonessential businesses. That plan required Cuomo's approval, and as has too often been the case amid the pandemic, the governor and the mayor did not see eye to eye.
While Cuomo said Monday that he was very concerned about the test positivity rates in those Zip Codes — and criticized both city officials and community members for failing to control the spread of COVID-19 in them — he stopped short of endorsing de Blasio's full plan.
The mayor had planned to close the schools on Wednesday, but Cuomo moved that closure up to Tuesday, and the governor indicated that while nonessential businesses would also be closed in the affected communities, that would only be in specific neighborhoods where the state determines COVID-19 transmission is most active — not across the entire Zip Codes. The governor also did not approve de Blasio's plan to close down indoor dining in an additional 11 Zip Codes where COVID-19 test positivity rates have been worrisome.
There remains confusion about the city's plan, however. Following Cuomo's announcement, Mayor de Blasio himself announced that the city would still implement its plan for nonessential businesses and indoor dining on Wednesday unless the state provided additional guidance.
Schools will be closed in nine Zip Codes on Tuesday
Starting Tuesday, public and private schools will be forced to close for at least two weeks in nine Zip Codes in Brooklyn and Queens which have had a COVID-19 test positivity rate of more than 3 percent over the past seven days. Many of the neighborhoods include large populations of Orthodox Jews.
The affected Zip Codes are:
11204 (Bensonhurt/Mapleton)

11210 (Flatlands/Midwood)

11219 (Borough Park)

11223 (Gravesend/Homecrest)

11229 (Gerritsen Beach/Homecrest/Sheepshead Bay)

11230 (Midwood)

11367 (Kew Gardens Hills/Pomonok)

11691 (Edgemere/Far Rockaway)

11415 (Kew Gardens)
The order will close 100 public and 200 private schools in those Zip Codes, and students will need to transition to all-remote learning.
Here is the a look at the COVID-19 recent test positivity rate in those areas:
The governor has provided a map for which neighborhoods will be affected by the closures
Confusion over what will happen with nonessential businesses and indoor dining
De Blasio also said Sunday that, pending state approval, nonessential businesses would be closed in the nine Zip Codes listed above, and that indoor dining would be halted in 11 additional Zip Codes where COVID-19 spread remains a "real concern." Per the New York Times, those additional Zip Codes "include parts of Williamsburg, Bedford-Stuyvesant, Fort Greene, Clinton Hill, Manhattan Beach, Bergen Beach, Kensington, and Crown Heights in Brooklyn. The Queens neighborhoods include Rego Park, Fresh Meadows, Hillcrest, and Jamaica Estates."
On Monday, however, Governor Cuomo did not approve that part of the city's plan. Instead, Cuomo said that nonessential businesses would only be forced to close in the specific neighborhoods where COVID-19 transmission was deemed unacceptably high, but said the state wasn't ready to announce the details of that plan yet.
Following Cuomo's press conference, Mayor de Blasio then announced that the city would, in fact, carry out its plan to shutter nonessential businesses and indoor dining on Wednesday unless it received further guidance from the state before then.
As of 3 p.m. Monday afternoon, it's not at all clear what will happen with nonessential businesses or indoor dining this week, pending what appears to be yet another maddening tit-for-tat between the mayor and governor.
Houses of worship will not be closed, yet
On Sunday, Mayor de Blasio said that shuls and other houses of worship will not be required to close in addition to schools. But on Monday, Governor Cuomo threatened to do that, too. Cuomo said he would meet with religious leaders on Tuesday to get their assurances that they would follow state protocols for preventing the transmission of COVID-19 by requiring masks and enforcing social distancing. Houses of worship caught not following the rules after that would be closed, Cuomo warned.
This is a developing news story and this post will be updated throughout with more information as it becomes available.