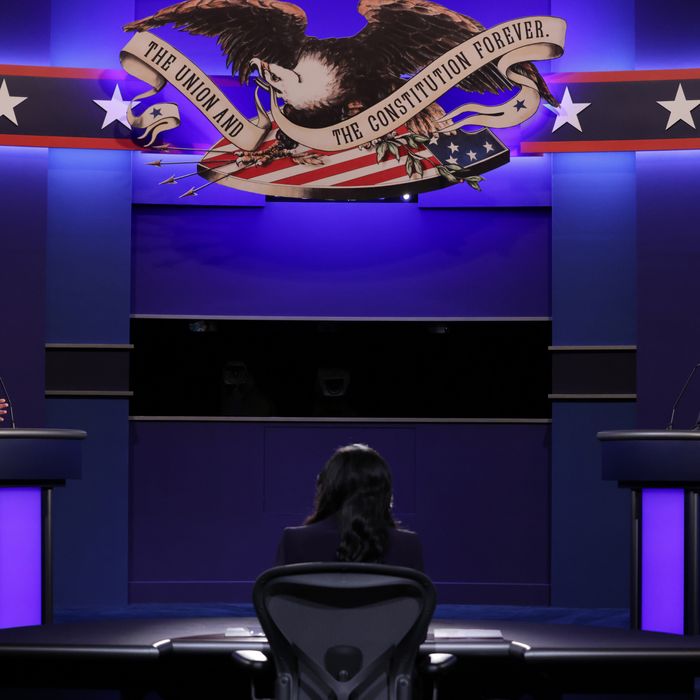 The last time we'll see these two together anytime soon.
Photo: Getty Images
After the first debate was undermined by the president's interruptions and the second debate was canceled in the wake of the president's COVID hospitalization, the final mic-muted contest of the 2020 cycle got off to a surprisingly coherent start, with both candidates respecting each other's time. Naturally, that sort of civility could only last so long before the president began to bicker and boast falsely about his record. In reverse chronological order, here are the highlights and lowlights of the last debate between Joe Biden and Donald Trump, from the deep-cut Fox News references and attacks on "lowest IQ" immigrants to some unexpected Scranton birtherism.
So what did voters think?
The snap polls showed pretty consistent results:
Moderator Kristen Welker did really well
And after a more than a week of Trump and his allies attacking her and suggesting she wouldn't. Chris Wallace, who tried and failed to wrangle the candidates in the first debate, said afterwards, "I'm jealous, I would have liked to be able to moderate that debate."
Finally, a substantive final question!
Welker asked the candidates what they will say to Americans who didn't vote for them in their inaugural addresses. Trump's response:
And Biden's response:
The debate went into overtime again
Yes, Biden has talked about ending fracking
On climate change…
And yes, Biden brought up Trump's longtime arch nemesis (windmills):
Also, the topic being discussed at length this year is a long overdue change:
Was tonight just a feast for immovable voters?
Biden calls Trump "one of the most racist presidents in modern history" — while Trump wants to clarify that he is not Abraham Lincoln
"I ran because of Barack Obama"
The "laptop from hell"
Yep, that's what Trump framed it as:
Very different answers on "the talk" Black parents give to their kids
Welker also asked both the candidates whether they understood why Black parents have to give their children "the talk" about systemic racism and how they need to be extra careful when dealing with law enforcement.
Biden's response:
Trump took a very different approach:
Trump tries to explain why he is "the least racist person in this room"
The president was asked about all his racism:
On immigration, Trump suggested asylum seekers who try to return to the U.S. have a low IQ
Genetic superiority is a well-known fixation for this president.
Biden admits Obama administration's record deportations were a mistake
He also championed DACA and continued to hit Trump over his lack of empathy toward immigrant children:
Trump forced to defend child separation
Biden responded by pointing out that the kids came with their parents — not coyotes and gangs like Trump had claimed — and he underlined the shocking lack of empathy and what the policy said about the country:
A substantive mini-debate on raising the national minimum wage
Biden channels 2004 Obama: "I'm going to be an American president"
Some mild Scranton birtherism
Biden mentioned his hometown while contesting Trump's championing of the markets as the sole indicator for how the economy is doing. Trump responded by suggesting Biden wasn't really from there:
Biden: "He's a very confused guy. He thinks he's running against somebody else"
In response to Trump trying to paint him as a socialist:
Trump tries to go on the offensive on health care
He said he wanted to terminate Obamacare, but again couldn't articulate how he would replace it. Biden then talked up passing "Bidencare," which he said would include a public option:
Biden tried to reframe the families crosstalk
While suggesting Trump was bringing up his son, Hunter, as a distraction, he pivoted to point out that the debate wasn't about their families, but about American families. The president then ridiculed Biden's direct-to-camera appeal as political bullshit:
The president is once again speaking in right-wing code
As expected, Trump is trying push Hunter Biden
Trump accused Biden of profiting off of his son's business dealings, which has been Trump World's primary focus heading into the debate, though there remains no substantive evidence to indicate that. Biden responded that he did nothing unethical.
Trump notably did not mention his campaign's surprise guest in the debate audience:
Biden responded by insisting "I haven't taken a single penny from any country whatsoever," and hit back on Trump's far more mysterious finances, as well as how he still hasn't released his tax returns. (Prompting the president to once again bring up his never-ending-audit.)
газовая лампа
(In case you don't speak Russian.)
Trump called New York City a "ghost town" while criticizing coronavirus lockdowns
A lot of New Yorkers are responding:
For now, a return to debate normalcy
"I take full responsibility. It's not my fault…"
This is, uh, not taking full responsibility:
Trump: "We're learning to live with it." Biden: "We're dying with it."
It starts with COVID-19
Trump once again falsely claimed that the virus was going away.
Biden made a very different point:
And Biden warned that America was heading into a "dark winter":
73,000 new COVID-19 cases were reported on Thursday:
The last Trump-Biden debate (and possibly the last-ever Trump debate) has begun
Also:
The Trump family is wearing masks this time
About that pre-debate, Trump-teased bombshell
Celebrity guests are already violating the mask rule
Will muted mics be good or bad for Trump?
His constant interruptions made for a terrible, chaotic viewing experience last time, but they also arguably hurt Trump at least as much as anything Biden managed to say.
A bigger crowd
Students at the site of the debate in Tennessee aren't thrilled by the president's presence
The Trump campaign is trying a Hunter Biden longshot by inviting an obscure guest
On Thursday, the president's representatives announced that they would hold a seat for one Tony Bobulinksi, a former associate of Hunter Biden who they claim can prove that Joe Biden was involved in the business dealings of his son in Ukraine. A guest with star power, Bobulinski is not. And shortly after the announcement, the Biden campaign came forward with several reasons why his presence is inconsequential at the debate:
This post has been updated.