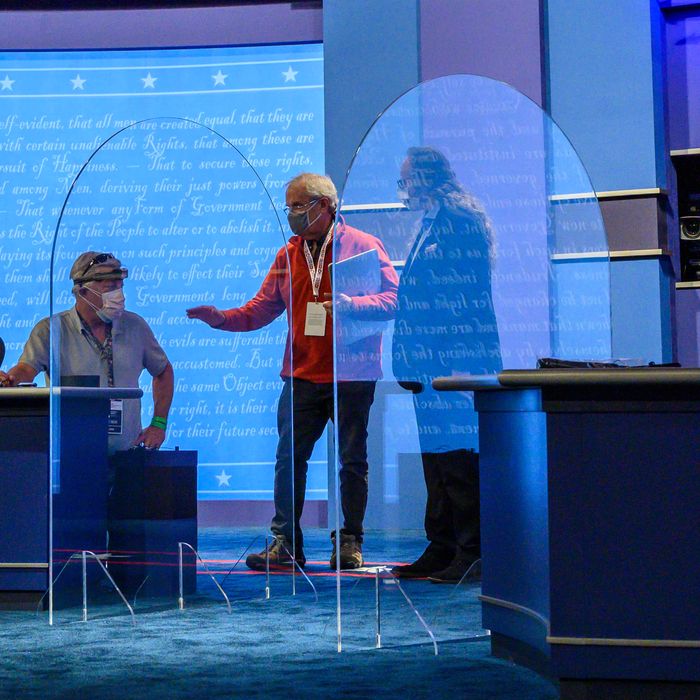 Photo: Eric Baradat/AFP via Getty Images
After days of negotiations, Vice-President Mike Pence, who has recently been in the proximity of several people who have tested positive for COVID-19, agreed that plexiglass barriers would be erected between him and Kamala Harris on the vice-presidential debate stage Wednesday night. But when the glass partitions were unveiled Wednesday, they did not look like the bulwark against disease some may have been envisioning.
The VP candidates will be 12 feet away from each other, which is the same distance that separated a presumably contagious President Trump from Joe Biden at the first presidential debate. The plexiglass, experts quickly said, was more cosmetic than useful. "Those plexiglass barriers are really only going to be effective if the vice president or Kamala Harris are spitting at each other," one epidemiologist told the New York Times.
On Monday, Pence had agreed to the barrier — a measure compliant with CDC guidelines that the VP's office still made fun of. "If Sen. Harris wants to use a fortress around herself, have at it," a Pence spokesperson said upon the announcement of the measure by the Commission on Presidential Debates.
But on Tuesday, the vice-president rescinded his approval of the plan he'd agreed to the day before, before finally coming to an agreement with Harris's team on Tuesday night.
Both candidates tested negative for Covid-19 in advance of the debate.
This post has been updated.