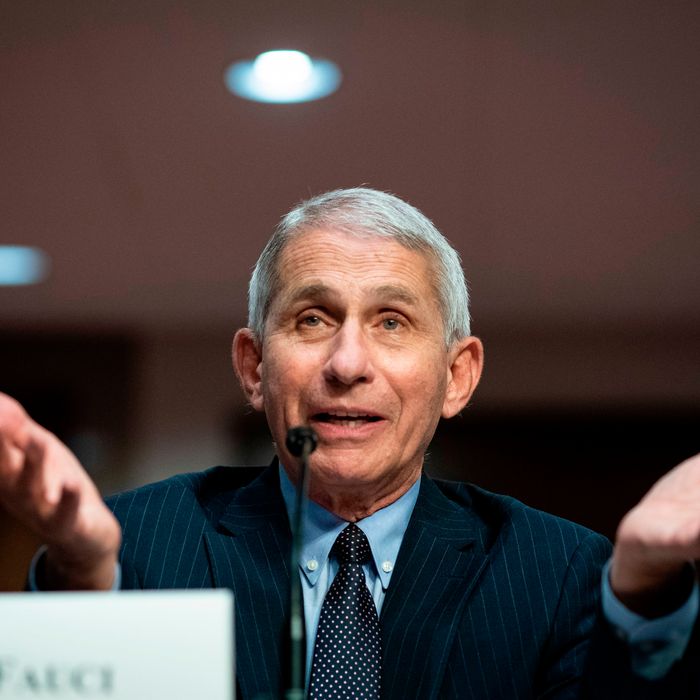 Photo: Al Drago/AFP via Getty Images
President Trump repeatedly attacked and denigrated the nation's most respected infectious disease expert, Dr. Anthony Fauci, on Monday. Trump first started in on Fauci during a call with his campaign staff, and then publicly on Twitter. Later at a campaign rally, Trump warned that his Democratic challenger, Joe Biden, would actually listen to Fauci's advice. The new insults came, not coincidentally, one day after Fauci said on 60 Minutes that he was "not surprised" that the president had caught COVID-19, confirmed that the White House has been restricting his media appearances — and revealed that he has received death threats amid the pandemic.
Trump called Fauci "a disaster" during a morning call aimed at rallying his staff for the final stretch of his flagging reelection campaign. But going after Fauci is a puzzling tactic, to say the least. Polls have consistently shown that Americans approve of and trust the top public-health official far more than they do Trump or anyone else with regard to the pandemic. In addition, Trump's mishandling of COVID-19, which has killed nearly 220,000 Americans and is currently prompting a third wave of cases around the country, appears to be the most significant reason he is falling further behind Biden in the polls.
"People are tired of COVID. I have these huge rallies," Trump said during a Monday morning call, according to a CNN reporter who was listening in. Trump was referring to the large, packed events he has been holding in states suffering record-breaking surges of coronavirus cases, two weeks after he and dozens of other people were themselves infected in the White House outbreak. "People are saying. 'Whatever. Just leave us alone,'" Trump continued. "They're tired of it. People are tired of hearing Fauci and all these idiots."
"Fauci is a disaster. If I listened to him, we'd have 500,000 deaths," he went on, later suggesting — again baselessly — that the number would be 700,000 or 800,000. "If there's a reporter on, you can have it just the way I said it. I couldn't care less."
"And yet we keep [Fauci]," Trump said. "Every day he goes on television, there's always a bomb, but there's a bigger bomb if you fire him. But Fauci is a disaster." Trump seemed to knock the 79-year-old Fauci's age and longstanding role at the National Institutes of Health, as well, noting that, "He's been there for 500 years."
Trump also said "Fauci is a nice guy," but later, after his comments on the call were widely reported, Trump elevated his attacks to Twitter and his campaign rally stump speech. In a pair of tweets on Monday afternoon, the president again tried to discredit Fauci — while adding a characteristic petty insult regarding the bad first pitch the doctor threw at the Washington Nationals' home opener earlier this year. (Trump was reportedly very jealous of the attention Fauci was receiving at the time.)
Then, during a campaign rally in Prescott, Arizona, the president went at him again. "Biden wants to lock you down, he wants to listen to Dr. Fauci," Trump told the crowd, prompting a "lock him up!" chant. Not surprisingly, the Biden campaign immediately endorsed Trump's claim:
The supposed attack on Biden was a call back to a similar line Trump used at a rally on Sunday in Carson City, Nevada. In that speech, the president warned the crowd that Joe Biden will "listen to the scientists" if elected, adding that, "If I listened to the scientists, we'd have a country in a massive depression instead of — we're like a rocket ship."
On Monday, Biden confirmed he would, in fact, listen to the scientists — starting with the top one. "If I'm elected, I'll immediately reach out to Dr. Fauci and ask him to continue his incredible service to our country," Biden said.
Trump's comments, of course, are not only a full-throated rejection of scientific advice on a science-dependent crisis, but also a de facto endorsement of Biden being the better choice for any voter lamenting the Trump administration's politics-first response to COVID-19. The attacks on Fauci are additionally bizarre because the Trump campaign was recently citing the scientist in a deceptive attempt to win back voters who have turned on the president thanks to his pandemic response.
As Trump recovered from his case of COVID-19, his campaign put out a misleading ad which selectively edited comments Fauci had made in a March interview to make it sound like Fauci was endorsing the president's handling of the pandemic. Fauci quickly rebuked the ad, emphasizing his apolitical role in the government and the fact that he had not praised Trump, but the overall federal response at that time. The president and his campaign dismissed Fauci's call for them to take the ad down, however. "By doing this against my will they are, in effect, harassing me," Fauci later told The Daily Beast. "Since campaign ads are about getting votes, their harassment of me might have the opposite effect of turning some voters off."
The other reason the ad feud and attacks on Fauci are likely to backfire is because a majority of Americans trust and respect him, as Morning Consult noted last week:
[According to six months of Morning Consult/Politico data, v]oters have consistently rated Fauci's handling of the pandemic above that of Trump, Vice President Mike Pence, their state's governor, the Centers for Disease Control and Prevention, the World Health Organization, Congress and lawmakers from both parties.




Thirty-two percent of voters said Fauci's handling of the coronavirus has been "excellent" and the same share said his response has been "good," according to the most recent poll, conducted Oct. 9-11. Meanwhile, 47 percent of voters said Trump's handling of the virus has been "poor," while 11 percent said it was "just fair."




The share of voters who said Fauci's response was "good" or "excellent" has slipped below 60 percent just twice since mid-April, both times in June. Notably, Democrats, at 79 percent, are at least 20 percentage points more likely to say he's done a good or excellent job than independents (56 percent) and Republicans (54 percent), according to the October poll.
Trump's handling of the pandemic has never fared anywhere near as well in the same, or other polls. According to FiveThirtyEight, an average of 58 percent of Americans disapprove of Trump's response to the crisis. And polls have also shown that a majority of Americans believe Biden would do a better job — a sentiment which has helped him build a larger lead over the president and steal support away from Trump among seniors.
"They're getting tired of the pandemic, aren't we?" Trump also said during his rally in Arizona on Monday. "You turn on CNN. That's all they cover. COVID, COVID, pandemic. COVID, COVID, COVID, COVID. Wha, uh-uh. You know why? They're trying to talk people out of voting. People aren't buying it, CNN, you dumb bastards."
Pandemic fatigue is real, of course, but annoyance doesn't make the virus go away. And COVID-19 continues to be a massive story across the media because it continues to be a massive crisis across the country — and it's getting worse as the U.S. heads into what Dr. Fauci and most other experts warn will be the most difficult phase of the pandemic yet. But instead of talking about flattening the curve, Trump keeps crazily claiming that the country is rounding the corner to recovery — and now appears to be jealous of not only Fauci and Biden's popularity, but how much more attention the pandemic gets than him.
This post has been updated throughout to include new information and analysis.