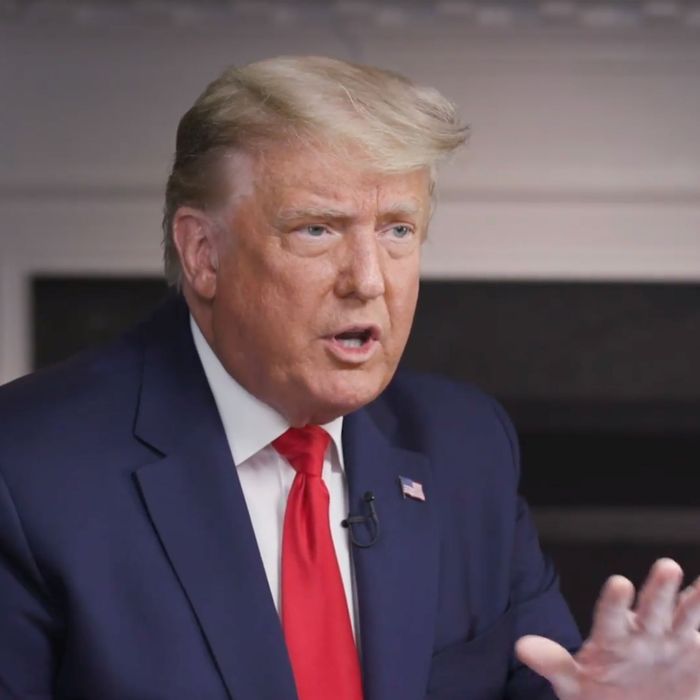 Shockingly, the footage Trump wanted the world to see didn't make him look very good.
Photo: Donald J. Trump/Facebook
Twelve days out from judgment day in an election in which he continues to trail badly, President Trump continues to hammer home an issue that will surely resonate with that small slice of still-undecided voters: his supposedly unfair treatment at the hands of CBS's Lesley Stahl. After two days of promising to release unedited footage of an as-yet-unaired 60 Minutes interview, during which he walked out prematurely because he was upset with Stahl's line of questioning, the president finally followed through on Thursday.
Near the beginning of the 37-minute clip, Stahl sets some expectations for the interview that Trump isn't thrilled with:
Throughout the interview, Stahl presses Trump on issues from health care (the president says he hopes the Supreme Court strikes down Obamacare, a politically toxic position) to his derogatory comments about Anthony Fauci (Trump claims he was misinterpreted) to his false claims that the Obama campaign spied on him. The tone is of an adversarial back-and-forth, well within normal journalistic bounds. Nevertheless, Trump continuously claims that Joe Biden hasn't been given similar treatment by CBS and cuts the proceedings short.
In a statement, CBS News said, "The White House's unprecedented decision to disregard their agreement with CBS News and release their footage will not deter 60 Minutes from providing its full, fair and contextual reporting which presidents have participated in for decades."
A White House staffer had previously told the Washington Post, "It wasn't a bad interview. She just had a tone he didn't like." (This is not an unfamiliar complaint from Trump.)
On Tuesday, a stewing Trump threatened to publish video from the encounter before its airdate so that his supporters can get a "glimpse of what a FAKE and BIASED interview" he had to sit through. "You have to watch what we do to 60 Minutes," he later told a Pennsylvania rally crowd. "You'll get such a kick of it. You're gonna get a kick out of it. Lesley Stahl is not gonna be happy."
He also posted a brief video of Stahl, who was hospitalized this summer with COVID-19, in the White House without a mask on. Though his campaign attacked the journalist for not wearing a face covering in a White House known for its avoidance of PPE, CNN reported that the video showed "Stahl with her producers immediately after Trump ended the interview" and before she had time "to get her personal belongings to put her mask back on."
On Wednesday morning, with time running out for Trump to alter a race he has been losing for its entirety, the president's chief of staff was spending at least some of his time on … this.
Joe Biden's team will surely be happy if Trump's tantrum extends to day four.
This story has been updated.