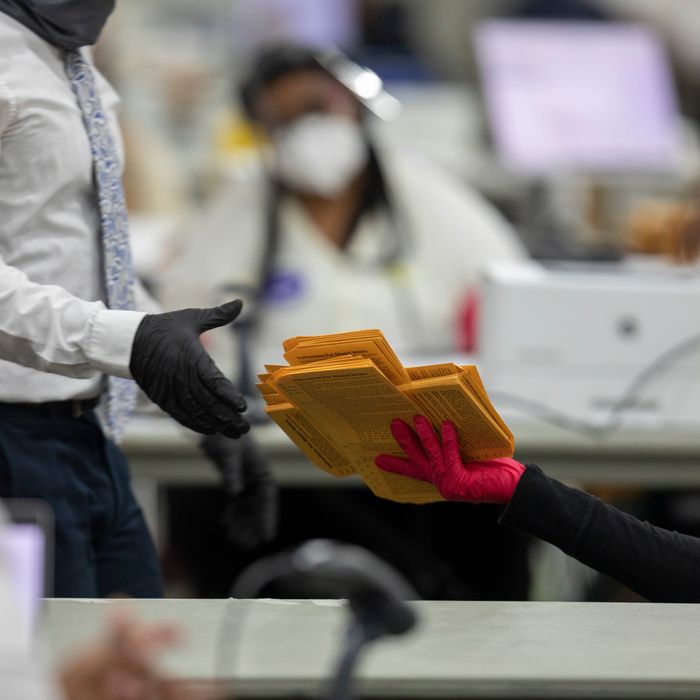 Election workers in Detroit organize absentee ballots on November 4.
Photo: Getty Images
With time running out in which to stall the inevitable, some state-level Republican officials are attempting to overturn the results of a purportedly "fraudulent" election, which one recently ousted cybersecurity official described as the "most secure in U.S. history." In Nevada on Tuesday, this involved a lawsuit filed by Nevada's electors — including the chair of the state's Republican Party — suing to annul Biden's 33,596 vote lead and grant the state's six Electoral College votes to Trump. In Michigan, state officials went a step further on Tuesday, when the two Republican members of the Wayne County Board of Canvassers voted against certifying election results in the county which includes Detroit. Because the board only has four members, the certification was then blocked.
The Republican chair of the committee, Monica Palmer, explained her rationale for the two nays, claiming the board of canvassers did "not have complete and accurate information on those poll books." Such a statement defied a recent state court rejection of a Republican lawsuit to block the certification of votes in Wayne County because of election fraud — a ruling in which the judge said that the "plaintiffs' interpretation of events is incorrect and not credible." Nevertheless, the Michigan Republican Party released a statement from chair Laura Cox moments after the canvassers' decision, in which she said she was "proud" that "enough evidence of irregularities and potential voter fraud was uncovered resulting in the Wayne County Board of Canvassers refusing to certify their election results." (Even if there was evidence of irregularities, it would be all but impossible for Trump to win in a recount in a county where Biden won by over 37 points.)
While in the deadlock, Palmer went so far as to make a motion that would "certify the results in the communities other than the city of Detroit," an act that would disenfranchise voters in a city that is almost 79 percent Black. (The other Republican board member appears to have a history of posting racist memes of Obama.)
Ultimately, the pair stepped down from their brinkmanship. After a three-hour public Zoom call in which county residents lambasted the canvassing board — "You will forever be known in southeast Michigan as two racists who did something so unprecedented that they disenfranchised hundreds of thousands of Black voters in the city of Detroit," one local businessman said — the board came back with a unanimous certification of the county's ballots. Minutes after the new 4-0 vote, Trump tweeted in support of the voided refusal, saying "having courage is a beautiful thing" and claiming that the whole state, not just Wayne County, stopped the certification.
Anyone who believed that the public shaming would truly dissuade two rock-solid Trump defenders had another thing coming. On Thursday night, Palmer and Hartmann sent a letter requesting that their decision to certify be rescinded, claiming that Democrats were not sticking by a compromise solution to audit votes in Detroit. In the note, they continued to insist, despite all evidence to the contrary, that there were major irregularities in majority-Black areas that needed to be investigated.
Palmer claimed that Democrats were not adhering to the solution both sides hammered out on Tuesday night, which she characterized as guaranteeing that the state's Democratic secretary of state, Jocelyn Benson, would conduct an extensive audit. "I felt misled," Palmer told the Washington Post. "I stand firm in not certifying Wayne County without the audit."
But Democrat Jonathan Kinloch, the board's vice-chairman, said that he had communicated with Palmer extensively, and that it had been clear the audit idea was a mere suggestion and far from a foregone conclusion. He told the Post that the attempt to un-certify would not go anywhere, and a spokesperson for Benson said that "there is no legal mechanism for them to rescind their vote."
The pressure on Palmer and Hartmann isn't only coming from one side. The AP reports that "a person familiar with the matter said Trump reached out to the canvassers, Monica Palmer and William Hartmann, on Tuesday evening after the revised vote to express gratitude for their support." Palmer maintains that the president did not attempt to lean on her in regards to the certification.
Though the blockage died the death of 1,000 embarrassments on a telecall, the effort in Michigan does represent an escalation of Republican efforts to keep Trump in office. And though it's extremely unlikely to succeed, national GOP leaders are still encouraging Republican-controlled state legislatures to override their voters and send Trump back to the White House via a hijacked Electoral College. Thankfully, state legislators appear to be more responsible than that: According to the New York Times, Republican majorities in legislatures including Pennsylvania, Michigan, Arizona, and Georgia have already stated they intend to do no such thing.
This post has been updated.