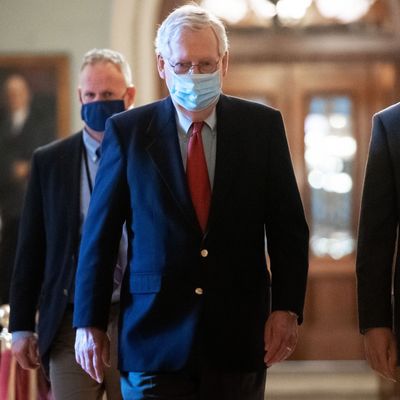 Mitch in a hitch.
Photo: Saul Loeb/AFP via Getty Images
Facing a midnight deadline on Sunday, congressional leaders finally reached a deal on a new COVID-19 stimulus and omnibus spending package, following months of gridlock. Negotiations continued into the weekend after Congress was forced to pass a stopgap bill in order to avoid a government shutdown before the previous midnight deadline on Friday. Below is the latest on the high-stakes negotiations and the likely vote on Monday.
Agreement finalized for deal
Senate Majority Leader Mitch McConnell announced early Sunday evening that Republicans and Democrats had "finalized an agreement" on a $900 billion second COVID-19 stimulus package as part of an overall $1.4 trillion omnibus. McConnell called the agreement "a major rescue package for the American people," even though the package will fall well short of what economists have called for to address the ongoing impact of the pandemic. Senate Minority Leader Chuck Schumer acknowledged that the stimulus was "insufficient" but still necessary.
Congress will apparently not be able to vote on the deal until Monday, however — necessitating a one-day stopgap bill to avoid a government shutdown at midnight on Sunday, as the New York Times explains:
[E]ven as they prepared to pass a consequential measure, Congress was at the peak of its dysfunction, having left so little time to complete it that lawmakers faced a series of contortions to get it across the finish line. With additional time needed to transform their agreement into legislative text, both chambers were expected later Sunday to approve a one-day stopgap spending bill — their third such temporary extension the last 10 days — to avoid a government shutdown while they were finalizing the deal.
Earlier Sunday, Senator Bernie Sanders seemed to suggest he didn't expect a better deal to come together, telling a reporter that, "I think at the end of the day the amount of money in total is not adequate to address the enormous economic crisis facing this country. … I look forward to the Biden administration coming in and doing a lot more than the current people."
What's in the new deal?
The details are still being ironed out and reviewed, but CNN offered a rough outline of the state of $1.4 trillion spending package as of Sunday afternoon:
For now, the two sides are still going back-and-forth over a handful of outstanding issues, including how private schools should be treated in the more than $80 billion in aid outlined for schools and education providers. Republicans had been pushing for $5 billion in aid for private schools – but Democrats had tried to cut that to be about $2.5 billion, according to a source with direct knowledge of the talks.

Sen. Roy Blunt, a member of the GOP leadership, confirmed that how to "treat private schools" is one of the final issues to iron out.




Other details about the emerging proposal include enhanced jobless benefits at $300 per week that would begin on December 27 and go on for about 11 more weeks, according to a source with knowledge of the discussions. That is less than what many Democrats wanted but more than what many Republicans were willing to support.




Also, direct payments would indeed be capped at $600 per person for an individual earning less than $75,000. The proposal would provide an additional $600 per person in the family, meaning a family of five could get $3,000 assuming they're under the requisite income threshold.




There has been late discussion about providing more money for restaurants and for live performance venues – something that has bipartisan support.
The Times adds that the deal will also likely revive the Paycheck Protection Program (from the CARES Act) for small businesses, as well as provide rental and food assistance.
A possible breakthrough
Senate negotiators appear to have reached a critical compromise late Saturday night. The Hill's Alex Bolton reports that Senate Minority Leader Chuck Schumer and GOP senator Pat Toomey "have a deal on Federal Reserve lending language, setting up [a] path for passage of [the] long-awaited COVID relief deal":
The Schumer-Toomey compromise will sweep out the $429 billion in unspent CARES Act funding for the Federal Reserve's credit lending facilities and repurpose it as an offset for a new $900 billion coronavirus relief bill, GOP sources say.
While the language incorporating that compromise is apparently still being finalized — and it's not yet clear how the deal might reduce the real-world impact of the stimulus — Schumer told reporters late Saturday that he believed the House and Senate would vote on the omnibus and stimulus package on Sunday.
Still no deal and little progress toward one after a tense Saturday in the Senate
There was little perceptible movement on Saturday towards a deal for an omnibus and second COVID-19 stimulus package, with GOP Senator Pat Toomey's insistence on limiting the Federal Reserve's lending powers remaining the primary hurdle. Majority Leader Mitch McConnell told GOP senators to stand behind Toomey's proposal during a conference call on Saturday, while Senate Democrats tried to unite and dig in against it — later acquiring a surprise ally, notes the Washington Post:
The Toomey proposal would amount to one of the most significant intrusions into the central bank's autonomy in years. Former Federal Reserve chair Ben S. Bernake weighed in on the dispute in an unusual public statement on Saturday, saying that the central bank's emergency lending authorities should be at a minimum as robust as they were before passage of the Cares Act in March. Bernake said that it was "vital" that the central bank's ability to "respond promptly to damaging disruptions in credit markets not be circumscribed."
After some tense negotiations on Saturday afternoon, there were signs of some progress:
On a call Saturday evening with Democratic senators, Schumer indicated that Toomey said he was willing to modify his proposal to reach a compromise and that talks would continue into the night, according to two people on the call spoke on the condition of anonymity. He said if an agreement was reached late Saturday, the Senate could vote as soon as Sunday on a final deal, though others have cast doubt that the bill can be written and passed by the House that quickly.
It's thus quite possible that Congress will have to pass another stopgap on Sunday both in order to avoid a government shutdown as well as push negotiations into Christmas week. On Saturday, Politico reports, the two parties continued to publicly disagree on what the Toomey proposal would actually do:
Toomey's language would wind down the Fed's emergency lending programs supported by Congress in March, aligning with Treasury Secretary Steven Mnuchin's plans to cut off the programs. But Toomey also seeks to prevent the president next year from establishing similar programs, which Democrats say would tie Biden's hands during a time of economic uncertainty.




On Saturday's GOP caucus call, Sen. Tom Cotton (R-Ark.) praised McConnell, Toomey and Mnuchin for sticking to their position and stressed that the proposal isn't a broad rewrite of the Federal Reserve's authorities, according to sources briefed on the call. He suggested that Democrats either don't understand the provision or are lying.
A shutdown stopgap — and still no second stimulus — until Sunday
After negotiations over a $900 billion COVID-19 stimulus package dragged on for another day, both the House and Senate passed a two-day temporary spending bill on Friday night in order to keep the federal government funded before it was due to shutdown at midnight. (President Trump is expected to sign the bill.) As a result, Congress now has until midnight on Sunday to work out a deal, and while both Republican and Democratic leaders expressed optimism that would happen — it isn't over until it's over.
What went wrong (on Friday, at least)
Heading into Friday, it had seemed like Congress might finally be close to agreeing to a stimulus deal and spending bill to avoid a shutdown. But negotiations to finalize the plan broke down after Senate Republicans, led by Senator Pat Toomey, tried to end the emergency lending powers given to the Federal Reserve by Congress earlier this year — which would eliminate one of the tools the incoming Biden administration could use to fight the recession. The curveball drew immediate criticism from Democrats and the Biden team, as the New York Times notes:
The proposal, which would bar the central bank from reviving emergency lending efforts that expire at year's end and potentially limit its ability to fight future financial crises, emerged on Friday as perhaps the thorniest point of contention holding up the stimulus agreement. It could take away some of the Fed's power as a "lender of last resort," and curtail Mr. Biden's latitude in dealing with the continuing economic fallout from the pandemic.
As Intelligencer's Ed Kilgore pointed out Friday evening, the GOP appears to have rediscovered their concerns about the deficit at the worst possible moment, particularly since Republicans have already succeeded in making the potential stimulus much skinnier:
Beyond the shape and scale of the stimulus deal, which will largely exclude state and local government assistance, and will offer only scaled-down unemployment insurance supplements and smaller direct stimulus checks, there's a new austerity push from Senate Republicans that is aimed at restraining the monetary policy tools available to the Biden administration …




It's unclear how the negotiations will turn out as talks drag on into the weekend before Christmas. But it is very clear that Republicans are going back to their old austerity hymnbook, with half-forgotten pleas to fiscal probity and monetary restraint. Any day now, we will hear the first heartfelt cries of warning about inflation that we have heard in years, along with all sorts of moralizing about a federal government that cannot live within its means.