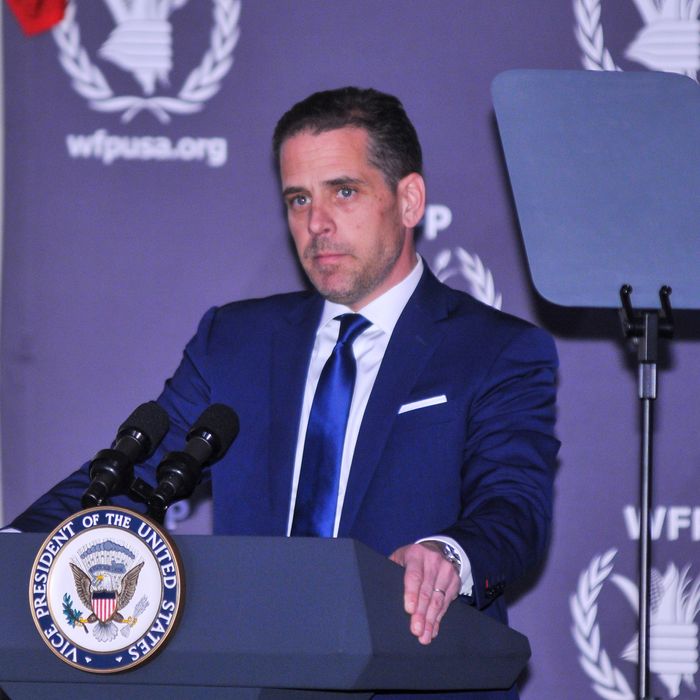 Photo: Kris Connor/WireImage
The president-elect's son Hunter Biden announced on Wednesday that his "tax affairs" are under investigation by the U.S. Attorney's Office in Delaware:
But Biden's statement downplays the extent of the probe.
According to CNN, federal prosecutors in Delaware are working with the FBI and criminal investigators at the IRS as they issue subpoenas for the inquiry. One focus of the probe is to determine if Hunter Biden or any associates broke money laundering or tax laws when dealing with foreign interests — with particular emphasis placed on his connections in China, which could potentially involve counterintelligence concerns.
The Washington Post provides more detail, noting that investigators are looking to see if Hunter failed to report income from business deals in China. The inquiry reportedly began as early as 2018 and continued through the election year, though the president-elect son has not yet been interviewed. As the Post observes, it's unclear how much progress investigators have made: "Interviewing the subject of an investigation typically occurs when prosecutors have amassed a good deal of evidence — though prosecutors seeking to serve subpoenas as recently as this week suggests there is more investigative work to be done."
Politico reports that some of the trouble for Hunter Biden began when Devon Archer, one of multiple associates who have come under legal scrutiny in recent years, was convicted of an unrelated fraud charge in 2018. In the course of that investigation, Southern District of New York prosecutors uncovered foreign payments made to Hunter Biden and opened a probe, looking into possible money laundering. But. they ended the investigation after conferring with Delaware prosecutors, who were already pursuing a similar line of inquiry.
Biden, 50, was a main focus of GOP outrage during the 2020 presidential race, as conservative commentators and lawmakers saw his business dealings in Ukraine as an example of D.C. nepotism and corruption. In November, an investigation led by Senate Republicans into the family's finances determined there was no evidence of wrongdoing by Hunter Biden or his father. Nevertheless, the tax inquiry made public on Wednesday will likely revive and amplify these claims of misconduct. It will also serve as an immense challenge for whomever Biden nominates as Attorney General, as the Department of Justice faces an independence crisis coming out of the Trump years.
In the announcement, Joe Biden also said he was "deeply proud" of his son, who is confident that his business has been conducted "legally and appropriately."