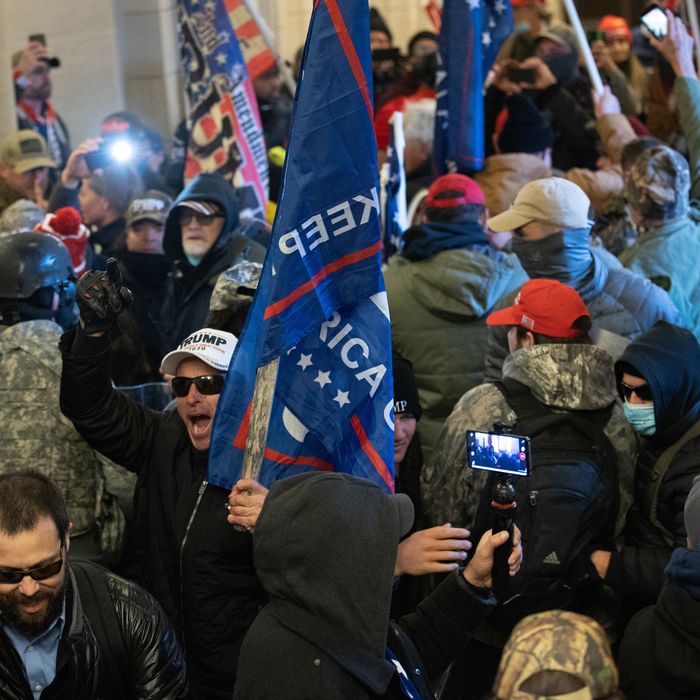 Last week, a violent mob, mostly maskless and incited by the president, stormed the U.S. Capitol and wreaked havoc, forcing many lawmakers, staff, and members of the press to shelter in locked offices before moving to other secure locations. The unprecedented attack occurred amid a second crisis, taking place on the deadliest day of the pandemic so far. The House attending physician urged lawmakers to get tested for possible COVID-19 exposure during lockdown, and several members have already reported a positive diagnosis. Here's a full list of the lawmakers who contracted COVID after sheltering together during the riot.
Representative Bonnie Watson Coleman
On Monday, January 11, Representative Bonnie Watson Coleman, a New Jersey Democrat, announced that she has tested positive for COVID-19 and suggested she believes she was exposed while sheltering with maskless colleagues. Watson Coleman had a positive rapid test on Monday and is awaiting the results of a PCR test, according to Bloomberg. The 75-year-old lung-cancer survivor received the first dose of the Pfitzer/BioNTech vaccine when it was made available to members of Congress late last month. She said on Twitter that her symptoms are mild so far.
Representative Pramila Jayapal
Democratic congresswoman Pramila Jayapal of Washington announced on Monday evening that she has tested positive for COVID. Jayapal did not disclose whether she is experiencing symptoms, but she said she would continue to work "to the best of my ability" while in quarantine.
Jayapal's statement also noted the "selfish idiocy" of fellow House members who refused to take proper COVID precautions.
"Too many Republicans have refused to take this pandemic and virus seriously, and in doing so, they endanger everyone around them," she said. "Only hours after President Trump incited a deadly assault on our Capitol, our country, and our democracy, many Republicans still refused to take the bare minimum COVID-19 precaution and simply wear a damn mask in a crowded room during a pandemic — creating a superspreader event on top of a domestic terrorist attack."
Jayapal predicted this outcome in an interview with the Cut a day after the attack, saying she was already quarantining.
Representative Brad Schneider
Representative Brad Schneider, an Illinois Democrat, announced on Tuesday, January 12, that he had tested positive for COVID-19. Schneider, who has not experienced symptoms so far, said he's trying to remain isolated in his home but he's worried that he already exposed his wife.
"Last Wednesday, after narrowly escaping a violent mob incited by the president of the United States to attack the Capitol and its occupants, I was forced to spend several hours in a secure but confined location with dozens of other members of Congress. Several Republican lawmakers in the room adamantly refused to wear a mask," Schneider said on Twitter.
"Today, I am now in strict isolation worried that I have risked my wife's health and angry at the selfishness and arrogance of the anti-maskers who put their own contempt and disregard for decency of the health and safety of their colleagues and our staff," he continued.
Schneider called for members of Congress who refuse to wear masks to be removed from the House floor immediately.
More positive cases in Congress are likely
In the photographs and videos of the Capitol under siege, almost none of the insurrectionists wear masks as they storm through the building. Many of the thousands who gathered in Washington, D.C., for the "Save America March" traveled from other states to do so: The woman shot and killed inside the Capitol traveled from San Diego, while the three men who died in the riot outside traveled from Pennsylvania, Alabama, and Georgia. Unlike the protests against police brutality this summer — which were not linked to surging cases and were well-masked, outdoors, and local — the Trump supporters who came to D.C. are "likely headed home and could bring COVID with them," according to infectious-disease epidemiologist Beth Linas, who spoke with the Hill. "They could have brought it to D.C. as well."
As for the lawmakers on the receiving end of the chaos, those involved in the electoral count — already facing a transmission risk by gathering in-person for a symbolic vote — were then cramped together, lying on the floor of the chamber in an attempt to take shelter. Many members of Congress have been vaccinated, but it's a two-dose vaccine, and it's unclear how protected people are in between the first and second shot, as well as how long it takes for the vaccine to kick in. Even if some vaccinated lawmakers achieved immunity, the health of dozens of staffers, reporters, and police officers was endangered as the chaos ensued.
Representative Susan Wild of Pennsylvania said there were 300 to 400 other evacuees in the holding location where she was placed, about half of whom weren't wearing masks, despite being offered them. "It's exactly the kind of situation that we've been told by the medical doctors not to be in," Wild told CBS News. On Friday, her statement was bolstered by a video taken inside the secure room:
On Tuesday, House Democrats introduced legislation that would impose a fine of $1,000 per day on any member of Congress who refuses to wear a mask in the Capitol complex, Forbes reports. The rule would remain in place for the duration of the pandemic.
Before the riot, anxiety in Congress was already rising amid questions about the accuracy of the test that the House and Senate has been using to screen members and staff, which the FDA reportedly said is prone to false results.
Dozens of members of Congress and their staffs have tested positive for the virus since the start of the pandemic, and at least two lawmakers announced positive tests in the hours after the riot, including Representative Jake LaTurner, a Kansas Republican, and Representative Michelle Steel, a California Republican (this suggests they contracted COVID before, not during, lockdown).
On December 29, 41-year-old Congressman-elect Luke Letlow, a Louisiana Republican, died from COVID-19 before he could be sworn in.
This post was updated after several lawmakers announced their positive diagnosis.