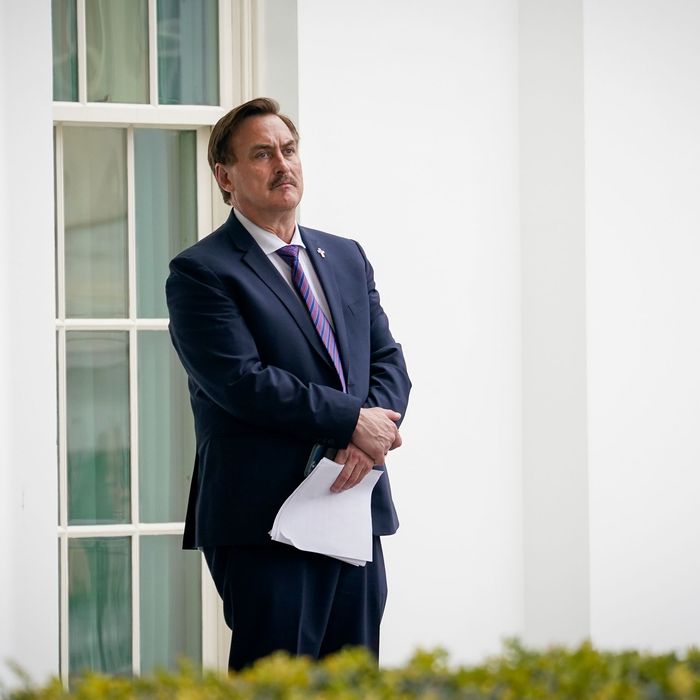 MyPillow CEO Mike Lindell at the White House on Friday.
Photo: Drew Angerer/Getty Images
My Pillow CEO Mike Lindell entered the West Wing of the White House on Friday bearing what appeared to be plans for something resembling a coup ahead of his meeting with President Trump. An eagle-eyed Twitter user enhanced a photo of a piece of paper in the right hand of the mustachioed mattress topper mogul that included phrases such as "insurrection act now as a result of the assault" — apparently last week's Capitol riot. It also clearly shows Kash Patel, a hardcore Trump loyalist, "as acting CIA" and references Trump's former lawyer and noted conspiracy theorist Sidney Powell in some unknown context. In bold at the top it reads: "Frank Colon as acting National Security." Colon is described as an attorney with "cyber … expertise" associated with "Fort Mead[e]," where U.S. Cyber Command is headquartered.
Intelligencer spoke with a person fitting that exact description — a cyber attorney based out of Fort Meade — who expressed confusion on Friday afternoon at apparent plans for him to be involved in a coup. This Frank Colon described himself as "just a government employee who does work for the Army." He seemed befuddled why he would floated to the president in any senior role and said that he never met Lindell, although "I've seen him on TV." (Lindell did not respond to a request for comment.)
Colon said "I get called into a lot of projects for the Pentagon," including Operation Warp Speed, but that it "would be odd to reach that far down" in the Defense Department for a role like national security advisor, "but people know me in the Pentagon because there's just not a lot of [people doing cyber law]."
A military spokesman acknowledged that Colon is a civilian lawyer assigned to the 780th Military Intelligence Brigade (Cyber) but declined to comment further.
Online, Colon appears to doubt Trump lost the presidential election. A Twitter account that shares the same user name as Colon's LinkedIn page is rife with pro-Trump conspiracy theories. Colon has denied he is on Twitter. The account's most recent tweet is an apparent reference to President-elect Joe Biden: "If you need the military to protect you from the people during your fraudulent inauguration the people didn't vote for you." The Twitter account is followed by a handful of MAGA personalities, though not Lindell. Colon may face a military investigation over his social media accounts.
Lindell told the New York Times after his meeting that the notes were given to him by "an attorney who he's been working with to prove Trump won." His meeting with the president was brief, however, reportedly lasting no more than five to ten minutes.
This post has been updated to include new reporting.