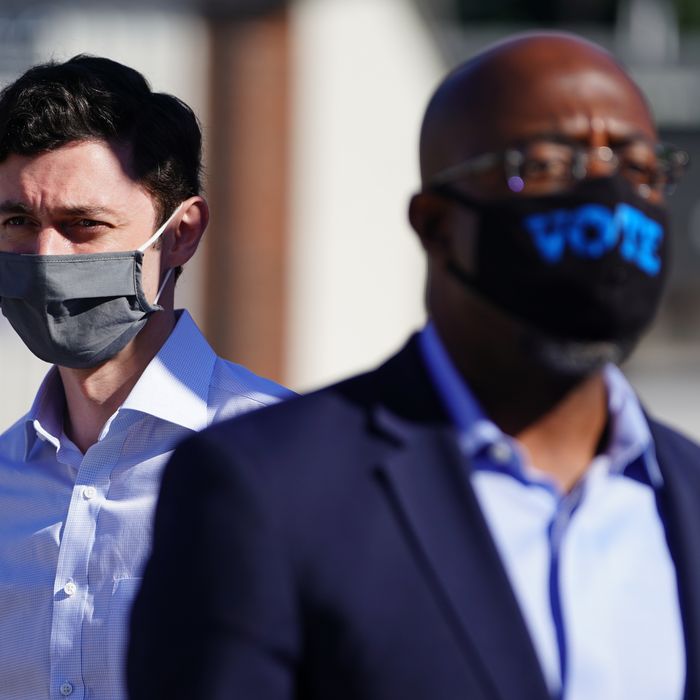 Photo: Elijah Nouvelage/Getty Images
Talking with national political correspondent Gabriel Debenedetti about the unfolding drama in Georgia's two special-election runoffs.
Ben: Everything's coming up Warnock and Ossoff right now. No official calls have been made, and it still might be awhile before we get one, but election data guru Dave Wasserman says that Warnock has his race against Kelly Loeffler in the bag, and that Jon Ossoff will defeat David Perdue. Have Democrats you've been talking to gone past the "guarded optimism" phase at this point?
Gabriel: Yeah, no one is celebrating yet, but their optimism is a little less guarded than even a few hours ago. I'd caution this by saying Ossoff does appear to still be lagging Warnock, and there's little reason to believe that'll change when the Atlanta votes come in. Still, they think both Democrats are in much better shape than they might have expected a few hours ago.
Ben: Is the counting unlikely to take several days as some previously thought?
Gabriel: No, there will still likely be several days of provisional ballot counting, and curing of ballots. But it seems less likely now that we'd have to wait a few days for an official call or two. But that may be conjecture or wishful thinking from Democrats. These are still very close races.
Ben: Looking at the state electoral map, what accounts for the Democrats' optimism?
Gabriel: Obviously the main reason for Dem optimism here is the expectation of a huge vote coming in from in and around Atlanta, the party's power base, and home especially to a lot of Black voters. But it's the relatively weak turnout in traditionally GOP-leaning exurbs that have the Dems thinking they could be in good position here, too, even though Republicans are winning by large margins in areas like the deep-red ones Trump visited. It's all a relief to Dems, who were sweating a bit over what looked like relatively weak early vote numbers in and around Savannah and Albany.
Ben: And this presumably begins a long and painful debate within the GOP about why turnout lagged their targets, and what role President Trump's conspiracy-mongering and attacks on state officials played in that.
Gabriel: Let's not get ahead of ourselves. I will say: There will be many long, very painful debates within the GOP about what's happened over the last few months. Not sure what piece of the argument comes first.