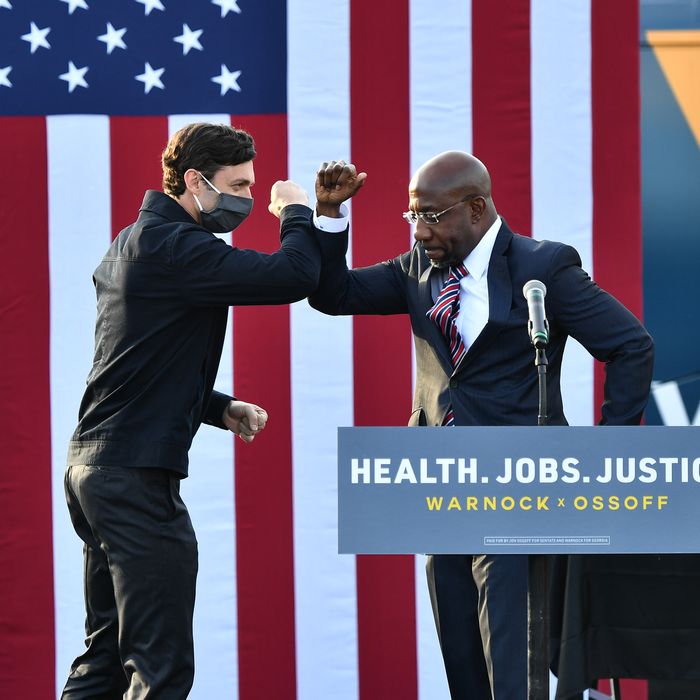 The polls have closed and Democrats now control the Senate. Shortly before 2 a.m., several major news outlets projected that Raphael Warnock would win over Republican Kelly Loeffler. And as the outstanding ballots trickled in, mostly from late-counting blue counties, Jon Ossoff was declared the winner over Republican David Perdue around 4 p.m. As Congress faces a new crisis, below is every developing thing you need to know about the dual races in Georgia
Updates will appear in reverse chronological order.
Jon Ossoff is projected to win over David Perdue
Shortly after 4 p.m., the Associated Press made the call that Ossoff would join Warnock in the Senate, flipping the legislative body to Democratic control. With 98 percent of votes counted, he is now leading Perdue by almost 25,000 votes. Ossoff will become the youngest member of the Senate and the first Jewish senator elected to a southern state since the 1880s.
Trump is not taking this very well
President Trump is a little preoccupied with his attempt to overturn the presidential election in the senate on Wednesday. But he took some time to weigh in on Tuesday's seismic Georgia results — making the case that the Republican losses there, which many in the GOP blame on him, actually strengthen his case to remain president.
Schumer says both Democrats won, previews new era in Washington
Chuck Schumer, who has led Senate Democrats in the minority during the Trump era, is now poised to become the Majority Leader on the heels of expected dual Senate victories in Georgia. (The Jon Ossoff v. David Perdue race has not yet been called by networks.) In a statement, Schumer said that both Democrats had won, and that "it feels like a brand new day." "For too long, much-needed help has been stalled or diluted by a Republican-led Senate and President Trump," he continued. "That will change with a Democratic Senate, Democratic House, and a Democratic President."
He delivered a more concise message in a tweet:
A taste of the mood within the GOP this morning
Where the race stands at 8 a.m. Wednesday
Jon Ossoff's lead over David Perdue has widened to 16,370 votes, or 0.4 percent – just below the 0.5 percent threshold where a candidate can request a recount. Ossoff campaign manager Ellen Foster said in a statement on Wednesday that they expect to win, as "The outstanding vote is squarely in parts of the state where Jon's performance has been dominant."
Perdue campaign officials said in a statement that they still expect to win and will use "every available resource and exhaust every recourse to ensure all legally cast ballots are properly counted." It may be hours or even days before the race is called, as there are still thousands of absentee and provisional ballots to be counted.
Raphael Warnock is projected to win over Kelly Loeffler
The Associated Press, NBC News, Fox News, and CBS News have all called the special election for Reverend Raphael Warnock, making him Georgia's first-ever Black senator and just the second Black senator to be elected from the South since Reconstruction. Warnock began his victory speech by talking about his mother, who spent her summers in Waycross, Georgia, picking cotton and tobacco in the 1950s.
"The 82-year-old hands that used to pick somebody else's cotton went to the polls and picked her youngest son to be a United States senator," Warnock Warnock said early Wednesday morning.
"So I come before you tonight as a man who knows that the improbable journey that led me to this place in this historic moment in America could only happen here," Warnock continued. "I promise you this tonight: I am going to the Senate to work for all of Georgia, no matter who you cast your vote for in this election."
And with over 98 percent of ballots counted, Jon Ossoff has pulled ahead of David Perdue thanks to a significant return in Dekalb County:
What questions remain?
ED KILGORE: After a flurry of late results, vote-counting in Georgia has slowed to a crawl, with significant votes still out in five counties: Chatham, Coffee, Dekalb, Fulton, and Gwinnett. Over half of the expected remaining vote is in heavily Democratic Dekalb and Fulton, and only Coffee is a Republican stronghold.
With Warnock's victory clear and Ossoff expected to win when the counties have all reported their votes by midday Wednesday, even then there will be uncertainty, since the deadline for military (expected to tilt Republican) and overseas (expected to tilt Democratic) ballots isn't until Friday. But Perdue's path to victory is now choked with obstacles and Loeffler's is blocked entirely.
A runoff for the history books, participation-wise
Georgia secretary of state Brad Raffensperger told CNN that he thinks as many as 4.6 million people voted in the runoffs, which is a higher turnout than Georgia had in the 2016 presidential race or 2018 governor's race.
Meanwhile, in the other statewide race in Georgia
An apparent win for pollsters, too
Will there be recounts?
11Alive reporter Erin Peterson explains that "in Georgia, a candidate can request a recount if the race is within 0.5 percent. Right now: Warnock is leading by 0.8 percent, 0.01 percent separate Perdue and Ossoff."
Ossoff now trails by less than 4,000 votes
Another batch of votes leaves Jon Ossoff just 3,624 votes behind David Perdue, and it seems quite likely he'll be able to overtake him:
Warnock leads, Ossoff gains after big batch of votes from DeKalb finally lands
With a heap of votes from the majority Democratic DeKalb County, east of Atlanta, there's more good news for the challengers: Warnock is up around 20,000 votes statewide, while Perdue's lead over Ossoff has shrunk to a little over 2,000 votes. With an estimated 95 percent of the vote in statewide, and the remaining counties leaning blue, the math appears to be in the Democrats' favor:
The DeKalb demographic shift
ED KILGORE: As the whole political world waits to see if DeKalb County's big batch of votes will deliver the U.S. Senate to Democrats, I couldn't help but think way back to 1972, when as a college student I was Democratic precinct chairman in Tucker, in DeKalb County. Republicans swept every contest in DeKalb, from Richard Nixon's 4-1 win over George McGovern down to county judgeships. It's been a long upward climb for DeKalb Democrats, with demographic changes making it all possible.
How much vote is left in DeKalb County?
The majority Democratic county is critical to Warnock's and Ossoff's chances, but there are conflicting reports about how many votes are left to be reported. The Georgia secretary of state's office says more than 171,000 remain, while CNN is reporting 130,000, which if correct, could be a disaster for the Democrats. (It's likely CNN is wrong, since the secretary of state's office reports those numbers.)
As to why the DeKalb returns are taking so long, the Atlanta Journal-Constitution explains:
DeKalb County officials on Tuesday night told the Atlanta Journal-Constitution that they know the county's counting process is taking a while, but that isn't uncommon or out of the normal pace in the elections process.




A line with nearly 60 people is stretching outside of the elections building in Decatur where dozens of electronic tablets containing the ballots from the election still need to be processed. Erik Burton, a spokesperson for voter registration, told the AJC that the county is still working to verify the oath signatures with the inner ballot envelopes for the mail-in ballots. Several drop box and mail ballots were submitted today and they're still processing those ballots, he said.
If there are any calls tonight, this is why that was possible
Trump warns of impending dump
And it's heavy on the conspiracist bullshit:
An all-too familiar dynamic emerges
And, like clockwork:
A lot has changed since 2014
ED KILORE: If you want a good example of how rapidly demographic and political change has struck the big northern suburbs of Atlanta, consider the shift in David Perdue's performances in Cobb and Gwinnett counties between 2014 (when he defeated Michelle Nunn to win his first term in the Senate) and today. In Cobb he defeated Nunn by a 55-43 margin; he is currently losing it to Ossoff by 38-62. He beat Nunn 55-44 in Gwinnett. He's losing it to Ossoff 37-63.
Wasserman's early call gets flagged
The 10 p.m. overview: Loeffler is in danger
ED KILGORE: With over three-fourths of the expected vote in, Democrats are on the brink of winning one of the two races, as Raphael Warnock is expected to wipe out Kelly Loeffler's current one-point statewide lead once the large batch of votes remaining to be counted in heavily Democratic Cobb, DeKalb, and Chatham counties come in. The New York Times "needle" has Warnock as having an 84 percent win probability. Jon Ossoff is more narrowly favored to win over David Perdue, but he has a more formidable lead of just under 2 percent to overcome.
Can the Democrats hold on?
A look at what's left, from the Georgia secretary of state's office:
Meanwhile, veteran political analyst Dave Wasserman is now predicting a victory for Warnock:
But one Georgia politics reporter warns:
Welcome to the new battleground
The stakes are extraordinarily high, and it's two runoffs, not just one — but whatever the final result, Georgia is plugged in:
The results are coming in faster than expected
In a brief chat about the results thus far, Intelligencer's Gabriel Debenedetti notes the surprising speed of tonight's returns:
[W]hereas a lot of the Georgia folks I've talked to in recent days expected the counting/recounting to go on for a few days, they've been surprised with how quickly some of the votes have been tallied tonight. So that means we might have more of a sense of where this is headed late, late tonight than we expected. Still, there's a chance that sense is, "It's still really close!" … In which case we could be in for another Election Week as remaining ballots are cured, etc.
Read the rest of Gabe and Ben Hart's chat here.
Perdue has taken a slim lead
Still, Democrats shouldn't be too shaken by the takeover, as the lead is from his win in Cherokee County, a red area that Republicans were expected to take. Ossoff appears to be where he needs to be:
The state of the returns at 9 p.m.
ED KILGORE: Two hours after the polls closed votes are pouring in from all over, and the Senate races have predictably tightened. With nearly two-thirds of the expected vote in, Warnock is leading Loeffler 50.3-49.7, and Jon Ossoff leading David Perdue by four-tenths of one percent (50.12-49.88). But there are a ton of votes still out in Cobb, DeKalb, and Gwinnett counties in metro Atlanta, which are all voting heavily for the Democrats. It's worth noting also that the very last votes to be counted (probably tomorrow) will be late-arriving mail ballots and provisional ballots, both of which should tilt Democratic.
If Republicans lose the Senate, they may blame Trump
Gabriel Sterling, the Georgia official who presided over the recount — and who said that Trump's election fraud claims will get someone killed — isn't afraid to blame the Republican who may have undermined Loeffler's and Perdue's chances. "I'll speak for outside of my role working for the state, this is a personal opinion that'll fall squarely on the shoulders of President Trump and his actions since November 3," Sterling said on CNN.
Democrats lead at half-time
ED KILGORE: Over half the expected vote is in, and currently Warnock leads Loeffler by a 52.9-47.1 margin, while Ossoff leads Perdue by 52.4-47.6.
Another solid indicator of a possible blue sweep
So far, a lot of variables are breaking Democrats' way (but it ain't over):
A future lion of the Senate?
Doug Collins's revenge?
ED KILGORE: Since Raphael Warnock is running slightly but consistently ahead of Jon Ossoff in two very close races, we should remember that a split decision would be a meta-victory for Republicans, who would then hold 51 Senate seats.
Why, you might wonder, would Kelly Loeffler be running behind David Perdue? One theory is that despite her savagely pro-Trump and right-wing campaign this year, Loeffler might still be losing some conservative votes from supporters of special-election rival Doug Collins, who ran a lot of ads attacking her as a RINO before quickly endorsing her in the runoff.
It might all come down to (not enough GOP) turnout
ERIC LEVITZ: Going into tonight's returns, we knew that DeKalb County — home to Atlanta, and the biggest reservoir of Democratic votes in the state — looked poised to witness turnout more than 90 percent as high as its general-election showing. This constituted a clear marker: The GOP would either needed to post comparably high turnout in the reddest parts of the state, or else, significantly improve on its 2020 performance in the Atlanta metro area.
As of this writing, Republicans don't appear to be doing the former. As Dave Wasserman notes, several "rural, extremely Republican counties" have fully reported their results, and saw turnout below 90 percent of that of November 3. And in at least a couple of those counties, the Republican candidates are running a shade behind Trump's 2020 margin.
Meanwhile, in the narrowly divided Washington County, both Ossoff and Warnock have more than tripled Biden's margin.
All of which means: Republicans need to beat expectations in DeKalb County and/or other areas that have yet to report if they're going to pull this out.
45% of returns are now in
Welcome news for Democrats
ED KILGORE: Warnock and Ossoff are both running well ahead of Joe Biden's November performance in Clayton and Henry counties, two Democratic-trending close-in Atlanta suburbs south of the city. This is a very good sign for Democrats.
The markets react (but again, it's still too early)
ERIC LEVITZ: Betting markets and financial markets now seem to be expecting a Democratic sweep. These moves almost certainly reflect little more than what the New York Times needle is showing (it's extremely unlikely that market participants know something about the election returns that politics Twitter does not). But the sentiment among traders is interesting: Specifically, investors have increased their expectations for inflation, out of an apparent belief that a Democrat-controlled Senate will pass another round of fiscal stimulus, thereby increasing the risk that consumer demand will outstrip supply and the dollar's value will fall, relative to a scenario in which Biden must govern with the aid of a Republican Senate.
What we know after an hour of returns
ED KILGORE: With polls closed for an hour, early returns indicate what most of us expected: a very close race which probably won't be decided until nearly all the votes are in. It appears Raphael Warnock and Jon Ossoff are running slightly ahead of Joe Biden's win-by-an-eyelash November vote share, with Warnock running ahead of Ossoff by a hair, while the runoff-day turnout Republicans were counting on is indeed running pretty high. There are some danger signs for Republicans on the turnout front in heavily GOP North Georgia, but it's far too early yet to conclude it's a systemic problem. It's one of those Election Nights where both sides can spin data points in their direction.
Beware of needleful things
JONATHAN CHAIT: The New York Times Upshot Needle is tilting Democratic, which means that, if Republicans win, Nate Cohn is going to receive a wedgie. I have a crude model that projects the size of his wedgie, factoring in the projected needle Democratic lead, at what hour, and what time of night Republicans finally win. But roughly speaking, the break-even point for it to reach Atomic Wedgie levels — defined as a wedgie where the strap is pulled over the victim's head — is about 9:00 p.m. So, if Nate wishes to avoid major discomfort, he needs either for Democrats to win, or for the Needle to swing back to the GOP relatively soon.
It's still early, but here's some early analysis to hold us over until it's later
ED KILGORE: The below observation from Nate Cohn is a reminder that despite all the talk about turnout levels being the sole determinant of who wins these runoffs, vote share still matters as well. Vote share, of course, can reflect one party or the other's superior ability to turn out their vote, or even, believe it or not, persuasion.
It's still early, but one county is ahead of the curve
And for what it's worth:
The one and only time you'll see a needle on this liveblog
The polls are almost all closed
As seen above, the return of results has begun. In the meantime, remember that it's still probably not a good idea to put a lot of faith in exit polls.
Beware the telling turnout anecdote
ED KILGORE: As you might expect in a high-stakes contest where everyone agrees partisan turnout will be the key to victory, there are multiple and often conflicting reports popping up on Twitter of this or that county's Election Day numbers. Sometimes they are obscure rural counties, and that makes sense insofar as the Republican candidates need a big runoff-day turnout to offset the presumed Democratic advantage in early voting. But it's important to remember that Georgia has 159 counties (more than any state other than Texas), so some of these counties arousing excitement, because turnout is above or below November 3 levels, are simply too small to matter a great deal.
Results reporting ahead. (Remember how much fun that is?)
Polls close at 7 p.m., but, as the New York Times' Reid Epstein points out, how the results come in will vary, and it's not at all clear that it will be clear who won tonight:
When Georgia's Senate runoff polls close tonight, elections officials will begin reporting three sets of ballots: 2.1 million votes cast in person during early voting; 1 million votes cast by mail; and those cast at precincts on Tuesday — a figure that officials estimate could be anywhere between 500,000 and 800,000. …




[T]here will be little consistency to how Georgia's 159 counties report their results. Some will post all of their early in-person votes, which have already been tabulated by voting machines, shortly after polling places close at 7 p.m.




Statewide, 74 percent of mail ballots have been processed, but Fulton County, a Democratic stronghold, has processed just 66 percent of its ballots, according to the United States Election Project. In neighboring Cobb and Gwinnett Counties, suburbs that swung hard to President-elect Joseph R. Biden Jr. in November, officials have processed 82 percent and 76 percent of their mail ballots — an indication that those counties will report results earlier in the night. Other counties expected to be slow in reporting results include Henry County, a suburb south of Atlanta that has processed 57 percent of its mail ballots; Clayton and Forsythe [sic] counties, in metropolitan Atlanta; Chatham County, which includes Savannah; and Houston County, just south of Macon.
"Look, we're losing our country"
That's what one conservative voter told Atlanta Journal-Constitution reporter Brad Schrade at the polls on Tuesday in one of Georgia's majority Republican counties. President Trump's false voter-fraud rhetoric appears to have sunk in — and motivated turnout — there as well:
Similar frustrations, anger and doubts have been expressed in recent weeks across Morgan County, a Republican stronghold 50 miles east of Atlanta where seven in 10 voters favored Trump in November. They have listened to the president put forth a barrage of allegations of voter fraud, and those unfounded claims have helped fuel their cautious views about the Senate runoffs.




Several voters interviewed on Tuesday said they have misgivings about whether their ballots would be accurately counted, but those doubts seemed to have little impact on turnout. Morgan County had one of the strongest turnouts in the early voting period in the state with roughly half of its 15,500 voters going to the polls. On Tuesday, a steady stream of voters turned out, with officials estimating more than 2,000 ballots would be cast as of 4 p.m. That puts the county on pace to surpass the election day turnout in November of 2,400.




If anything, the climate of suspicion among Republicans seemed to be making them more determined to cast their ballots and exert their will at the ballot box.
Meanwhile, some bad pandemic news
Georgia's seven-day average of new COVID-19 cases is down, but the surge continues, and, per the Augusta Chronicle, the first case of the new coronavirus variant that has sent the U.K. into lockdown has been reported in the state:
Georgia again spiked above 6,000 new cases of COVID-19 on Tuesday as nearly every county in the Augusta area saw increases and Augusta hospitals saw record numbers of patients. Georgia also identified its first case of a new strain of the virus that is more infectious.




The Georgia Department of Public Health said it had sequenced its first case of the variant known as B 1.1.7 in an 18-year-old man with no history of recent travel. The sample had been sent initially by a pharmacy in Georgia to a commercial lab for testing, spokeswoman Nancy Nydam said. The patient was in quarantine while the state looked for close contacts, she said. 




Georgia added 6,102 new cases Tuesday for a total of 597,208, with 66 new deaths for a total of 9,966, the Department of Public Health reported. 
What the runoff results could mean for post-Trump politics
Intelligencer's Eric Levitz explores the possible ramifications from the Georgia results, arguing that:
November's election couldn't offer much insight into how the major-party coalitions will or will not shift once Donald Trump returns to the private sector. Nor could it tell us much about what sorts of campaign appeals will or will not prove fruitful for Democrats and Republicans in the post-Trump era. To be sure, Georgia's Senate elections are a suboptimal test case for theories on these subjects. A double-header runoff contest for control of the U.S. Senate, held amid a historic pandemic and a lame-duck president's coup attempt, is a rather atypical electoral event! So, today's election cannot tell us anything definitive about where our democracy will head once Trump is evicted from the White House. But it will nevertheless yield the best preliminary data we're going to get on that matter for a long time to come.
Among the four questions Eric focuses on: Can direct appeals to voters' material interests win Democrats new supporters?
Mitt Romney infamously attributed his 2012 loss to Democrats following the "old playbook of giving a lot of stuff" to voters (for the Republican, "medical care that is affordable to working people" qualified as a crass "gift" to African American voters). Yet, in the estimation of many progressives, the Democratic Party has not played "Santa Claus" nearly enough in recent election cycles. In both 2016 and 2020, a great deal of Democratic messaging was aimed at immaterial themes — the importance of healing national divisions, the incompetence of Donald Trump, etc. Further, under Obama, Democrats actually went out of their way to make the president's working-class tax cuts less discernible to the voters who benefited from them. If Democrats made more of an effort to turn elections into referenda on popular, progressive economic policies, the theory goes, the party would reap major dividends.




The Georgia runoffs offer a test of this hypothesis. By demanding $2,000 stimulus checks, Donald Trump handed Democrats a tailor-made wedge issue: Public support for larger relief checks is overwhelming, but Senate Republicans' opposition is nevertheless unwavering. Ossoff and Warnock happily adopted the $2,000 check cause. And on his visit to the state Monday, Biden spelled out the material stakes of the election in the clearest terms imaginable.
Read the rest of Eric's post here.
Trump floats some Dominion scaremongering
President Trump, who has worked to perpetuate a baseless conspiracy theory regarding the use of Dominion voting machines in Georgia for November's election, tweeted about malfunctioning voting machines in Georgia's 12th District on Tuesday afternoon — implying the problems were intentional. The hiccup, which actually came up in the early morning, was quickly resolved:
Few lines and lower than expected turnout?
It's early and probably not wise to draw any conclusions from this type of thing, but the Atlanta Journal-Constitution passes along news from Georgia's voting-system manager that turnout may not be as high as the GOP has been hoping for:
Voters experienced few lines Tuesday morning and turnout appeared to be lower than on Election Day in the presidential election, said Gabriel Sterling, the state's voting system manager. Average wait times were between one and five minutes in most areas, with the longest waits reaching 30 minutes in Cobb and DeKalb counties in metro Atlanta, he said.




"It's easy, it's simple, and there isn't a line right now," Sterling said. "No big long lines, no big issues."




Nearly 3.1 million Georgia voters had voted early or returned absentee ballots by Tuesday morning, and hundreds of thousands more were expected to show up at the polls. About 988,000 people voted on Election Day on Nov. 3, but turnout so far Tuesday seemed to be lower based on reports of short waits, Sterling said. Election officials have no way of knowing actual turnout numbers until ballots are counted, he said.
Also, for what it's worth:
Trump's rally for himself — and its possible impact on the runoffs
Intelligencer's Ed Kilgore weighs in on Trump's Monday-night rally in Georgia, which was supposed to help get out the vote, but was, instead, yet another celebration of himself:
If Loeffler and Perdue lose (and the smart money has been drifting slowly in the direction of their Democratic opponents, Raphael Warnock and Jon Ossoff), the silver lining for Georgia Republicans is that they may be able to slough off blame for an election they may have lost anyway onto the president who insisted on personalizing it. Loeffler and Perdue both ran marginally ahead of Trump in the crucial Atlanta suburbs on November 3. If they fall short there in the runoffs, it will be hard to avoid the conclusion that Trump was effectively on the ballot instead of the senators. Nationally, Republicans may have the opportunity to reconsider an automatic "leader of the opposition" (or, as Lindsey Graham recently put it, "shadow president") role for Trump in the early days of the Biden presidency and may even plot to head off any 2024 Trump comeback. In combination with what looks to be a robust number of Republicans in Congress who will resist Trump's demands for a vote to overturn Biden's victory on January 6, a Georgia setback might give the GOP a fighting chance to choose something other than vengeance for Trump as its raison d'être going forward.
Read what else Ed had to say here.
Both Democrats and Republicans are expecting to lose
Politico reports:
… Biden's advisers are privately skeptical about Jon Ossoff and Raphael Warnock's chances, Democrats say.




… a pair of victories on Tuesday would be, as one person in touch with the transition team put it, "nothing short of a miracle."




Privately, Biden's team does not expect to win the races, according to Democratic officials, but they are more optimistic about their chances than they were weeks ago. 
Meanwhile, the Washington Post reports:
National and Georgia Republicans are growing increasingly frustrated with President Trump's baseless tirades against Georgia's presidential election results, fearing the president's attacks may cost them control of the Senate. 




They're concerned Trump's relentless and baseless broadsides on the voting system — and tomorrow's electoral college challenge further dividing GOPers — will deter Republicans from trusting the system enough to vote in today's two Georgia Senate runoffs. 




… "Trump's been generally unhelpful throughout this whole process," a GOP Senate aide told Power Up. "He's managed to split the party at every turn since November and that division could result in lower turnout on our side," the aide added, referring to Trump's last-minute demand for $2,000 stimulus checks followed by his veto of a $740 billion defense bill.




"Republicans should be prepared for a bad night," the aide added. 




"Without the Trump factor — and all the [expletive] he's done, then we'd probably win by three or five points," a GOP strategist working on the runoff races in Georgia told us. "With the Trump factor, if we lose by one or two points, I won't be shocked."
Loeffler joins Trump's coup train, will object to certification of Biden's win. (Perdue says he would if he could.)
Senator Kelly Loeffler is tying herself to Trump's attempted coup on the eve of the Georgia runoffs. She released a statement on Monday that she will be one of the Senate Republicans making a futile objection to the pro forma certification of President-elect Joe Biden's victory during a joint session of Congress on Wednesday.
"The American people deserve a platform in Congress, permitted under the Constitution, to have election issues presented so that they can be addressed," Loeffler said in a statement. "That's why, on January 6, I will vote to give President Trump and the American people the fair hearing they deserve and support the objection to the Electoral College certification process."
Fox News adds, "A source familiar with Loeffler's thinking told Fox News she will likely object to the certification of Georgia's presidential election results and left the possibility open that Loeffler could object to others as well." The same source also said that Loeffler will not be joining Ted Cruz and the ten other GOP senators who announced on Saturday they would object to confirming Biden's win, though it's not clear any real daylight exists between her and the group.
The announcement is undoubtedly an effort to boost turnout among Georgia's Trump supporters on Tuesday and preceded Trump's Monday-night rally in the state. On Sunday, a recorded call came out in which the president tried to pressure Georgia election officials to "find" the votes he needed to retroactively defeat Biden in the state. Over the weekend, Loeffler refused to say whether or not she would have voted to override Trump's veto of the NDAA defense spending bill last week if she had been present.
David Perdue, who will not be able to vote on Wednesday, has also said he supports the objection ploy and reiterated that position on Monday.
Trump showed up to support Loeffler and Perdue — kind of
At a Monday night rally in Dalton, the president took the stage to rally support for the two GOP candidates. However, he spent much of the speech complaining about the November election and condemning Republicans who did not support his attempt to overturn the election. At a rally for other people, he said he doesn't "do rallies for other people." He also vowed to return to Georgia in 2022 to campaign against Republican governor Brian Kemp.
Biden tells Georgia voters they have the power to 'break the gridlock' and help Americans get more COVID stimulus relief
At a rally in Atlanta on Monday, President-elect Biden urged Georgia voters to support Warnock and Ossoff, vowing that if they both win, Americans will be able to receive $2,000 COVID stimulus checks they need, and "there's no one in America with more power to make that happen than you."
"The power is literally in your hands. By electing Jon and the reverend, you can break the gridlock that has gripped Washington," he continued.
He also joked that he won Georgia in the presidential election three times — in the original vote and two recounts.
Can we expect election results on Tuesday?
Polls close at 7 p.m. ET on Tuesday night, and in runoff elections, ballots are normally counted quickly. However, a close race will most likely result in some lagging counties that may hold up a call. Although a record number of Georgians voted early, mail-in ballots and in-person early votes cannot be counted until polls close on Tuesday.
So, like the general election two months ago, it's not clear if we can expect an accurate call for both races on Tuesday night. And, like the general, it's possible that the GOP candidates could jump out to an early lead, with Republican supporters more likely to vote in-person than Democrats.
What is early-voter turnout looking like?
A record 3 million voters have already cast their ballots in the elections, making up 38.8 percent of all registered voters in Georgia. That number swamps the total 2.1 million vote turnout for the last Senate runoff in Georgia, which occurred in 2008. Like in the presidential election, Democratic-controlled congressional districts have seen higher early-voter turnout, while more rural, more conservative areas are expected to see higher in-person turnout on Tuesday.
Will Trump's attempt to pressure Georgia officials to "find" votes affect the runoffs?
As Intelligencer's Benjamin Hart and Gabriel Debenedetti discuss, the likelihood that the fallout from Trump's apparent threat to Georgia secretary of state Brad Raffensperger will affect any voters in an election cycle as highly publicized and politically entrenched as this one:
When you have a very close race, you have to watch what happens on the margins. And there's no doubt that these kinds of news developments from the president — who is promising to quintuple down during his closing-hours rally tonight — could cause some Republican-leaning voters to second-guess the use or wisdom of voting for Loeffler or Perdue. In races that could be decided by a few thousand votes, that's really significant.




The thing is: Already today, Loeffler and Perdue have been trying to move on from news of this call in ways that demonstrate how desperate they are to keep the pressure on their Democratic challengers. That's because Dems appear to have a hefty lead through early voting, and Republicans are counting on massive day-of voting on Tuesday. They don't think they can afford for their voters to focus on this kind of story right now … but the story is blanketing Georgia.
Where do the candidates stand in the polls?
Though the efficacy of U.S. polling took another body blow in November, polls ahead of the election suggest an extremely tight race:
This post has been updated.