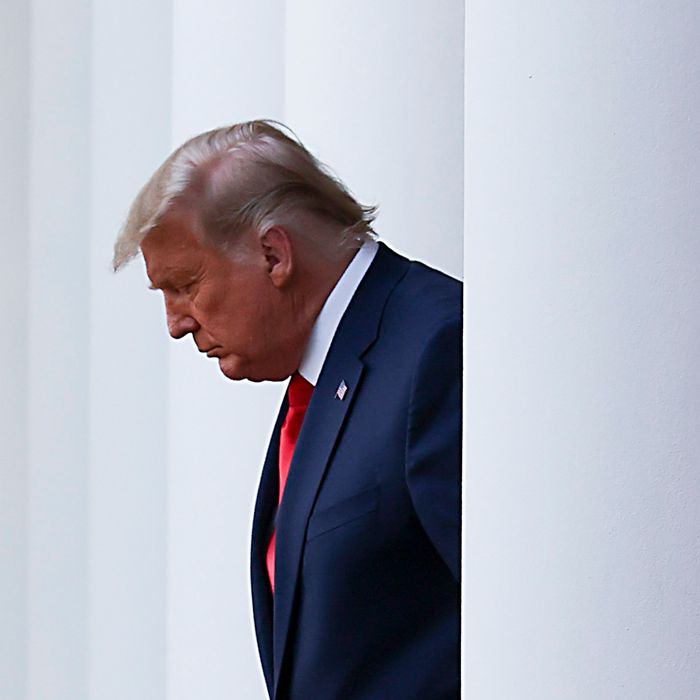 One week after a mob of Trump supporters stormed the Capitol, the House voted to impeach President Trump for a second time. Below, a timeline of events leading to Trump's impeachment. Head here for the latest updates on the Capitol riot.
'Everything they did was in a military fashion'
Capitol Police officers on duty on January 6 told the Washington Post how they attempted to stop the riot:
"Everything they did was in a military fashion," [Commander Robert] Glover said, saying he witnessed rioters apparently using hand signs and waving flags to signal positions, and using what he described as "military formations." They took high positions and talked over wireless communications.
D.C. police officer Daniel Hodges, who responded to the scene, added:
"I didn't want to be the guy who starts shooting, because I knew they had guns — we had been seizing guns all day," he said. "And the only reason I could think of that they weren't shooting us was they were waiting for us to shoot first. And if it became a firefight between a couple hundred officers and a couple thousand demonstrators, we would have lost."
Yet another security failure
Dozens of people on a terrorist watch list were in D.C. for pro-Trump events on January 6, but security was still lacking, the Washington Post reports:
The majority of the watch-listed individuals in Washington that day are suspected white supremacists whose past conduct so alarmed investigators that their names had been previously entered into the national Terrorist Screening Database, or TSDB, a massive set of names flagged as potential security risks, these people said. The watch list is larger and separate from the "no-fly" list the government maintains to prevent terrorism suspects from boarding airplanes, and those listed are not automatically barred from any public or commercial spaces, current and former officials said.
Rioter who brought Confederate flag into the Capitol has been arrested
Kevin Seefried, who was photographed holding the Confederate flag inside the Capitol on January 6, was arrested Thursday in Delaware, according to the New York Times. The FBI had issued a poster asking the public to help identify him.
Bad news for Josh Hawley
Maybe backing efforts to cancel the presidential election, then doubling down after the ensuing riot wasn't a smart political move.
Remember when Lindsey Graham had "enough" of Trump last week? He doesn't
Politico reports:
Sen. Lindsey Graham is leading the charge against President Donald Trump's impeachment and removal in the Senate, even as the White House remains largely uninvolved and Senate Majority Leader Mitch McConnell suggested he's open to voting to convict the president.




Graham, who just last week said he had had "enough" of Trump's bid to overturn the election results after he incited a deadly riot at the Capitol, has been calling around to Republican senators urging them to oppose convicting the president in the Senate's upcoming impeachment trial, according to three people familiar with the effort.




Kevin Bishop, a spokesperson for the South Carolina Republican, confirmed that Graham "has been calling on his own," adding, "Honestly we're way ahead of any request from the White House."
Trump's reportedly having lawyer troubles
As Trump faces his second impeachment trial, he's having second thoughts about his personal lawyer, who has his own legal exposure. Per the Washington Post:
Though Trump has been exceptionally furious with Vice President Pence, his relationship with lawyer Rudolph W. Giuliani, one of his most steadfast defenders, is also fracturing, according to people with knowledge of the dynamics between the men.




Trump has instructed aides not to pay Giuliani's legal fees, two officials said, and has demanded that he personally approve any reimbursements for the expenses Giuliani incurred while traveling on the president's behalf to challenge election results in key states. They said Trump has privately expressed concern with some of Giuliani's moves and did not appreciate a demand from Giuliani for $20,000 a day in fees for his work attempting to overturn the election.
Meanwhile, there's some confusion as to who will represent Trump in the eventual impeachment trial:
He's also having hard time figuring out how to handle his final weeks
While ABC News reports that Trump refused to seriously consider resigning in part because he doesn't trust Mike Pence to pardon him, he also is having some problems determining how to handle his second impeachment. According to the New York Times, the president "had to be dissuaded from going to the House floor to try to defend himself during Wednesday's impeachment proceedings, something he wanted to do during his first impeachment in December 2019."
Pelosi institutes new rules to enforce the use of the new House metal detector
Another social media outlet bans Trump
The president makes a statement — but does not mention his second impeachment
In a video posted by the White House to YouTube on Wednesday night, the president, reading from a prompter, "unequivocally" condemned the violence from last week — despite his reported excitement during the action at the time. In a rare video without Trump ad libs, he also called his ban from Twitter and other social media platforms as an "unprecedented assault on free speech," describing an effort to "censor, cancel, and blacklist our fellow citizens" as "wrong" and "dangerous." Trump encouraged Americans "overcome the passions of the moment" and "move forward united." He did not mention that he was impeached just hours before the video was released.
The message, out of step with the president's reported comments on the insurrection and its fallout, appears to be designed to serve as fodder for the majority of Republicans who oppose his second impeachment — allowing them to claim Trump is calling for uniting and that Democrats are sowing division.
Trump's trial will happen during the Biden administration
Despite all that talk about McConnell "hating" Trump and being eager to see him go, he's in no rush to start Trump's Senate trial.
That silence you hear is the lack of a Trump tweet
Though, New York's Olivia Nuzzi notes that the Trump campaign did send a message as he was being impeached for a second time.
What happens now?
Now the action moves to the Senate, but the timeframe is unclear, as Intelligencer's Ed Kilgore explains:
The forward trajectory of the impeachment effort now is a bit of a mystery. Normally enacted articles of impeachment trigger an immediate Senate trial when they are presented by House impeachment managers, which House Democrats have indicated will happen with great dispatch. But the Senate is not planning to be in session until January 19, and today Mitch McConnell (who will remain majority leader until new Georgia senators Raphael Warnock and Jon Ossoff are sworn in, probably at around the same time or soon after the Senate reconvenes) made it clear he would not accelerate that timetable to facilitate an impeachment trial. So under that timetable the impeachment trial could begin the same day as Joe Biden's inauguration.
Trump has been impeached again
Ten Republicans and 221 Democrats have voted to impeach so far, clearing the threshold to make Trump the first president to be impeached twice. Five votes have yet to be cast. Here's the full list of Republicans who voted for impeachment:
Rep. Liz Cheney (WY)
Rep. Jaime Herrera Beutler (WA)
Rep. John Katko (NY)
Rep. Adam Kinzinger (IL)
Rep. Fred Upton (MI)
Rep. Dan Newhouse (WA)
Rep. Peter Meijer (MI)
Rep. Anthony Gonzalez (OH)
Rep. Tom Rice (SC)
Rep. David Valadao (CA)
Closing arguments from both sides
In closing arguments, House Republican Whip Steve Scalise followed Kevin McCarthy in making a procedural and "civility" case against impeachment in sharp contrast to most of his colleagues who spoke today in fiery attacks on Democrats and in defense of Trump. And House Democratic Majority Leader Steny Hoyer managed to quote Liz Cheney's call for impeachment for a fourth, fifth, and sixth time today, perhaps because she did not choose to speak on her on behalf.
Another Republican comes out for impeachment
Representative Peter Meijer of Michigan becomes the seventh Republican to announce he's voting to impeach.
LaMalfa speaks out against "unbridled hatred" … of Trump
ED KILGORE: The award for the Trumpiest speech of the day has to go to California's Doug LaMalfa, who attributed impeachment to "the Democrat Party's … unbridled hatred of this president … you hate him because he is pro-life, strongest ever … you hate him for fighting for freedom of religion … you hate him for not shackling us with the religion of climate change … you hate him for Israel … you hate him for defending our borders … you hate him for putting America first."
A bit of perspective
ED KILGORE: Illinois Democrat Mike Quigley had a good quip about Trump's calls for civility and a peaceful transition: "Never once as a criminal defense attorney did I say to a judge: 'Yeah, my guy committed the armed robbery, but let's heal now!'"
A National Guardsman on his deployment to the Capitol
Gwen Moore claims Trump watched riot "with glee"
ED KILGORE: Wisconsin Democrat Gwen Moore came up with one of the more original lines in a fairly repetitive litany of speeches: "As his vice president fled from a lynch mob … as people died, [Trump] looked on with glee."
"Censored" Representative Marjorie Taylor Greene speaks
ED KILGORE: In what was a relatively mild comment by her standards (paralleled by her willingness to obey House rules by wearing a mask and presumably leaving behind the AR-15 that accompanied her so often in her 2020 campaign appearances), Georgia congresswoman Marjorie Taylor Greene opposed impeachment on the so's-your-old-man grounds that Democrats were more culpable than Trump for their alleged support of left-wing violence over the summer. It was nonetheless another sign that Jim Jordan (with complicity from Kevin McCarthy) is giving full vent to the far-right fringe of the House Republican Caucus with which he has been closely identified over the last four years.
Grotham defends "peaceful protesters" in pro-Trump mob
ED KILGORE: Wisconsin Republican Glenn Grothman became the first speaker during the impeachment debate to frankly defend the January 6 rioters, which he called "peaceful protesters," and "the millions of Americans they represent," who fear a country no longer presided over by Donald Trump. He ran out of time before he could claim the actual violence was wrought by Antifa infiltrators, but you sense that was coming.
Meanwhile, Michigan Democrat Brenda Lawrence was the latest of several pro-impeachment speakers reminding colleagues of their posture on January 6, when they were cowering under armed attack.
A new Trump defense
ED KILGORE: Another pro-Trump hardliner, Pennsylvania's Scott Perry, tried a new tack, arguing that Trump could not have incited a Capitol riot that was pre-planned well in advance. Guess the idea is that Trump was a cheerleader rather than a coach.
The first pro-impeachment Republican to speak
ED KILGORE: Finally, without fanfare, the first sign of Republican pro-impeachment sentiment appeared when Jerry Nadler yielded to Washington congresswoman Jaime Herrera Beutler, who briefly spoke of the need to stand up to "fear" on behalf of "truth." There was notable applause from the sparse crowd of Members.
Herrera Beutler had already indicated which way she would vote, but her understated remarks were still jolting.
This probably would have sounded a lot different as a Trump tweet
McCarthy holds Trump responsible for Capitol attack – but still won't impeach
ED KILGORE: House GOP Leader Kevin McCarthy interrupted the parade of right-wing speakers brought to the well by Jim Jordan with a measured if rather pompous speech that did not defend Trump (indeed, it specifically held him responsible for the January 6 riot), but opposed impeachment on grounds of national unity and procedural haste. The division in tone if not in positioning on impeachment was underlined as McCarthy was immediately followed by Lauren Boebert of Colorado, the freshman gun rights fanatic and one-time QAnon sympathizer who started shrieking about "the left" and shouting "I call bullcrap!" on the impeachment effort.
GOP gives Trump backers the spotlight
ED KILGORE: We don't know whether Jim Jordan has been given total control over his caucus's debate time on impeachment by Kevin McCarthy. But on a day when the big media narrative is "courageous Republicans break with Trump and support impeachment," what we are hearing from the House GOP is a continuing litany of praise for Trump and attacks on "Democrats" and "the left" by the most extreme members of the caucus: McClintock, Gohmert, Buck, Gaetz (who just referred to the "Biden crime family") … can Lauren Boebert and Marjorie Taylor Greene be far behind?
Gohmert: "I don't know why they aren't more uprisings"
ED KILGORE: The radical nature of the House Republican opposition to impeachment so far was underlined by the early appearance of Representative Louie Gohmert, who suggested the effort to impeach Trump was more objectionable than Trump's own behavior, and represented an authoritarian attack on all Republicans.
Addressing the January 6 protests, Gohmert said: "I don't know why they aren't more uprisings all over the country."
Maybe hold off on those takes about McConnell's courageous stand against Trump
An unexpected complaint
ED KILGORE: In a moment of unintended humor in the impeachment debate, hard-core conservative Tom McClinton of California, who called Trump's incendiary January 6 remarks simply an exercise in "freedom of speech," accused Democrats of lacking "magnanimity" after their 2020 victory. This was not a major thematic for Republicans after they won control of the White House and Congress in 2016.
Republicans said to be facing massive pressure behind the scenes
Republicans claim Democrats just want to "cancel" Trump
ED KILGORE: House Speaker Nancy Pelosi opens the debate on impeachment for Democrats by calling that step a simple discharge of duty and of observing the congressional oath.
Jim Jordan opens the debate for Republicans by describing the current impeachment as simply another attempt to "cancel" Trump as they've sought to do since his 2017 inauguration.
"It's always been about getting the president no matter what."
Impeachment debate begins
ED KILGORE: If a Republican revolt against Trump and in favor of impeachment is brewing in the House, the rebels are clearly hiding their light under a bushel. In two preliminary votes (the first on cutting off the opportunity to amend the rule on consideration of impeachment, and the second on the rule itself), no House member broke partisan ranks, though there were a handful of Republicans who didn't vote on the rule.
As noted earlier, the rule now passed provides for two hours of debate on the Article of Impeachment divided equally. Judiciary Committee chair Jerry Nadler and ranking Republican Jim Jordan will mange the debate.
House Republicans want Liz Cheney removed from leadership position
Representatives Jim Jordan and Paul Gosar are calling for Republican Conference Chair Liz Cheney to lose her position as the third-ranking House leader because she announced that she'll vote to impeach Trump. "I think she's totally wrong," Jordan said. "I think there should be a conference and have a second vote on that."
What the House is voting on
ED KILGORE: The vote currently underway in the House is technically a motion to "order the previous question," which cuts off the opportunity to amend the rule that will govern debate on the Article of Impeachment. A vote on the rule itself will immediately follow, and only then will the actual impeachment debate will begin. The motion to order the previous question passed on a strict partisan vote, and now the House is voting on the rule itself.
The scene inside the Capitol this morning
Members of the National Guard were spotted sleeping in the halls of the Capitol this morning, marking the first time the building has been used as a barracks since the Civil War, per the Washington Post.
Republicans split on reasons for opposing impeachment
ED KILGORE: Representative Tom Cole's closing statement on the rules debate was totally procedural, deploring a "rush to impeachment" and the abandonment of the usual procedures for hearings and so forth, and encouraging national unity, with not a word of defense for Trump or for the House Republicans who cooperated with Trump's attempt to overturn the election on January 6. But as Jim Jordan made clear, plenty of House Republicans are unrepentant and still cannot admit Trump's culpability at all. It will be interesting to see which approach to opposing impeachment will prevail during the later debate on the impeachment article itself, and later, in the Senate.
Meanwhile, the Democratic case for impeachment sometimes sounded like a dramatic reading of the works of Liz Cheney, as Democrats sought to make the effort as bipartisan as possible. House Majority Leader Steny Hoyer quoted Cheney with the reverence normally reserved for holy scriptures.
Airbnb cancels all reservations in D.C. for inauguration
Airbnb announced on Wednesday that it is canceling all reservations in the D.C. metro area during inauguration week, and will block bookings during that time, in response to requests from local, state, and federal officials that people not to travel to the city. Guests with reservations and their hosts will be reimbursed.
In a statement, Airbnb said it is responding to reports that "armed militias and known hate groups that are attempting to travel and disrupt the Inauguration" in addition to restrictions on inauguration crowds due to the pandemic. The company said it is working with law enforcement to identify insurrectionists who stayed at Airbnb locations last week:
We are continuing our work to ensure hate group members are not part of the Airbnb community. As we've learned through media or law enforcement sources the names of individuals confirmed to have been responsible for the violent criminal activity at the United States Capitol on January 6, we've investigated whether the named individuals have an account on Airbnb. Through this work, we have identified numerous individuals who are either associated with known hate groups or otherwise involved in the criminal activity at the Capitol Building, and they have been banned from Airbnb's platform.
Jim Jordan may have earned himself a fine
The GOP congressman could be fined under a rule Democrats implemented yesterday requiring masks on the House floor. Three Democratic members have tested positive for COVID after sheltering with maskless Republicans during the Capitol riot.
Jim Jordan shifts the tone
ED KILGORE: The somber tone of the debate on the rule for the impeachment resolution, in which Republicans conceded Trump's misconduct but encouraged the country to "move on," changed abruptly when Representative Jim Jordan arose to attack Democrats for having challenged Trump's election in 2017, and touted the Trump voters who believe the 2020 election was stolen.
What many in GOP want instead of impeachment
ED KILGORE: The Republican "alternative" in the House is apparently going to be establishment of a bipartisan commission to investigate the January 6 events. House Administration Committee Rodney Davis of Illinois just spoke in its favor and against the proposed Rule for consideration of the impeachment article.
House debates rules for impeachment proceedings
ED KILGORE: The House has provided an hour, divided between the parties, for debate on the Rule for consideration of the article of impeachment House Democrats and a smattering of Republicans have decided to support. The proposed Rule is "closed," which means no amendment or substitute (e.g., to censure Trump rather than impeaching him) will be in order. Rules Committee chairman Jim McGovern said in his opening remarks that he would "not be lectured" about civility and unity by Republican colleagues who supported Trump's effort to overturn the 2020 election. Ranking Rules Committee Republican Tom Cole basically argued for "moving forward," since Trump has conceded defeat and Biden is about to be inaugurated.
Impeachment proceedings begin in the House
ED KILGORE: The U.S. House convened this morning for the momentous occasion of impeaching Donald Trump for a second time (a presidential first). Initial debate once procedural throat-clearing is done will be over the rule governing debate on the single article of impeachment (charging Trump with "incitement to insurrection") that has 218 cosponsors at present. It's expected the rule will provide for no more than two hours of debate divided evenly between the parties, followed by a vote at some point Wednesday afternoon.
While passage of the article of impeachment is certain, the big mystery will involve how many Republicans support it. Most are estimating about a dozen, though as of this morning only three (including most significantly Liz Cheney, who is third in the House GOP leadership hierarchy) have publicly declared for impeachment. It's been reported that GOP Leader Kevin McCarthy will not "whip" the vote, which makes it a "vote of conscience" for House Republicans. More telling will be whether he recognizes impeachment supporters in his Caucus to speak.
Pelosi highlights bipartisan support for impeachment
An hour before impeachment proceedings began, Nancy Pelosi took to her political account on Twitter to call for Trump's immediate removal. She highlighted the remarks of two Republican House members who plan to vote for impeachment.
YouTube suspends Trump's account
On Tuesday YouTube said it is suspending Trump's account for at least seven days, becoming the latest tech company to limit his online behavior following the Capitol riot.
From tonight's debate in the House
How not to convince Mike Pence to break the law the embarrass himself
Intelligencer's Jonathan Chait squints at the news that President Trump reportedly tried to goad Pence into helping him overturn the election by telling him if he didn't, he would be remembered as a "pussy":
This is Mike Pence. The extremely religious conservative, who won't be alone with a woman who isn't his wife and who was mortified by Trump being caught on tape using the word "pussy." Try telling him Jesus wants him to do it! It probably won't work, but the pussy line is definitely not going to work.
Jon also notes how much abuse it took for Pence to even sort of turn on the president. Read the rest of his response here.
Another House Republican says they'll vote to impeach
Michigan representative Fred Upton announced on Tuesday night that: "Congress must hold President Trump to account and send a clear message that our country cannot and will not tolerate any effort by any President to impede the peaceful transfer of power from one President to the next. Thus, I will vote to impeach."
Upton is now one of four House Republicans who have said they will do that, including the third most powerful GOP lawmaker in the chamber, Liz Cheney.
Meanwhile on Fox News
Sean Hannity is fired up and ready to whoa:
Many GOP lawmakers revolted against the new metal detector outside the House chamber on Tuesday night
As a result of last week's deadly insurrection at the U.S. Capitol, a metal detector was installed at the entrance to the House chamber on Tuesday. It's first night in action did not go well.
Numerous GOP lawmaker objected to the security measure. Congresswoman Lauren Boebert, who has repeatedly said she wants to carry a firearm inside the Capitol, set off the metal detector and then refused to let Capitol Police search her bag. CNN's Ryan Nobels captured the scene on Twitter as it unfolded:
Boebert walked through with her bag which set off the [magnetometer]. She refused to offer the bag over to be searched and is now in a standoff with Capitol Police. Capitol Police won't let her in until Boebert shows them what is in her bag, she won't and is now standing by the entrance of the chamber. She is respectful but defiant.
Nobles says she was eventually let in, but it wasn't clear whether or not police searched her bag. HuffPost reporter Matt Fuller said he watched "about ten" Republicans just walk around the metal detector, including Representatives Jeff Duncan, Ralph Norman, and Scott Perry. Representative Louie Gohmert also walked around, and per Fuller, said to the police officers, "You can't stop me; I'm on my way to a vote."
Representative Steve Womack yelled "that he was 'PHYSICALLY RESTRAINED' from entering the floor," Fuller also noted. Another reporter heard Womack yell at police: "You are creating a problem you do not understand the ramifications of."
Fuller adds:
The metal detectors are going to be useless if they're just going to let the members who don't want to go through the magnetometer sidestep it. I'm watching Democrats and about 4/5ths of Republicans comply. It's really causing tension between police and members.




It's actually incredible to watch Members of Congress go through a metal detector. There are certain tricks — like walking through the center, not wearing large belt buckles — that won't set off the machine. They're blithely unaware, setting it off most of the time.




Another member — I believe it was Russ Fulcher — just pushed his way through. He went through the metal detector, set it off, ran into a cop, and then pushed his way past her.
He concludes:
Indeed.
Pence will not invoke the 25th Amendment, he tells Pelosi
In a letter to House Speaker Nancy Pelosi on Tuesday night, Vice-President Mike Pence wrote that he would not invoke the 25th Amendment to remove President Trump for the remainder of his term, as he does not believe "that such a course of action is in the best interest of our Nation or consistent with our Constitution." Read the whole letter below:
One of the people arrested for storming the Capitol has died by suicide
A Georgia man who was among those who stormed the Capitol last week, and was later arrested, died by suicide on Saturday, the Atlanta Journal-Constitution reports. 53-year-old Christopher Georgia was found dead of a self-inflicted gunshot wound in Alpharetta, Georgia. He had been arrested by D.C. Metro Police on Wednesday night in connection with the insurrection at the Capitol, and pleaded not guilty on Thursday to charges of "unlawful entry of public property" and violating D.C.'s evening curfew.
McConnell reportedly pleased with impeachment push
The New York Times and CNN both report that the Senate Majority Leader has told associates that he believes Trump did commit impeachable offenses last week and that he is pleased Democrats and moving to make that official. Per the Times, McConnell believes Trump being impeached "will make it easier to purge him from the party, according to people familiar with his thinking." CNN adds that McConnell has said he "hates" Trump for inciting the insurrection last week, and is deliberately not defending him:
Another person with direct knowledge told CNN there's a reason McConnell has been silent on impeachment as other Republicans have pushed back: he's furious about last week's attack on the US Capitol by the President's supporters, even more so that Trump has shown no contrition. His silence has been deliberate as he leaves open the option of supporting impeachment.
That does not, however, mean he will publicly support, or vote in favor of, impeaching Trump himself. Neither McConnell nor House minority leader Kevin McCarthy have publicly said they think Trump should be removed from office. McCarthy, however, is not trying to whip up opposition to the impeachment among House Republicans, and has reportedly asked his caucus not to speak out against any colleagues that do vote to impeach Trump.
Joint Chiefs condemn "sedition and insurrection" at Capitol, while services look for extremists in the ranks
"We witnessed actions inside the Capitol building that were inconsistent with the rule of law. The rights of freedom of speech and assembly do not give anyone the right to resort to violence, sedition and insurrection," the Joint Chiefs of Staff said in a statement on Tuesday. And CNN reports that a major interagency meeting is happening Wednesday to discuss security in nation's capital ahead of President-elect Biden's inauguration next week, and in anticipation of potential violence:
Even as Defense and Justice Department officials work to keep the Capitol and lawmakers safe from domestic terrorists who might try to come to Washington in the next few days, they are also having to examine people in the ranks of the military amid concerns some may be sympathetic to the aims and extremist beliefs being propagated by some Trump supporters.




CNN has learned the US Army is working with the Secret Service to determine if there are soldiers who will be part of the National Guard contingent providing security at Biden's inauguration who require additional background screening.




The DC National Guard is also providing additional training to service members as they arrive in Washington that if they see or hear something that is not appropriate, they should report it to their chain of command, an Army spokesperson said in a written statement to CNN.
An analysis by Gizmodo using GPS metadata from videos posted to Parler during the insurrection shows
JUSTIN MILLER: The Justice Department is investigating the Capitol riot as a seditious conspiracy, authorities said during a Tuesday press conference in Washington — the first such public briefing since the attack last week.
Feds said they have charged 70 people so far and opened 160 cases, with hundreds more cases for everything from trespassing to felony murder and sedition "I think the scope and scale of this investigation in these cases are really unprecedented not only in FBI history but really in DOJ history," said Michael Sherwin, the acting U.S. attorney for the District of Columbia. Sherin said his office has set up a "strike team" to prosecute sedition cases specifically. Authorities are also looking hard at suspects in alleged assaults of police and the press.
"The FBI has a long memory, and a broad reach," said Seven D'Antuono, assistant director FBI Washington Field Office. "Even if you've left D.C., agents from our local field offices will be knocking on your door if we find out you were a part of the criminal activity at the Capitol."
D'Antuono and Sherwin said the authorities were not caught totally off guard by plans for violence. Those statements were made after the Washington Post reported that an FBI office in Virginia warned the rest of the bureau of an imminent attack on the Capitol. Agents observed extremists online "sharing a map of the complex's tunnels, and possible rally points for would-be conspirators" across the U.S. to head in groups to Washington. One message read: "Get violent. Stop calling this a march, or rally, or a protest. Go there ready for war. We get our President or we die. NOTHING else will achieve this goal."
Olympic medalist, Proud Boy among rioters
Klete Keller, a 38-year-old former U.S. swimmer who won gold in Athens and Beijing on a relay team with Michael Phelps, has been identified in videos at the riot by former teammates. According to the New York Times, they recognized the 6-foot-6 Olympian in videos "because of his size and because he was wearing a U.S. Olympic team jacket that had "USA" printed across the back and down the sleeves."
A new report from Vice states that a member of the far-right group the Proud Boys was an instigator at the scene, breaking a Capitol window through which insurrectionists got in.
The pipe bombs placed outside the RNC and DNC were on timers
CNN reports that, according to the FBI, both bombs — which were discovered outside the two parties' D.C. headquarters near the Capitol on Wednesday — were indeed real and had set been set to blow with timers. "We don't know exactly why they didn't go off," the FBI's Steven D'Antuono said Tuesday.
He also said that the FBI was still investigating whether or not any of the mob members had planned to take members of Congress hostage.
Masks will also be required in the House
The acting Sergeant at Arms made the announcement on Tuesday, following outcry among multiple House Democrats that their GOP colleagues refused to wear masks while lawmakers and staff were sheltering together during the attack on the Capitol last week. Three members of the House have since tested positive for COVID-19. Democratic leaders are also introducing fines:
Entering the House chamber will now require walking through a metal detector
No firearms will be allowed into the chamber.
Trump on 25th Amendment: "Be careful what you wish for"
The president, speaking in Texas on Tuesday, once again threatened vague consequences should there be an attempt to remove him from power. Per Bloomberg's Emma Kinery:
The 25th Amendment is of zero risk to me but will come back to haunt Joe Biden and the Biden administration. As the saying goes, be careful what you wish for.




Now is the time for our nation to heal. And it's time for peace and for calm, respect for law enforcement and the great people within law enforcement is the foundation of the MAGA agenda. We're a nation of law and a nation of order.
That this even needed to be said …
The National Review's John McCormack tweets that "according to a GOP source on [the House GOP] conference phone call yesterday, [House minority leader] Kevin McCarthy warned members not to verbally attack colleagues who vote for impeachment because it could endanger their lives."
McCarthy also reportedly strongly dismissed the idea that antifa boogeymen were among the mob at the Capitol, both to his House GOP colleagues and in an earlier conversation with the president. A week ago, the Republican leader was one of the most prominent supporters of Trump's effort to overturn the election.
Or that *this* even needed to be said …
Pushing back on the idea that the mob was "low class"
Last week, Intelligencer's Olivia Nuzzi and others reported that President Trump had been turned off by how "low class" the mob who carried out the assault on the Capitol looked. At the Atlantic, Adam Serwer offers a corrective response:
They were business owners, CEOs, state legislators, police officers, active and retired service members, real-estate brokers, stay-at-home dads, and, I assume, some Proud Boys.




The mob that breached the Capitol last week at President Donald Trump's exhortation, hoping to overturn the results of the 2020 presidential election, was full of what you might call "respectable people." …




The notion that political violence simply emerges out of economic desperation, rather than ideology, is comforting. But it's false. Throughout American history, political violence has often been guided, initiated, and perpetrated by respectable people from educated middle- and upper-class backgrounds. The belief that only impoverished people engage in political violence—particularly right-wing political violence—is a misconception often cultivated by the very elites who benefit from that violence.




The members of the mob that attacked the Capitol and beat a police officer to death last week were not desperate. They were there because they believed they had been unjustly stripped of their inviolable right to rule. They believed that not only because of the third-generation real-estate tycoon who incited them, but also because of the wealthy Ivy Leaguers who encouraged them to think that the election had been stolen.
He goes on to note several historical examples; you can read the rest here.
Right-wing extremists are reportedly scurrying for the cover of Telegram
NBC News' Anna Schecter provides a look at the online extremist scene, now that big tech has been cracking down on their usual chat rooms:
Right-wing extremists are using channels on the encrypted communication app Telegram to call for violence against government officials on Jan. 20, the day President-elect Joe Biden is inaugurated, with some extremists sharing knowledge of how to make, conceal and use homemade guns and bombs.




The messages are being posted in Telegram chatrooms where white supremacist content has been freely shared for months, but chatter on these channels has increased since extremists have been forced off other platforms in the wake of the Jan. 6 siege of the U.S. Capitol by pro-Trump rioters. …




[F]ar-right Telegram chat room membership has ballooned in recent days, particularly since the popular platform Parler, financed by the wealthy conservative backer Rebekah Mercer, went offline Monday after Amazon rescinded its web-hosting service.
Another inflection point in America's history
Documentary filmmaker Ken Burns offered some thoughts on the past week's events in today's Politico Playbook. He argues that America is living through its fourth great crisis as a nation:
The story of our democratic experiment is perhaps best told through our nadirs, of which there are many. In order to truly understand and appreciate the promise of the country, still unrealized for too many, we must explore the points at which it was most challenged, at times when it appeared even to almost fall apart.




Last week, many asked whether the assault on the Capitol, fueled by Trump and his many political and media enablers, was the start of something or an end.




It is neither, of course. It is a moment when we each get to decide how we want to proceed.
The FBI's Virginia office flagged threats against Capitol one day before the siege
The Washington Post reports:
A day before rioters stormed Congress, an FBI office in Virginia issued an explicit internal warning that extremists were preparing to travel to Washington to commit violence and "war," according to an internal document reviewed by The Washington Post that contradicts a senior official's declaration the bureau had no intelligence indicating anyone at last week's pro-Trump protest planned to do harm.




A situational information report approved for release the day before the U.S. Capitol riot painted a dire portrait of dangerous plans, including individuals sharing a map of the complex's tunnels, and possible rally points for would-be conspirators to meet up in Kentucky, Pennsylvania, Massachusetts and South Carolina and head in groups to Washington.
However:
Yet even with [the information threatening violence] in hand, the report's unidentified author expressed concern that the FBI might be encroaching on free speech rights.




The warning is the most stark evidence yet of the sizable intelligence failure that preceded the mayhem, during which five people died, although one law enforcement official, speaking on the condition of anonymity to avoid disciplinary action, said the failure was not one of intelligence, but of acting on the intelligence.
Trump calls impeachment a "witch hunt," says his January 6 speech was "totally appropriate"
President Trump emerged from days of seclusion on Tuesday, answering questions from reporters as he headed to the Texas border. Trump said of last week's Capitol riot, "We want no violence, never violence," per the Washington Post, and rejected accusations that he played a role in instigating the attack, recycling a catchphrase from the first time he was impeached.
"On the impeachment, it's really a continuation of the greatest witch hunt in the history of politics," Trump said. "It's ridiculous. It's absolutely ridiculous. This impeachment is causing tremendous anger, and you're doing it, and it's really a terrible thing that they're doing."
Echoing a line some on the right have used in recent days, Trump claimed that Democrats are the ones who are being divisive in trying to hold him and the mob who attacked the Capitol accountable.
"For Nancy Pelosi and Chuck Schumer to continue on this path, I think it's causing tremendous danger to our country, and it's causing tremendous anger," he said.
Trump went on to claim that his remarks to his supporters on January 6 were "totally appropriate," and he lashed out at the tech companies that banned him in recent days.
"They are making a catastrophic mistake," he said. "They're dividing and divisive, and they're showing something that I've been predicting for a long time."
Comments Intelligencer's Jonathan Chait in response:
He wants no violence. He's just giving the sort of friendly warning a gangster might give a shopkeeper. Nobody wants violence. Give the man what he demands, and there won't be any.
Read the rest of Jon's reaction here.
Trump's new-and-unimproved echo-isolation chamber
Politico reported on Monday night that the president is caught in an even tighter feedback loop than usual, as a result of the Capitol riot and its fallout:
Trump knows he's unlikely to be removed from office with Republicans controlling the Senate until next week and only a few days left of his term. The president has also grown increasingly isolated, distrusting the same aides and advisers he had relied on during prior crises in his presidency, including White House Counsel Pat Cipollone. …




In his final days of his term, Trump is still spending time railing against the election that he lost to Joe Biden in November and surrounding himself with a handful of loyalists — among them Rudy Giuliani — who have been with him since the start, according to interviews with eight current and former Trump aides. …




And since Twitter banned his account, Trump has been making more calls than usual — not, as one former Trump aide said, "to more people" but rather, "the same people over and over again."




"He's talking to people who are willing to indulge him," a former senior administration official said.
House Democrats briefed on chilling plots to take over government
On Monday night, Capitol police briefed Democrats about three demonstrations planned for the coming days that could pose a serious threat. HuffPost reports:
The first is a demonstration billed as the "largest armed protest ever to take place on American soil." 




Another is a protest in honor of Ashli Babbitt, the woman killed while trying to climb into the Speaker's Lobby during Wednesday's pro-Trump siege of the Capitol. 




And another demonstration, which three members said was by far the most concerning plot, would involve insurrectionists forming a perimeter around the Capitol, the White House and the Supreme Court, and then blocking Democrats from entering the Capitol ― perhaps even killing them ― so that Republicans could take control of the government.
Members said they were warned about sharing too much information with journalists, as the organizers are relying on the media to publicize the events now that they've been blocked from various social-media sites.
HuffPosts reports that there are also concerns about the threat posed by members of Congress who are sympathetic to the insurrectionists:
One topic of discussion was the need to put every member of Congress through a metal detector before the inauguration. A member on the call told HuffPost that there was an "eyes-wide-open realization" that Capitol Police needed to take precautions against "all these members who were in league with the insurrectionists who love to carry their guns."




"You can't just let them bypass security and walk right up to [Joe] Biden and [Kamala] Harris at inauguration," this lawmaker told HuffPost.
Trump reportedly blamed antifa for the violence inside the Capitol
Last Wednesday, as reports described the president holed up in the White House watching TV without expressing concern for his fellow public servants at the Capitol, he refused to acknowledge the meaning of his name stamped all over the apparel of the insurrectionists. According to Axios, Trump has privately blamed antifa for the violence that will culminate in his second impeachment.
Trump declares state of emergency in D.C. ahead of next week's inauguration
On Monday, the president approved a state of emergency for the capital city ahead of the inauguration, to free up federal resources to be used from now until January 24, the Sunday after Joe Biden is sworn into office.
TV-obsessed Trump was too engrossed in Capitol attack coverage to hear pleas to help end it: Report
The Washington Post's new reported account of the president's failure to act as the Capitol siege played out includes this assertion from one of his advisers:
[A]s senators and House members trapped inside the U.S. Capitol on Wednesday begged for immediate help during the siege, they struggled to get through to the president, who — safely ensconced in the West Wing — was too busy watching fiery TV images of the crisis unfolding around them to act or even bother to hear their pleas.




"He was hard to reach, and you know why? Because it was live TV," said one close Trump adviser. "If it's TiVo, he just hits pause and takes the calls. If it's live TV, he watches it, and he was just watching it all unfold."
As others, like his son, Donald Jr., tried to respond to deescalate the situation, the Post reports that the president "was busy enjoying the spectacle," and "watched with interest, buoyed to see that his supporters were fighting so hard on his behalf, one close adviser said."
Trump also apparently grew concerned that the riot would backfire — against his desire to block Congress's affirmation of Biden's victory. "At one point," notes the report, "Trump worried that the unruly group was frightening GOP lawmakers from doing his bidding and objecting to the election results, an official said."
Pence and Trump speak for the first time since Trump incited a mob to go after him
The president and vice-president spoke Monday, CNN reports, after Trump spend the weekend isolated in the White House, "stewing to his deputy chief of staff, Dan Scavino, and entered his final full week angrier than ever":
A senior administration official told CNN they met in the Oval Office, had what was described as a good conversation and discussed the week ahead while "reflecting on the last four years of the administration's work and accomplishments."




"They reiterated that those who broke the law and stormed the Capitol last week do not represent the America First movement backed by 75 million Americans, and pledged to continue the work on behalf of the country for the remainder of their term," the senior official said.
CNN adds that Pence has not discussed removing the president from power with other members of Trump's Cabinet, but instead, "Pence and his advisers seem to be looking toward their final week in office with an eye toward his legacy, hoping to tout the administration's achievements."
Fox News' ratings fell off a cliff late last week
Congressman Mo Brooks, who helped incite pro-Trump mob, faces censure
Brooks spoke at Wednesday's Stop the Steal rally on the Ellipse near the White House along with the president, and as Intelligencer's Ed Kilgore points out, he arguably "incited violence more clearly than did Trump, telling the crowd that 'today is the day American patriots start taking down names and kicking ass.'" He also asked the crowd, many of whom later joined in the mob siege of the Capitol, whether they were willing to sacrifice their lives:
Two Democratic representatives, Tom Malinowski of New Jersey and Debbie Wasserman Schultz of Florida, have introduced a censure resolution aimed at their right-wing Alabama colleague Mo Brooks. The resolution says Brooks "encouraged and incited violence against his fellow Members of Congress, as part of an assault on the United States Capitol" in [his speech to the mob.]
Read the rest of Ed's response here.
At least two Capitol Police officers have been suspended, more are under investigation
At least two Capitol Police officers have been suspended, and as many 15 more are being investigated over their actions during the siege of the Capitol last week. Representative Tim Ryan said Monday that one of the two suspended officers took selfies with members of the pro-Trump mob inside the Capitol, while the other wore a MAGA hat and gave directions to people inside the building. Ryan said that 10 to 15 other officers were also being investigated over their conduct that day. He also said that there had been one arrest of a police officer or National Guard member — but couldn't offer any additional details about that yet. Intelligencer's Matt Stieb adds that:
[Ryan said] the Capitol Police interim chief is taking "aggressive action" to determine if any officers gave insurrectionists any help once they were inside. "The main point is that Capitol police are looking at everybody involved that could have potentially facilitated at a big level or small level in any way," Ryan said.
The Washington Post reports that the investigation is focused on suspected involvement with or inappropriate support for the mob:
Eight investigations have been launched, according to a congressional official who spoke on the condition of anonymity to describe the status of the probe. In one of the cases, officers had posted what Capitol police investigators found to be messages showing support for the upcoming demonstration, including supporting the president's baseless claim that the November election had been stolen through voter fraud.

In one instance, investigators found that an officer had posted "inappropriate" images of Joe Biden on a social media account. The officials declined to describe the photographs.
One USCP officer, Brian Sicknick, died Thursday as a result of injuries sustained during the riot. Another Capitol Police officer who responded to the insurrection, Howard Liebengood, died by suicide over the weekend.
Read the rest of Matt Stieb's post on the news here.
Chad Wolf, the acting head of the DHS, is out
Per CNN, Wolf did not cite the attack on the Capitol as some other Trump Cabinet members have in their own resignations in recent days, but rather the ongoing litigation challenging the legality of him holding the position in the first place:
FEMA Administrator Pete Gaynor will be the new acting secretary, taking over in the wake of the US Capitol attack and as the national security apparatus prepares for possible violence leading up to Inauguration Day. …




"Unfortunately, this action is warranted by recent events, including the ongoing and meritless court rulings regarding the validity of my authority as Acting Secretary. These events and concerns increasingly serve to divert attention and resources away from the important work of the Department in this critical time of a transition of power," Wolf [wrote in his resignation letter on Monday.]




Wolf was in the chief role at the department in an acting capacity for 14 months. His tenure has repeatedly come up in litigation against the Trump administration's immigration actions.
What about the 14th Amendment?
Intelligencer's Ed Kilgore explores the idea that President Trump, following his incitement of insurrection last week, may already be barred from ever seeking office ever again under the terms of Section Three of the 14th Amendment, which, following the Civil War, was intended to bar ex-Confederate officers and officials from holding office:
Punchbowl refers to this fallback option as "Plan D" for Democrats in dealing with Trump's definitive misconduct. "There's some discussion in legal circles that it could be used against Trump, but it's a longshot."




It's a longshot in part because it could only be tested in the event Trump runs for federal or state office at some point in the future, and no one knows for sure if the courts would uphold a 21st-century application of a provision clearly designed for use against those who engaged in what was for many years referred to simply as "the Rebellion." And the legal ambiguity […] makes it a less than satisfactory source of vindication of the widespread anger at Trump over his effort to subvert an election he lost.




There is, however, something satisfying about branding Trump with the same "traitor" label born by those Confederates he has so resolutely defended as an honorable part of "our history."
Read the rest of Ed's analysis here.
Former White House flack: Trump "is most masculine person" to ever be president
Hogan Gidley, the former White House deputy press secretary, was asked by Fox News anchor Bill Hemmer on Monday whether the president felt "emasculated" by the loss of his social-media channels. His response is one for the Trump-worshipping ages:
Who dies for Donald Trump?
Intelligencer contributor Miranda Green looks into what drove Ashli Babbitt, the Air Force veteran who was shot and killed by a police officer inside the Capitol last week after she and other members of the pro-Trump mob tried to break down a door to where lawmakers were:
[P]eople close to Babbitt said they had no idea how devoted she was to Donald Trump and his movement until they saw her with a mob inside the U.S. Capitol. … Now her family members are trying to reconcile their own image of the feisty but private woman they knew with the one who stormed Congress as part of a violent mob that called for the killing of lawmakers.




"I actually saw it first on video when I was on the phone with multiple hospitals trying to find her," said Kayla Joyce, 29, who said she is the mutual live-in girlfriend of Babbitt and her husband, Aaron. "We found out through the news. Through live television." …




"I blame Trump. How could you not? I mean he is their figure, their president," Joyce said. "Why else would they do that unless their leader tells them to do that?"
Read the rest of Miranda's report here.
Kevin McCarthy rejects impeachment, suggests censure and forming a commission
House Minority Leader Kevin McCarthy said in a letter to his GOP colleagues on Monday that he continued to oppose impeaching the president, while laying out four alternative options "to ensure that the events of January 6 are rightfully denounced and prevented from occurring in the future."
Those options were censure, a bipartisan commission to investigate the attack on the Capitol, reforming the Electoral Count Act of 1887 (which Republicans cited in their grandstanding effort to reject electoral votes for Biden last week), and "Legislation to Promote Voter Confidence in Future Federal Elections" (which would likely include voter-ID measures long sought by Republicans).
McCarthy, a staunch Trump ally who had expressed support for the president's attempts to overthrow the election, did not acknowledge Biden was the president-elect until Friday. He and House Minority Whip Steve Scalise have been facing backlash over their postelection loyalty to Trump and failure to quickly condemn the president's role in inciting the attack on the Capitol.
During a call with Republican lawmakers on Monday, McCarthy reportedly claimed that Trump had told him he did bear some responsibility for the riot at the Capitol. If that's true, it would be very, very out of character for the president.
Trump is reportedly more upset about being condemned by the PGA than he is about his second impeachment
Intelligencer's Matt Stieb took note of PGA news and the overall reckoning that Trump is facing in the pro-golf world as a result of his incitement of an insurrection (among many other transgressions):
On Sunday night, the Professional Golfers' Association of America announced that its board of directors had voted to move the 2022 PGA Championship from Trump National Golf Club in Bedminster, New Jersey, to a new location as a consequence of the Capitol insurrection. Holding the tournament at the Trump links in Bedminster would be "detrimental" to the PGA's reputation, said the organization's president, Jim Richerson. A second rebuke came hours later when the R&A, the U.K.'s elite organizer of golf tournaments, announced it would not consider Trump's Turnberry resort in Scotland for the British Open for the "foreseeable future," despite the club's historic ties to the circuit.
Read the rest of Matt's post here.
A "disgruntled" staffer changed Trump's bio on the State Department website
House will vote on impeachment Wednesday
Politico reports:
Speaker Nancy Pelosi and her leadership team informed members on a private call Monday they will need to return to the Capitol — for many, the first time since the Jan. 6 attacks — on Tuesday night. Impeachment is scheduled for consideration at 9 a.m. Wednesday, if Trump refuses to resign and Vice President Mike Pence won't initiate other procedures to remove him.




Key members of the House Judiciary Committee introduced a single article of impeachment Monday that has already gathered at least 218 cosponsors, according to a congressional aide involved in the process, meeting the majority needed for passage in the House.
Intelligencer's Ed Kilgore explains the likely timeline for the impeachment process here.
15,000 National Guard members authorized for inauguration duty
There are currently 6,200 National Guard troops in Washington, D.C., following last week's mayhem and more are arriving, with a total of 10,000 expected to be in the city by Saturday. Per CNN, D.C. Mayor Muriel Bowser has asked Americans to avoid coming to the city for the event, as had Biden's inauguration committee last month. The National Guard and other agencies will conduct a dress rehearsal of the inauguration this week.
House member announces positive COVID-19 test
New Jersey Democrat Bonnie Watson Coleman said in a tweet on Monday, "Following the events of Wednesday, including sheltering with several colleagues who refused to wear masks, I decided to take a COVID test. I have tested positive."
Represenative Watson Coleman — a 75-year-old cancer survivor who, as a member of Congress, had already received the first dose of the Pfizer vaccine but got infected anyway — said she had mild symptoms and was working from home.
It is very, very likely that there will be more cases among members of Congress and their staff as a direct result of the mayhem at the Capitol last week. Intelligencer's Charlotte Klein wrote about their exposure risk on Thursday.
Republicans block resolution on 25th Amendment
Democrats in the House of Representatives attempted to pass a resolution Monday morning, by unanimous consent, that would recommend Vice-President Pence invoke the 25th Amendment in an attempt to force President Trump from office. Pence has indicated that he has no plans to do so. Pelosi said Sunday that she would bring the resolution to the floor if Monday's unanimous consent request failed.
Democrats aim to impeach Trump for "incitement of insurrection"
House Democrats are set to formally unveil their resolution to impeach President Trump at 11 a.m. on Monday, CNN reports. The single impeachment article will focus on his false claims that he won the election in recent weeks, the phone call in which he encouraged Georgia's secretary of state to "find" enough votes to flip the state, and his speech to his supporters just before they stormed the Capitol on January 6.
"In all this, President Trump gravely endangered the security of the United States and its institutions of Government," the resolution says. "He threatened the integrity of the democratic system, interfered with the peaceful transition of power, and imperiled a coequal branch of Government. He thereby betrayed his trust as President, to the manifest injury of the people of the United States."
Melania's commitment to the plagiarism bit is truly stunning
Melania Trump releases statement on Capitol riot
Five days after rioters, instigated by her husband, tore through the Capitol, First Lady Melania Trump has released a statement on the matter — and it's as awkward and unsettling as you might expect. She says her "heart goes out" to everyone who died in the riot, mentioning the rioters before Capitol Police officers (and misspelling the name of one of the rioters, Ashli Babbitt). In the very next paragraph she paints herself as a victim, complaining about "unwarranted personal attacks, and false misleading accusations on me."
Like all of you, I have reflected on the past year and how the invisible enemy, Covid-19, swept across our beautiful country. All Nations have experienced the loss of loved ones, economic pain, and the negative impacts of isolation.




As your First Lady, it has been inspiring to witness firsthand what the people of our great Nation will do for one another, especially when we are at our most vulnerable.




With nearly every experience I have had, I found myself carrying many individual's stories home with me in my heart.




Most recently, my heart goes out to: Air Force Veteran, Ashli Babbit, Benjamin Philips, Kevin Greeson, Rosanne Boyland, and Capitol Police Officers, Brian Sicknick and Howard Liebengood. I pray for their families comfort and strength during this difficult time.




I am disappointed and disheartened with what happened last week. I find it shameful that surrounding these tragic events there has been salacious gossip, unwarranted personal attacks, and false misleading accusations on me – from people who are looking to be relevant and have an agenda. This time is solely about healing our country and its citizens. It should not be used for personal gain.




Our Nation must heal in a civil manner. Make no mistake about it, I absolutely condemn the violence that has occurred on our Nation's Capitol. Violence is never acceptable.
Read the full statement here.
Pelosi says House will indeed proceed with impeachment
The House Speaker informed her caucus on Sunday night that Democrats will bring both impeachment legislation and a resolution urging Vice-President Mike Pence to remove Trump using the 25th Amendment the floor of the House this week. Per the Associated Press:
House Democrats are expected to introduce articles of impeachment on Monday and vote as soon as Tuesday. The strategy would be to condemn the president's actions swiftly but delay an impeachment trial in the Senate for 100 days. That would allow President-elect Joe Biden to focus on other priorities as soon as he is inaugurated Jan. 20.
Pelosi said Representative Jamie Raskin's resolution, which calls for Pence "to convene and mobilize the Cabinet to activate the 25th Amendment to declare the President incapable of executing the duties of his office," will be brought to the floor no later than Tuesday, with Pence then having 24 hours to respond.
"In protecting our Constitution and our Democracy, we will act with urgency, because this President represents an imminent threat to both," Pelosi told her Democratic colleagues. "The horror of the ongoing assault on our democracy perpetrated by this President is intensified and so is the immediate need for action."
New details of serious coordination at the Capitol
In an interview with the Washington Post, Capitol Police chief Steven Sund said that he now suspects that pipe bombs placed near the Capitol grounds were an effort to draw officers away from the building and its perimeter, a notable step-up in the understanding of the coordination and planning that went into the attack. In the interview, Sund, who has submitted his resignation, said that he requested that the National Guard be put on standby, but his higher-ups turned it down.