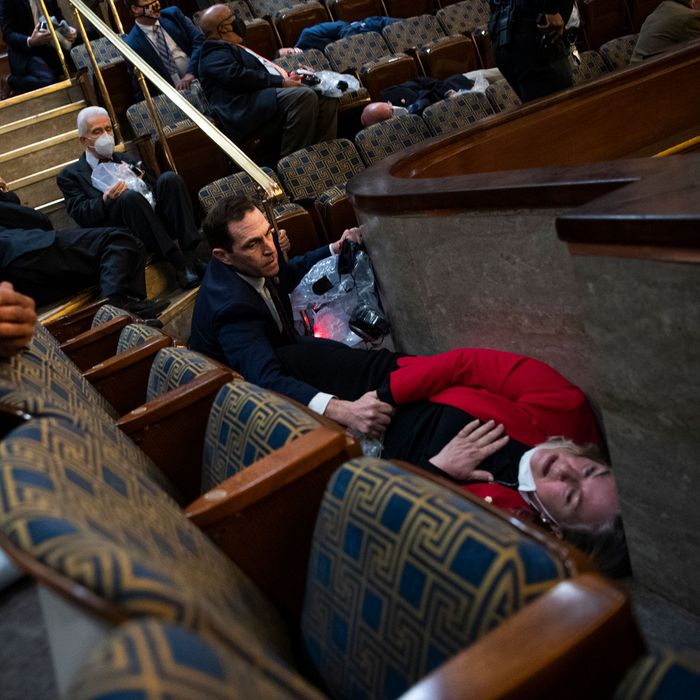 Rep. Jason Crow, D-Colo., comforts Rep. Susan Wild, D-Pa., while taking cover as a mob disrupts the joint session of Congress to certify the Electoral College vote on Wednesday, January 6, 2021.
Photo: Tom Williams/CQ-Roll Call, Inc via Getty Imag
President Donald Trump incited his supporters to storm the U.S. Capitol on Wednesday where they ransacked the temple of American democracy in a violent crescendo to Trump's coup failed attempt that led to the deaths of four people, authorities said. The mob at one point occupied the floor of the Senate and threatened to break into the House chamber, held back by a barricaded door and guards with pistols drawn.
The stunning attack began around 1 p.m. while Congress convened to certify Joe Biden's election as president — an effort met with opposition from many Republicans. Around that time, during a speech outside the White House, Trump called on his supporters to head to the Capitol and protest the certification. They followed his command, posting on Gab and Parler "directions on which streets to take to avoid the police and which tools to bring to help pry open doors," according to the New York Times. Meanwhile, a group of thousands on the western expose of the Capitol crashed through metal barriers and stormed up the steps where they quickly overwhelmed Capitol Police. Law enforcement deployed a minimally visible presence to avoid inflaming tensions, the Wall Street Journal reported. It didn't work: The mob surged inside, then fanned out throughout the building.
Capitol Police said an officer shot and killed one rioter, who was seen on video with a group trying to break into the entryway to the House chamber. Three other people died of unspecified "medical emergencies," authorities said. Fourteen police officers sustained injuries.
The certification vote was halted, and senators were rushed to an undisclosed location for their protection, reminiscent of the chaos on 9/11. A quick-thinking staffer snatched the box holding the Electoral College certificates. Pence, who presided over the session, was also swept to an undisclosed location. Meanwhile, in the House, representatives sheltered inside their chamber. The lawmakers were told to put on gas masks and hide under their seats if necessary.
Representative Steve Cohen, a Democrat from Tennessee, told Intelligencer he had been perched in the House gallery when invaders broke in and put on a gas mask there before retreating to his office, where he had a "baseball bat at the ready if the sons of bitches come in." Before leaving, he shouted down to Republicans on the floor, "Somebody call Trump and tell him to call his revolutionary guards off." Cohen said he was shocked at the treatment of the mob, which stormed the building, and the seeming impunity with which its members were allowed to behave. "All of these people are still hanging out in the Capitol. They ought to be arrested. If they were Black, they'd be shot."
By 5 p.m., local and federal law enforcement reinforced the overwhelmed Capitol Police and began to slowly retake the grounds. By midnight, the toll of arrests reached into the dozens: some for weapons violations, many more for breaking the 6 p.m. curfew. Suspected bombs were found at the respective headquarters of the Republican and Democratic parties, according to the Washington Post. Protesters were seen trickling away as law enforcement finally convened.
The chaos on Capitol Hill extended to the White House. Pence approved the order to deploy the D.C. National Guard, according to the New York Times — and it's unclear why Trump, the commander-in-chief, did not. Trump was unheard from during the first hour of the attack, then he issued a pair of limp tweets calling on the mob, which had already assaulted police, to be peaceful. More than three hours after it started, Trump finally released a video statement in which he called on the mob to go home — but after he said he loved them and repeated his false accusation that the election had been stolen. Twitter subsequently removed two tweets that said as much, locked his account for 12 hours, and threatened to ban him if he continues spouting misinformation. By nightfall, murmurs began of impeaching Trump again or using the 25th Amendment to remove him from office before his term ends on January 20.
Biden called it a dark moment in American history. "At this hour, our democracy is under unprecedented assault, unlike anything we've seen in modern times," he said. "The scenes of chaos at the capitol do not reflect the true America, do not represent who we are. What we're seeing is a small number of extremists, dedicated to lawlessness. It's not dissent, it's disorder, it's chaos. It borders on sedition and it must end — now."
Representative Jake Auchincloss, a Democrat from Massachusetts, told Intelligencer the GOP had practically encouraged the mob by signing on to the effort to challenge Biden's certification. "I swore an oath to support and defend the Constitution, and that's what I came to work on Wednesday intending to do, and it is gravely disappointing to me that there is a subset of Republicans in both chambers who could take that oath on Sunday too and could ignore it and undermine it on Wednesday." Auchincloss, who saw combat in Afghanistan as a Marine, said that "nothing is going to stop me from walking back into the House chamber to certify the election. I'll put on my old body armor if I need to."
With additional reporting from Ben Jacobs in Washington.