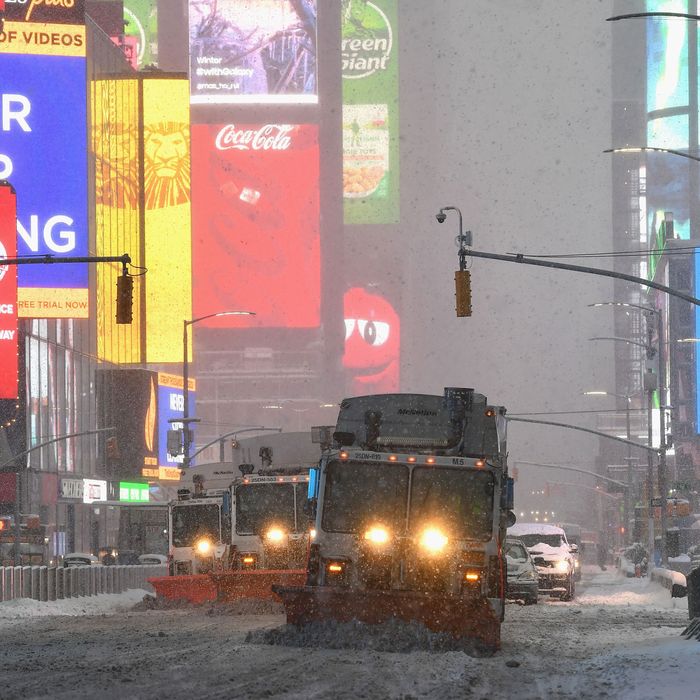 It's messy out there.
Photo: National Weather Service
A major winter storm has settled over New York City, and by the time it's over, it could dump upward of 20 inches of snow on the area, according to the National Weather Service. If that forecast holds, the storm will be the biggest since January 2016, when a record 27.5 inches fell in Central Park. The situation is sufficiently serious that Mayor Bill de Blasio declared a citywide state of emergency on Monday morning, and closed in-person classes two days in a row. Below is everything we know about the snowfall and its repercussions.
Most of New York State is under state of emergency
Governor Cuomo has declared a state of emergency for 44 counties in the state, comprising everywhere but western New York. He also announced that aboveground subway service in New York City would be suspended at 2 p.m. Monday, as would Long Island Railroad service.
What is the current forecast?
Early flurries began around 5 p.m. on Sunday, and several inches of snow were already on the ground in parts of the city on Monday morning.
The brunt of the storm began soon after, with 13.3 inches recorded in Central Park by 1 p.m — eight inches of which dropped in the previous three hours, according to the National Weather Service.
The snowfall, which may mix with freezing rain at some point on Monday evening, won't let up until well into Tuesday, and forecasts call for as much as two feet of snow on the ground by the end, with Mayor de Blasio quoting a forecast of 16 to 22 inches on Sunday. Wind gusts of 35-40 mph are also expected on Tuesday night. The storm may not let up until Wednesday morning. Snowfall of 18.1 inches or more in Central Park would qualify the storm for all-time top-ten status.
How will the storm affect city services?
On Sunday evening, Mayor de Blasio declared a city state of emergency, which was made clear to many New Yorkers through an alert on their cell phones. This means that all essential travel around the city is suspended, with the exception of certain categories of workers, including health-care workers, police officers, and the news media. In-person classes have been suspended for Monday and Tuesday. Alas, classes will continue online.
Alternate-side parking will be suspended, and restaurants with outdoor street dining will be closed. According to MTA chief operating officer Mario Péloquin, aboveground subway service was suspended as of 2 p.m. on Monday. The shutdown closed 204 of the city's 472 subway stations, and required passengers to get off at the last underground station before lines go over the top.
According to the executive director of the Port Authority of New York and New Jersey, PATH trains connecting Manhattan and New Jersey shut down at 3 p.m.
ABC News reports that 715 salt spreaders and more than 2,000 plows are available to clear streets and sidewalks.
With visibility almost nil, LaGuardia Airport announced at 10:30 a.m. that all flights in and out of the city had been suspended. According to CNN, 83 percent of JFK flights were canceled and 75 percent of Newark flights were canceled as of late Monday morning.
How will the storm affect pandemic measures?
Vaccination appointments for Monday have already been canceled, and patients will be contacted about rescheduling by text or email. Coronavirus testing will continue at hospitals in the city, but mobile sites will be suspended on Monday and will have delayed openings on Tuesday.