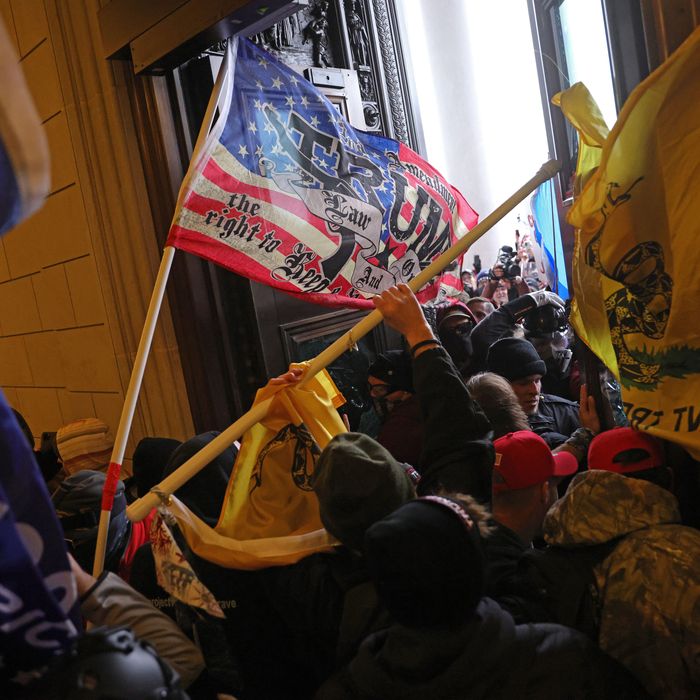 Photo: Win McNamee/Getty Images
On the House impeachment managers' first day of opening arguments in Trump's second impeachment trial, Democrats played previously unseen footage from the Capitol riot. Representatives Stacey Plaskett and Eric Swalwell narrated the attack on January 6, as they played new audio and footage, including several clips showing how close rioters got to several politicians — and never-before-heard evidence of Capitol police in distress. Below are the videos in full:
The following video shows how rioters first broke into the Capitol from a security camera inside the building:
More footage shows Officer Goodman saving Mitt Romney from insurrectionists, turning him around just before insurrectionists flooded the hallway he was in. Goodman is guarding the Senate today.
The footage also shows just how close Mike Pence was to the rioters who were calling for his death. The dots on the map show that only Officer Goodman (blue) separates Pence (orange) from the mob (red).
Security video also shows just how close rioters got to Nancy Pelosi's staff hiding in her office before they were rushed to safety:
As Representative Swalwell took over, he showed new video of Trump supporters letting others into the Capitol and moving toward the second floor of the House chamber:
After playing a video of Ashli Babbitt's death, Swalwell played a video in which representatives told each other to take their Congressional pins off so they would not be identified.
Security footage also shows a close call with Senator Chuck Schumer:
Security footage and officer body camera footage showed the fight against insurrectionists from a new angle:
Swalwell closed the video display with previously seen footage of Officer Daniel Hodges being crushed as insurrectionists attempted to rush the Capitol.
This is a developing story, please check back for updates.