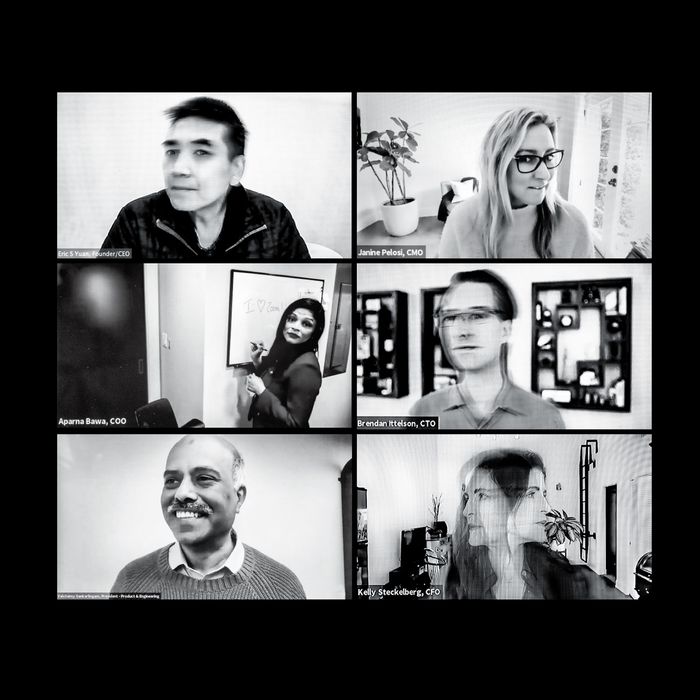 Clockwise from top left:
Eric S. Yuan
, founder/CEO;
Janine Pelosi
, CMO;
Brendan Ittelson
, CTO;
Kelly Stecklberg
, CFO;
Velchamy Sankarlingam
, President of Engineering and Product; and
Aparna Bawa
, COO.
Photo: Devin Yalkin
We were an in-office culture," says Janine Pelosi, Zoom's chief marketing officer, of the pre-pandemic era. Like many workplaces, Zoom's went remote last March. But while employees at other companies may have been focused on establishing their at-home workflow or salvaging whatever office culture they could, Zoom employees were busy keeping up with the exponential growth resulting from the office exodus. According to the New York Times, on March 15, nearly 600,000 people — many of whom had presumably spent the past decade using Skype, ooVoo, and Google Meet — downloaded the app in a 24-hour period. By April, the number of daily meeting participants reached 300 million, up from 10 million in December 2019. "We had to change job descriptions. Our team wasn't out there doing physical events," says Pelosi, Zooming in from her sun-soaked home office in San Jose. "They were out there creating hundreds of how-to YouTube videos for use cases that were brand new to us."
Those unplanned use cases represent the digital transposition of our lives, from maternity wards to funeral homes. There were dates, tarot-card readings, book clubs, power hours, and Mary-Kate Olsen's divorce hearing. Almost overnight, Zoom, which was founded in 2011, went from a wonky business-to-business enterprise to a household verb. There were, of course, stumbling blocks along the way. "Zoom bombers" popped into meetings, forcing the company to review its security features; Zoom was caught sending data to Facebook without explicitly telling users; and it faced backlash after it bowed to pressure from the Chinese government and suspended three activists planning a commemoration of the Tiananmen Square massacre. (Zoom quickly reinstated their accounts.)
Despite the hiccups, and users increasingly fatigued by the sight of their own faces, Zoom has garnered plenty of praise (its founder, Eric Yuan, was named Time's 2020 Businessperson of the Year) and mountains of money. Zoom's share price, which started 2020 below $70, hit $559 in mid-October- with a market cap that, for a fleeting moment, was slightly higher than ExxonMobil's. The vaccination rollout has taken a bite out of that price — it started 2021 at $360 — with investors wondering how many people will attend Virtual Game Night once they've been inoculated.
While many people feel as if the pandemic has cleaved their lives into two eras, Zoom executives prefer to say it has simply accelerated the company's trajectory. "I don't think there's a before and after," says Pelosi. "Some of those changes that we've all experienced are going to live with us, and we're going to evolve the product to whatever the future looks like."
*This article appears in the February 1, 2021, issue of New York Magazine. Subscribe Now!