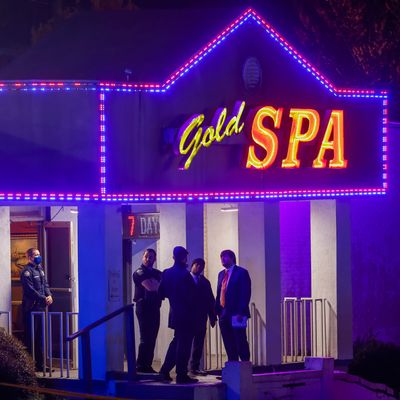 One of the businesses targeted on Tuesday.
Photo: Erik S Lesser/EPA-EFE/Shutterstock
New York Is Committed to Providing Essential Coverage
We've removed our paywall from this and other stories about acts of violence and racism against Asian communities. Consider becoming a subscriber to support our journalists.
A gunman killed six Asian women and two others in attacks on spas across the metropolitan Atlanta area on Tuesday evening, a spree that has sent shock waves throughout the country, as it grapples with an apparent surge in violence against people of Asian descent. Officials said they are still piecing together what may have motivated the suspect, Robert Aaron Long, who was charged with eight counts of murder and faces the death penalty if convicted. The horrific attack has been condemned as an act of hate across the nation and from as high as the White House.
Below, everything we do know about the shootings so far.
The investigation
As authorities continue to investigate, they have sent mixed messages about what may have motivated Long's long rampage.
First, on Wednesday, investigators from Cherokee County, where Long first struck, floated the theory that he was a sex addict (a contested diagnosis in medicine) and the shootings may not have been a hate crime, despite the fact the he appeared to be targeting locations because they were Asian spas. "He claimed that it was not racially motivated," said Captain Frank Reynolds of the Cherokee County Sheriff's Office. "He apparently has an issue, what he considers a sex addiction, and sees these locations as something … that he wanted to eliminate." (Baker was heavily criticized for saying the suspect had a "really bad day," and Baker was later discovered to have posted racist anti-Chinese messages on Facebook.)
Authorities did not say the businesses were involved in sex work, but USA Today found all three businesses attacked listed on a site that advertises illicit services. The Atlanta spas were previously targeted by police in undercover sting operations where an officer paid for a massage and an employee offered a sex act, according to the Associated Press. Twelve people were arrested at the two spas on prostitution charges, but none since 2013. On Thursday, police in Atlanta said the suspect "frequented" those same spas.
Officials in Atlanta and Washington also added to the confusion about the ongoing investigation Thursday. Atlanta's deputy police chief Charles Hampton said "nothing is off the table" when it comes to possible charges under the state's new hate-crimes statue. Meanwhile, FBI Director Christopher Wray added that "while the motive remains still under investigation at the moment, it does not appear that the motive was racially motivated."
Many pushed back on law enforcement's characterization of the killings as possibly unrelated to racial bias, while calling for solidarity with Asian Americans.
"Racially motivated violence should be called out for exactly what it is, and we must stop making excuses and rebranding it as economic anxiety or sexual addiction," Representative Marilyn Strickland, a Korean American from Washington state, said on the House floor on Wednesday, echoing sentiments that ricocheted around social media.
On Saturday, Atlanta Mayor Keisha Lance Bottoms told CNN that law enforcement should consider hate crime charges in the attacks: "The acknowledgment that this was a crime built upon hatred for a particular community matters and I think that it's important that prosecutors and police consider that in making those charges."
The attacks
The gunman was seen on surveillance video around 5 p.m. on Tuesday evening exiting Young's Asian Massage Parlor in Acworth, Georgia, in the northern Atlanta suburbs. According to an eyewitness, he reportedly sat in his car for over an hour outside before entering the business and allegedly shooting to death four people inside: two Asian women, a white woman, and a white man. A Hispanic man was shot outside, steps away from the spa, and is currently in critical condition.
The shooter was seen fleeing in a black SUV south to the Buckhead neighborhood of northeastern Atlanta, where he shot to death three women at Gold Spa and one at Aromatherapy Spa, across the street. All four women were Asian.
The suspect
Robert Aaron Long, 21, of Woodstock, Georgia — which is about five miles away from the first shooting — was arrested on Tuesday evening. Law enforcement issued a bulletin for Long after spotting his SUV and license plate on security-camera footage from the first attack. Three hours after the shooting spree began, he was intercepted on Interstate 75 in Crisp County, about 150 miles south of Atlanta. Crisp County sheriff Billy Hancock said state troopers and sheriff's deputies trapped Long's vehicle on the highway where they caused it to "spin out of control" and took him to jail "without incident," according to the Post. Officials said Wednesday that Long's parents identified the suspect as their son to authorities after seeing images of him.
The Washington Post reports that Long's parents and a former roommate described him having a sexual compulsion he said was an addiction, and that he was treated at an evangelical center called HopeQuest located close to the site of the first attack. Long grew up in a conservative Southern Baptist church and was a patient at HopeQuest in 2019 and 2020, according to the former roommate. (After the shooting, his church removed him from its membership.) The center advertises treatment for "sex addiction" and "pornography addiction," according to the Post, and promoted "ex-gay therapy," the false idea that people can become heterosexual.
Tyler Bayless, who shared a room with Long at a sober-living facility, described the accused killer to the Post as a man torn between an obsession with sex and his conservative faith that considers sex outside of heterosexual marriage to be immoral. "This was the kind of guy who would hate himself for masturbating, would consider that a relapse," Bayless said.
Before entering treatment, Long was in a relationship with a woman in Tennessee and his parents once called police to report that their son had gone to visit her and refused to return home. Bayless said his understanding was that the relationship ended after Long was found to be frequenting spas for sex. Similarly, Long's parents kicked him out of the house on Monday for watching pornography and patronizing the spas. The next day, he legally purchased the 9mm handgun and set about killing, authorities say — a rampage that officials said he may have planned to continue in Florida, before being apprehended.
The victims
Authorities released the names of all eight people killed: Delaina Ashley Yuan, Paul Andre Michels, Xiaojie Tan, Daoyou Feng, Soon Chung Park, Hyun Grant, Suncha Kim, and Yong Ae Yue. Six of the eight killed were women of Asian descent, several of them immigrants to the United States who worked in the spas. Elcias Hernandez-Ortiz, 30, was shot multiple times steps away from Young's Asian Massage spa but survived.
The rise in hate and violence against Asians
The shootings come at a time of ongoing alarm over a rise in violence and hateful incidents against people of Asian descent in the United States, particularly amid the coronavirus pandemic, given the racist rhetoric inveighed against Asians over the virus that first appeared in China. In his first national address as president last week, Biden condemned the reported surge in attacks against Asian Americans, saying that they "must stop."
Roughly 7.6 percent of the population of Georgia's Fulton County, which includes Atlanta, is of Asian descent.
A new study released on Tuesday showed that were almost 4,000 incidents targeting Asians in the U.S. over the past year, and as NBC News reports, according to that research, Asian women were more than twice as likely to be targeted as Asian men:
New data has revealed over the past year, the number of anti-Asian hate incidents — which can include shunning, slurs and physical attacks — is greater than previously reported … The research released by reporting forum Stop AAPI Hate on Tuesday revealed nearly 3,800 incidents were reported over the course of roughly a year during the pandemic. It's a significantly higher number than last year's count of about 2,800 hate incidents nationwide over the span of five months. Women made up a far higher share of the reports, at 68 percent, compared to men, who made up 29 percent of respondents. The nonprofit does not report incidents to police …




The data, which includes incidents that occurred between March 19 of last year and Feb. 28 of this year, shows that roughly 503 incidents took place in 2021 alone. Verbal harassment and shunning were the most common types of discrimination, making up 68.1 percent and 20.5 percent of the reports respectively. The third most common category, physical assault, made up 11.1 percent of the total incidents. More than a third of incidents occurred at businesses, the primary site of discrimination, while a quarter took place in public streets.
Across social media, there was an outpouring of grief from the Asian community.
This is a developing story and this post has been updated to include new information.