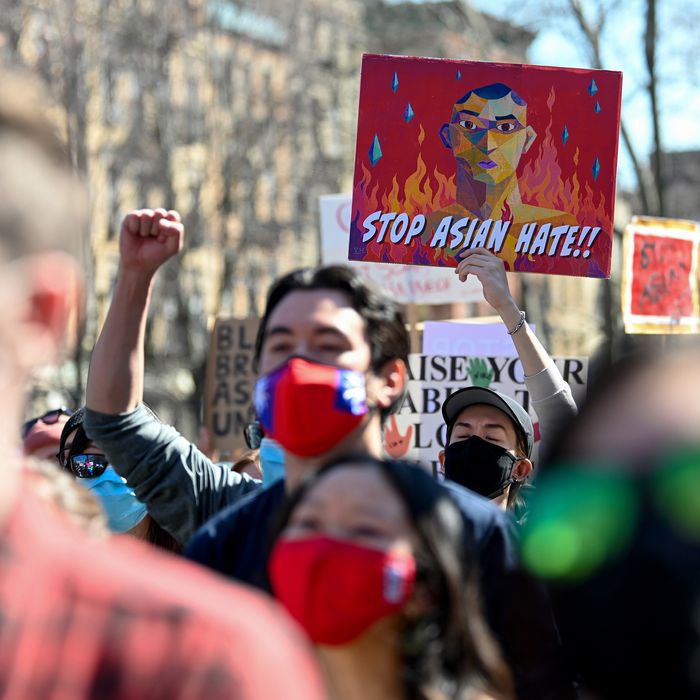 Photo: Alexi Rosenfeld/Getty Images
The NYPD said Wednesday morning that it had arrested a homeless man for the brutal assault of an Asian woman in Hell's Kitchen that was captured on video.
Brandon Elliot, 38, was apprehended blocks away from the site of the attack at a hotel serving as a homeless shelter, the AP reports. He was charged with several counts, including felony assault as a hate crime. Elliot had been convicted in 2002 of stabbing his mother to death, and was released in 2019 on lifetime parole.
Elliot is accused of kicking to the ground a 65-year-old Asian woman on her way to church, stomping on her face, and yelling anti-Asian slurs before finally saying "fuck you, you don't belong here." (Warning: graphic video.)
NBC News reports that the victim has been identified as Vilma Kari, a Filipino immigrant, and that she was discharged from the hospital on Tuesday after being treated for serious injuries.
Multiple workers in the lobby of the luxury apartment building at 360 W. 43rd St., whose surveillance video captured the assault, are seen doing nothing to intervene — with one closing the door of the building at the end of the video as the woman lies on the sidewalk. The Brodsky Organization, which owns the building, said in a statement that "the staff who witnessed the attack have been suspended pending an investigation in conjunction with their union," and that the company "is also working to identify a third-party delivery vendor present during the incident so that appropriate action can be taken."
Last weekend, thousands of people rallied in New York at multiple events to protest and raise awareness of violence and bigotry against Asian Americans. During that weekend, at least five more attacks against Asian Americans were reported, with at least one of them connected to the protest itself.
In a statement, Governor Andrew Cuomo called the attack "absolutely horrifying and repugnant," and said he would direct the New York State Police Hate Crimes Task Force to assist the NYPD. Leading mayoral candidate Andrew Yang said he was "deeply affected by these incidents," adding that "I could see my mother in that situation."