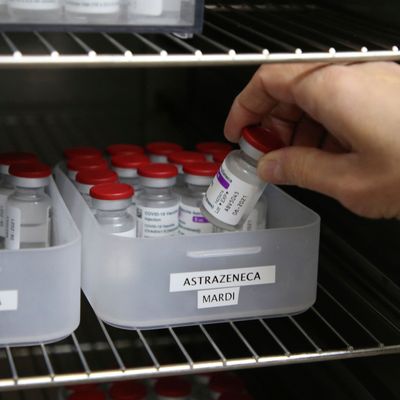 Woman pick up a vial of AstraZeneca vaccine from a box in a vaccination center in Saint-Jean-de-Luz, southwestern France, on March 16, 2021.
Photo: Bob Edme/AP/Shutterstock
We're committed to keeping our readers informed. 
We've removed our paywall from essential coronavirus news stories. Become a subscriber to support our journalists. Subscribe now.
AstraZeneca's COVID-19 vaccine just got one step closer to coming onto market in the U.S. On Monday, the pharmaceutical giant put out a press release announcing that an independent study found its two-dose COVID-19 immunization to be 79 percent effective at preventing COVID-19 symptoms and 100 percent effective at stopping severe complications and hospitalizations caused by the virus, providing a vote of confidence for the shot. But there's a catch.
Later Monday, the National Institute of Allergy and Infectious Diseases (NIAID) said the data presented may have not included the most up-to-date information regarding trial results of its vaccine, potentially casting doubt over published efficacy rates. On Tuesday, AstraZeneca acknowledged its U.S. coronavirus vaccine trial was only based on data through February 17.
The following day, AstraZeneca issued updated phase three trial data for its COVID-19 vaccine, saying its vaccine is 76 percent effective in protecting against symptomatic cases of the virus – a tad lower than what was reported earlier this week. The updated report maintains that the shot is 100 percent effective against severe disease and hospitalization.
"The difference between 76 percent and 79 percent is a rounding error, probably just a handful of cases," Paula Cannon, a professor of molecular microbiology and immunology at the University of Southern California's Keck School of Medicine, told Bloomberg. "But it's so important for us to be completely transparent and accurate because we are building public trust."
The newest calculations were based on 190 COVID-19 cases that occurred among the 32,449 people who participated in the study, 49 more than the drugmaker had included in its report earlier in the week. None of the vaccinated participants required hospitalization and the company still saw no safety concerns from the vaccine. AstraZeneca officials hope the small revision to the efficacy rate will go a long way to putting the vaccine back on track to gaining emergency authorization in the U.S.
"The primary analysis is consistent with our previously released interim analysis, and confirms that our COVID-19 vaccine is highly effective in adults, including those aged 65 years and over," Mene Pangalos, an AstraZeneca executive, said in the Wednesday announcement. "We look forward to filing our regulatory submission for Emergency Use Authorization in the US and preparing for the rollout of millions of doses across America."
"These findings reconfirm previous results observed," said Ann Falsey of the University of Rochester School of Medicine — who helped lead the trial — in the press release on Monday. "This analysis validates the AstraZeneca COVID-19 vaccine as a much-needed additional vaccination option, offering confidence that adults of all ages can benefit from protection against the virus." She added that it was "exciting similar efficacy results in people over 65 for the first time." Among participants 65 years and older, the vaccine was 80 percent effective.
The findings from the long-awaited late-stage trial — which included more than 32,000 participants across all age groups from the U.S., Chile, and Peru — showed that the vaccine was well tolerated and identified no safety concerns. An independent committee "found no increased risk of thrombosis or events characterized by thrombosis among the 21,583 participants receiving at least one dose of the vaccine," according to AstraZeneca, allaying safety concerns that have disrupted its use in Europe.
More than a dozen countries stopped inoculating with the AstraZeneca vaccines last week following reports of mostly young patients suffering severe clotting disorders and rare types of strokes shortly after receiving the AstraZeneca vaccine. An emergency investigation by the European Medicines Agency (EMA) came to the conclusion last Thursday that the vaccine is "safe and effective" in preventing COVID-19 and "its benefits … outweigh the possible risks," but left the door open to the possibility of a link to a rare combination of side effects that have concerned European countries. Most nations have resumed its use but a few continue to wait for more data.
If approved, the vaccine will become America's fourth, behind Pfizer, Moderna, and Johnson & Johnson. The U.S. has been steadily building a stockpile of the vaccine, though the Biden administration is loaning some to Canada and Mexico. The U.S. has agreed to buy 300 million doses of AstraZeneca's COVID-19 vaccine once it is authorized.
This post has been updated.