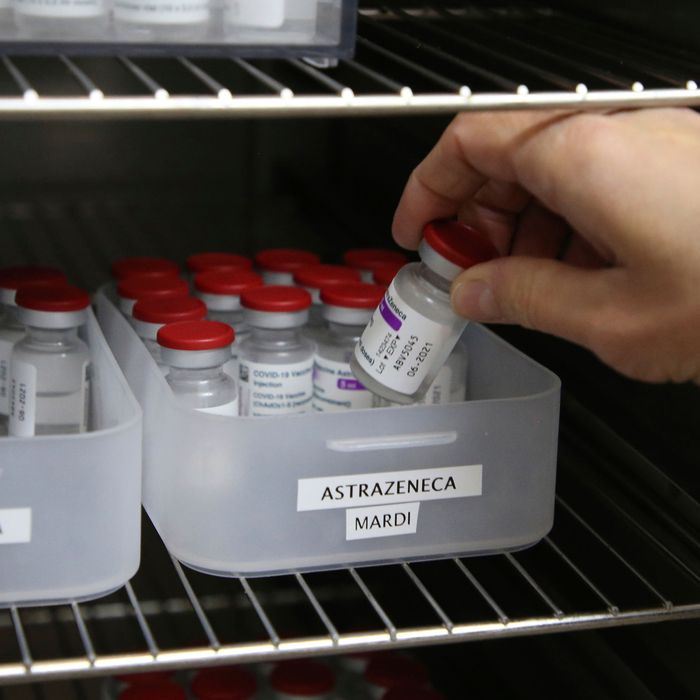 Not a hot shot.
Photo: Bob Edme/AP/Shutterstock
AstraZeneca's COVID-19 vaccine is facing a crisis of confidence. Within the space of a few days, one European country after another has suspended administering the shot over a handful of reports of people experiencing blood clots following the inoculation. The actions of European governments have taken experts by surprise and prompted anxiety among people who have had or are in line to get the shot. The European Medicines Agency and the World Health Organization say that the data available don't suggest the vaccine caused the clots and that people should continue to be immunized. In a press conference on Tuesday, Europe's top medical regulator said it would give definitive guidance on Thursday after examining all available evidence.
Intelligencer spoke with Dr. Monica Gandhi, an infectious-disease specialist and a professor of medicine at the University of California, San Francisco, about the crisis.
What does the AstraZeneca vaccine bring to the table?
When I look at the real-world data, I turn to the U.K. — where AstraZeneca has been rolled out most briskly. Reports from Scotland showed that AstraZeneca has equal rates of efficacy against severe disease as the Pfizer vaccine. This is being shown again and again, that it is doing great in the U.K. in terms of decreasing hospitalizations.
What about the blood-clot concerns being raised in some countries? Is there any proof the vaccine is responsible?
Out of 17 million doses given, there are 37 people with clots in an older population — that is way below the risk of just clotting in general from a general population. When you are giving an intervention to large swaths of the population, associations will come up. We get concerned about a vaccine side effect when the rate among those who are vaccinated is much higher than in the general population. And that has not been observed with the AstraZeneca vaccine.
Is this a concern with other COVID-19 vaccines?
Actually, no. Interestingly, you'll see reports of thrombocytopenia — low platelets — with mRNA vaccines. And those have been disproven.
A cascading number of European countries have suspended the vaccine's use. Are these precautionary measures exhaustive?
To suspend the use of this really effective vaccine, especially now that they're having increasing cases and hospitalizations — I really have to say, I'm completely flummoxed. The WHO is urging them not to do this for a reason, because the WHO's job is to look at world health. A not-perfect vaccine that is available right now, in stock for a large number of the population, is going to help you get the scariest thing to go away, which is hospitalizations from COVID-19. I am tremendously disturbed, especially when I heard about increasing hospitalizations in France yesterday at the same time they made this decision.
The suspension of AstraZeneca's vaccine has further hampered the slow vaccine rollout in Europe. The U.S. has so far administered three times as many doses as the E.U. when adjusted for population. How much easier will vaccination rollout be with the AstraZeneca vaccine available? 
The AstraZeneca vaccine is a logistically easy vaccine to give because it just requires refrigeration at regular temperatures, where it lasts for a long time. They already have the supply available. They already got through that hurdle. They already authorized it before, so it would be very easy to resume distribution of the AstraZeneca vaccine in all these countries.
Why isn't the AstraZeneca vaccine approved in the U.S.?
I don't know. There are many people, including me, who think that any vaccine that is safe and effective should be approved very quickly because we're in the middle of a global health emergency, and the only way to get out of it is vaccines. On the other hand, the FDA has its own process, and they decided that they are going to wait for the clinical-trial data from the U.S., which is apparently imminent.
This interview was edited and condensed for clarity.