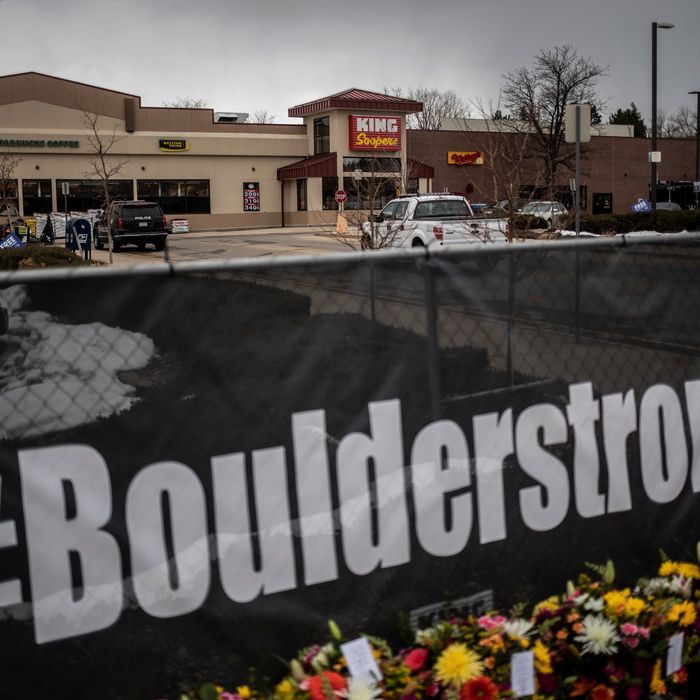 Flowers left on the fencing surrounding the King Soopers grocery store in Boulder, Colorado, on Tuesday.
Photo: Chet Strange/Getty Images
Ten people were killed, including a police officer, after a gunman opened fire at a large grocery store in Boulder, Colorado, on Monday afternoon — the deadliest mass shooting in the U.S. in nearly two years. On Tuesday, local officials publicly identified both the victims and the alleged shooter, 21-year-old Ahmad Al Aliwi Alissa. He was taken into custody and is speaking to investigators, but the motive for the attack is not yet clear. In the meantime, more information about the victims and the suspect continues to emerge, and the shooting has once again reignited calls for stronger gun-control laws. Below is everything we know about the attack and the aftermath.
What Happened
Police responded to a call of shots fired around 2:40 p.m. at the King Soopers supermarket, which anchors a shopping center on Table Mesa Drive south of downtown Boulder. Officers from the Boulder Police Department arrived, entered the store, and exchanged gunfire with the shooter, who was reportedly armed with a rifle and a semi-automatic handgun. Officer Eric Talley, who went "charging into the line of fire," according to Boulder's district attorney, was fatally wounded by the gunman. No other officers were injured, authorities said, and the gunman was captured at 3:28 p.m.
In livestreamed video footage shot by someone who had just left the supermarket prior to the attack, three people can be seen lying motionless on the ground — two in the parking lot and one just inside the store. Gunshots can be heard inside the store on the video, which captured the arrival of waves of police including SWAT.
Many survivors were able to escape during the attack, with some fleeing through a back entrance, while others reportedly tried to find places to hide inside the store.
A shopper inside the King Soopers told the Denver Post that the shooter "didn't say shit … He just came in and started shooting." Another witness said the gunman "let off a couple of shots, then was silent and then he let off a couple more. He wasn't spraying." Other survivors recounted their terrifying ordeal fleeing the danger:
Sarah Moonshadow and her son, Nicolas Edwards, had just finished paying for strawberries when two shots rang out. She told her son to get down. "We just ran," Moonshadow said. They felt the concussions of shots as they sprinted out. Outside, a body was lying in the parking lot and Moonshadow started toward it. "My son said, 'No, Mom! We can't do anything.'"




By the time they got outside, Edwards said police were flying into the parking lot and pulled up next to the body. "I knew we couldn't do anything for the guy" he said. "We had to go." They got across the street and hid behind a rock at an apartment.
The in-store pharmacy was being used as a COVID vaccination site, and at least some of those inside were apparently there to receive the vaccine.
Other businesses in the shopping center quickly went into lockdown after the attack began. Police eventually cleared the King Soopers and rescued the survivors who had remained inside.
The Victims
Below is what we know about the people who were killed in the attack, according to their family members, friends, and media reports.
Talona Bartkowiak, 49
Bartkowiak, who went by Lonna, was recently engaged and was the manager of Umba, a store that sells yoga and festival clothing in Boulder. According to the New York Times, she had moved to the front range to run the store, which was founded by her sister. "She was that bridge between artists and the people," Edica Pacha, an artist who sold work at the store, told USA Today. Pacha added that there was always "joy radiating out of her."
Suzanne Fountain, 59
According to the Denver Post, Fountain was a financial counselor in the health-care industry who helped enroll hundreds of clients in Medicare and was an actress in local theater programs. "She was simply a very genuine person with tons of integrity," Hilarie Kavanagh, the owner of the health-care firm where Fountain had been an agent since 2018, told the paper. Fountain is survived by a son.
Teri Leiker, 51
"She had the biggest, brightest smile," Alexis Knutson, a friend, told the New York Times. Knutson had met Leiker, a 31-year employee of King Soopers, in a program that connects University of Colorado Boulder students with community members who have intellectual or developmental disabilities. "She always just had these dimples that, especially when she got excited about something — her smile was just huge," Knutson said. Leiker's boyfriend, who also worked at the market, also had a shift on Monday.
Kevin Mahoney, 61
In a tweet on Tuesday, Mahoney's daughter, Erika, said that her father "represents all things Love" and that she was "so thankful he could walk me down the aisle last summer." She posted a picture of herself and her father, who worked in the hotel business, at the wedding. She also said she is pregnant and knows that her father "wants me to be strong for his granddaughter."
Lynn Murray, 62
Murray was at King Soopers filling an Instacart order on Monday, a part-time job she had picked up since her retirement from her role as a magazine photo director and editor, in which capacity she had worked at Cosmopolitan, Marie Claire, and Glamour.
"She was an amazing woman, probably the kindest person I've ever known," her husband, John Mackenzie, told the New York Times. "Our lives are ruined, our tomorrows are forever filled with a sorrow that is unimaginable. She was one of the greatest people you'd ever want to know: hardworking, loving and compassionate, caring, went out of her way to make sure everyone else had a smile on their face." Murray is also survived by two children in their early 20s.
Rikki Olds, 25
A front-end manager at King Soopers, Olds had worked there for close to eight years, according to her uncle, Robert Olds, who spoke with CNN. The oldest of three siblings, she was abandoned by her mother when she was 7 years old and dropped off at her grandparents' house in Lafayette, Colorado. Her uncle said she enjoyed the outdoors and spending time with her family, who he says are still in shock. "My mom was her mom," he told the New York Times. "My mom raised her."
Neven Stanisic, 23
According to leaders of the Saint John the Baptist Serbian Orthodox Church in nearby Lakewood, Stanisic and his family fled Bosnia 20 years ago to avoid conflict in the Balkan nation. According to a reverend at the church who spoke with the Denver Post, he was likely heading to the supermarket to fix a coffee machine at the Starbucks inside, "so he ended up being in the parking lot."
"He was an amazing child," Ivana Petrovic, a church member with close ties to the family, told the paper. "We've known the family ever since we became their spiritual father and mother here. He was a very good, shy, hardworking boy and one of those kiddos who listened to his parents the best."
Denny Stong, 20
The youngest victim in the shooting, Stong also worked at King Soopers; he started on Christmas Day 2018, according to his Facebook. The superintendent of his high school, where he graduated in 2019, says Stong purchased a motorcycle with money he had saved from working at the supermarket. According to the president of a Civil War–reenactment group, he was also preparing to take part in his first reenactment.
"I feel angry on top of the sadness," his friend James Noland wrote on a GoFundMe page to raise money for Stong's family. "Some people make decisions that lead to their deaths, which allows me to process it more easily. He did nothing wrong and deserved this in no way at all. He made no choice that led to this. He simply showed up to work, and was in the wrong place at the wrong time."
Officer Eric Talley, 51
Talley was the father of seven children — the youngest of whom is 7 years old — and his own father said the officer had been looking for a new job as a drone operator to get him "off of the front lines" because "he didn't want to put his family through something like this."
Police chief Maris Herold said during a press conference on Tuesday that Talley had been in her office several weeks ago to receive a reward for one of his children, who had saved another child's life using CPR, which Talley had taught all of his children. "We can never thank Officer Talley and his family enough for their sacrifice, but we will not forget it," Boulder mayor Sam Weaver said.
On Twitter, a person identifying herself as Talley's sister, Kirstin, wrote, "Officer Eric Talley is my big brother. He died today in the Boulder shooting. My heart is broken. I cannot explain how beautiful he was and what a devastating loss this is to so many. Fly high my sweet brother. You always wanted to be a pilot (damn color blindness). Soar."
A very long procession of police vehicles escorted Talley's body away from the scene of the attack on Monday night.
Jody Waters, 65
Waters, the oldest victim of Monday's attack, was a longtime resident of Boulder, where she worked in fashion boutiques in the city's Pearl Street Mall and had dreamed of one day opening a boutique of her own. Waters reportedly had two daughters, and was originally from Illinois.
The Suspected Shooter
On Tuesday, authorities identified the gunman as Ahmad Al Aliwi Alissa, 21, of Arvada, Colorado. He was taken into custody and has been charged with ten counts of first-degree murder. He was shot in the leg by responding officers and is hospitalized in stable condition. Officials said he will be transported to jail ahead of a court appearance on the murder charges.
News footage showed the shooter, wearing nothing but boxer shorts with one of his legs covered in blood, being escorted by police from the supermarket in handcuffs about an hour after the shooting began.
The accused gunman is speaking to investigators, officials said, and the investigation will continue. There is "no motive" as of yet. An extensive inquiry is underway into his background, Boulder County district attorney Michael Dougherty said on Tuesday. Alissa has lived most of his life in the United States and is believed to be the only person involved in the attack. According to authorities, there is no further threat to public safety. Police reportedly searched the suspect's house, where he lived with his family, overnight Monday.
According to Alissa's arrest affidavit, he purchased an AR-style firearm (a Ruger AR-556 pistol) on March 16. A family member told police they had seen him playing with a "machine gun" two days prior to the shooting.
As Intelligencer's Nia Prater noted on Tuesday, ten days before the attack, a district-court judge overturned a ban on assault-style weapons and large-capacity magazines in Boulder that the City Council had passed in 2018 in the wake of the Parkland, Florida, school shooting. It's not yet clear whether Alissa purchased the firearm in the city. The Denver Post reported Tuesday that the weapon the accused gunman purchased had been banned in the city prior to March 12, but:
Boulder police did not issue any citations under the ban during the two years it was in place, according to records received by The Denver Post after filing a public records request. The ordinance also allowed people to keep a banned weapon in their car while traveling in the city.
In a now-deleted Facebook page that apparently belonged to him, Alissa said he was born in Syria and moved to the U.S. when he was a toddler.
In an interview with The Daily Beast, the accused shooter's 34-year-old brother, Ali Al Aliwi Alissa, described Ahmed as paranoid and "very antisocial" and said he believed Ahmed was suffering from some kind of mental illness. Ali did not believe the shooting was politically motivated:
[It was] not at all a political statement, it's mental illness … The guy used to get bullied a lot in high school; he was like an outgoing kid, but after he went to high school and got bullied a lot, he started becoming antisocial.
According to court documents, Alissa was arrested in 2017 and charged with assault after punching a classmate at Arvada West High School whom he said "had made fun of him and called him racial names weeks earlier." He pleaded guilty and was sentenced to probation and community service.
Former high-school wrestling teammates of Alissa told The Daily Beast and the Denver Post that they remembered him as violent, short-tempered, and paranoid about perceived slights. One said Alissa was often concerned about being targeted because of his Muslim faith. Two agreed that he was normally friendly but prone to sudden fits of rage when angry.
The Response to the Attack
"This is a tragedy and nightmare for Boulder County," Dougherty said on Monday night. "We'll be doing everything we can to fight for [the victims] and their families to make sure that we reach the right and just outcome." Colorado governor Jared Polis, a Boulder native, said Monday that his "heart is breaking as we watch this unspeakable event unfold" and that he is "incredibly grateful to the brave men and women who have responded to the scene to help the victims of this senseless tragedy." The Colorado Healing Fund, a disaster-response nonprofit chaired by former Colorado attorney general Cynthia H. Coffman, has announced it is fundraising for the victims of the attack.
Representative Joe Neguse, who represents the Boulder area in Congress, said Tuesday, "This cannot be our new normal. We should be able to feel safe in our grocery stores, in our schools, in our movie theaters, in our communities. We need to see a change because we have lost too many lives."
As Intelligencer's Nia Prater wrote on Tuesday, it's possible the Boulder shooting will factor into efforts to pass new gun-control legislation:
With a Democratic majority in both chambers of Congress and Joe Biden in the White House, gun-control advocates believe now is the time to act. The House recently passed legislation that would require background checks for all gun sales and transfers, but the prospect of the Senate filibuster blocking the measure looms heavily. The idea of getting rid of the filibuster in order to pass substantial legislation has gained more and more support in recent weeks, with President Biden seeming to back modifying the rule rather than dropping it outright.
Only four states have had more mass shootings per capita than Colorado, according to a 2019 analysis by the Denver Post, and the Denver metropolitan area has had more school shootings per capita, starting with the Columbine High School attack in 1999, than any other major U.S. city.
The attack in Boulder came just days after a series of shootings at Atlanta spas that left eight people dead, including six Asian women. CNN notes the two incidents are among at least seven mass shootings to occur across the U.S. in the past week.
This is a developing news story, and this post has been updated to include new information.