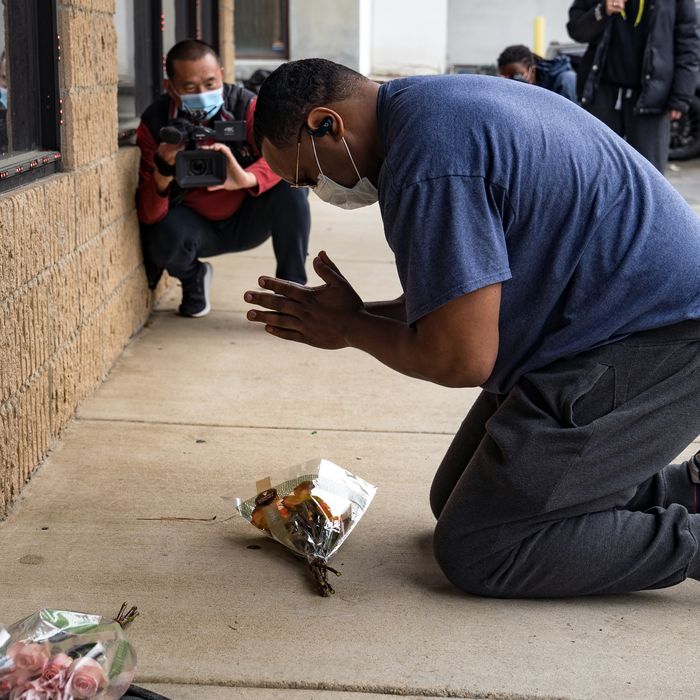 Yalaba Mendoza visits the site of two Atlanta spas to mourn the eight people killed in shootings.
Photo: Megan Varner/Getty Images
New York Is Committed to Providing Essential Coverage
We've removed our paywall from this and other stories about acts of violence and racism against Asian communities. Consider becoming a subscriber to support our journalists.
Eight people, six of them Asian women, were killed Tuesday night in three shootings by a single gunman at spas across the Atlanta area. The shootings have sent shock waves throughout the country, especially in the Asian community, which has been reeling from an apparent surge in racist violence that coincided with the start of the coronavirus pandemic a year ago.
Authorities released the names of those killed in the shootings. Xiaojie Tan, Daoyou Feng, Delaina Ashley Yaun Gonzalez, and Paul Andre Michels, were killed during the first attack on Young's Asian Spa northwest of Atlanta. Soon Chung Park, Hyun Grant, and Suncha Kim, were killed in the second attack on Gold Spa in Atlanta and Yong Ae Yue was killed across the street in the third and final attack on Aromatherapy Spa.
Here is what is known so far about the deceased.
Delaina Ashley Yaun Gonzalez, 33
Yaun was on a date at Young's Asian Spa with her husband who she married in August, Yaun's cousin told WXIA-TV. Yuan was the mother of a 14-year-old son and an 9-month-old daughter, and had worked at a Waffle House just a few doors down from the spa, according to BuzzFeed News. "[Yaun's daughter] is not even going to get to know her mom," said Dana Toole, Yaun's sister said, adding that she believes it was the couple's first time at the massage parlor. "How do you explain that?"
Yaun's husband, Mario González, was not injured, according to Fox News Atlanta. Her family has set up a fundraiser to help cover her funeral expenses.
Paul Andre Michels, 54
Michels was a local business owner who had been married for over two decades, according to The Daily Beast. Family members described him as a hardworking Army veteran who owned an electric company. John Michels, his 52-year-old brother, who lives in Michigan, told The Daily Beast on Wednesday that his brother was interested in "getting in the massage business" and was looking to own establishments. John Michels told WXIA his brother may have been speaking to the owner when he was slain.
"I'm mad, it couldn't have happened to a nicer guy," Kikiana Whidby told CBS News about Paul Michels, who is the godfather to her son. She adds that Michels was doing handiwork for the Acworth Spa when the shooting took place.
Xiaojie Tan, 49
Xiaojie Tan owned Young's Asian Massage and at least one other spa, according to The Daily Beast. Tan is a licensed massage therapist, according to NBC News, and emigrated to the United States from China several years ago. She had an adult daughter who recently graduated from the University of Georgia, USA Today reports. "She was the sweetest person you'd ever meet," Greg Hynson, a friend and customer of Tan's, said. "My heart was in my throat the second I heard of it. It still doesn't seem real."
In an interview with CNN, Tan's daughter Jami Webb said she was planning to celebrate her mother's birthday next week. "I just want to hold her tight," she told CNN. "Give her a hug … hold her hand, hug her for a long time."
Daoyou Feng, 44
Little is known about Feng at this time. She worked at Young's Asian Massage, according to a co-worker who spoke to the Times. NBC News reports relatives could not be reached for comment.
Hyun Jung Grant, 51
Hyun Jung Grant was a Korean immigrant who worked at Gold Spa. She leaves behind two sons who do not know their father: The eldest, Randy Park, 23, set up a GoFundMe that has raised more than $2 million for he and his brother. "I will live the rest of my days grateful for what has essentially given my family a second chance," Park wrote. "My mother can rest easy knowing I have the support of the world with me." He told The Daily Beast, "She wasn't just my mother. She was my friend." Park, who now has to raise his brother alone, is not buying law-enforcement officials' suggestion that the attack was motivated by a supposed sex addiction, not racism. "That's bullshit," he said.
Suncha Kim, 69
Kim worked at Gold Spa and in her spare time enjoyed line-dancing, a family member told the Times. A grandmother married for more than 50 years, she immigrated from Korea to the United States to "provide us a better education and better life," the family member said.
Soon Chung Park, 74
The oldest of those killed in the triple attacks, Park worked alongside Grant and Kim at Gold Spa. Park lived in New York before moving to Atlanta, her son-in-law told the Times. "She got along with her family so well," he said in Korean.
In an interview with the Daily Beast, Soon Chung Park's husband, Gwangho Lee, says he was driving a Lyft on Tuesday to pick up another worker at Gold's Spa, when he began receiving texts from the person saying "send the police" and "do it faster." Upon arrival, Lee says he attempted to give his wife CPR and asked for help from the one police officer on the scene who was "just standing there." "This is emergency!" he told the officer. "Where is the ambulance?"
Yong Ae Yue, 63
Yue worked at Aromatherapy Spa, across the street from Gold Spa. Born in South Korea, she met her husband Mac Peterson, who was stationed in the U.S. Army there, he told the Times. They moved to the United States in the 1970s, at one point living at Fort Benning, Georgia, before their divorce in 1982. They had two sons together and their families remained close, according to Peterson. "She used to take my sister to the spa," he said.
Elcias Hernandez-Ortiz, 30
Hernandez-Ortiz's wife, Flor Gonzalez, told the New York Times he called her after being wounded by the gunman steps away from Young's Asian Massage. "I've been shot!" she recalled him saying. "Please come." She said her husband has been hospitalized with multiple gunshot wounds, including one in his forehead. Hernandez-Ortiz, a mechanic, immigrated from Guatemala ten years ago and the two have been married as long.
"He's still alive, he's fighting for his life," Gonzalez told the Times. "But the doctors told me that he will have a long recovery after he leaves the hospital."
She added through tears: "Many others died, and my heart breaks for them. Whoever did this is not human."
This is a developing story.