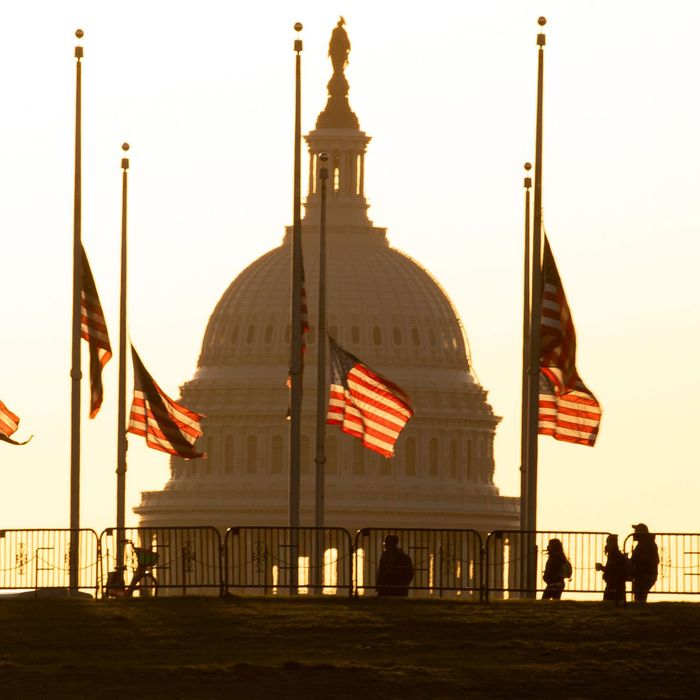 Flags fly at half staff at the base of the Washington Monument on the National Mall to honor Capitol Police Officer William Evans on April 3, 2021.
Photo: Michael Reynolds/EPA-EFE/Shutterstock
William Evans, the U.S. Capitol Police officer killed during an attack on Capitol grounds Friday, will lie in honor in the Capitol Rotunda on April 13th.
Evans was an 18-year veteran of the Capitol Police and a member of the department's First Responder Unit, the USCP said in a statement.
House Speaker Nancy Pelosi and Senate Majority Leader Chuck Schumer said in a joint statement that by giving his life to protect the Capitol, Evans became a "martyr for our democracy."
"It is our hope that this tribute will be a comfort to the family of Officer Evans, particularly his children Logan and Abigail, as will the knowledge that so many Americans mourn with and pray for them at this sad time," Pelosi and Schumer said.
Evans was killed and a second officer, Ken Shaver, was injured, on Friday when a vehicle rammed into them near the U.S. Capitol. The suspect was fatally shot by police.
According to the New York Times, the suspected attacker has been identified by a senior law-enforcement official as a 25-year-old Indiana man named Noah Green. His motive is not yet clear, but D.C. Metro Police chief Robert Contee told reporters that investigators do not believe the attack was "terrorism related."
Chief Yogananda Pittman said that after ramming into the officers with his car and hitting a security barricade, Evans "exited the vehicle with a knife in hand" and "lunged" at the officers. She said police opened fire after Evans failed to respond to verbal commands.
Shaver was released from the hospital the following day.
This recent attack comes just months after the January 6th riot at the U.S. Capitol, which placed the U.S. Capitol Police Department on the front lines of an hours-long assault from angry rioters. That incident resulted in the loss of two Capitol Police officers: Brian Sicknick, who died after being assaulted during the siege, and Howard Liebengood, who died by suicide days later.
Schumer and Pelosi acknowledged this strain, writing, "May this tribute also be a source of comfort and an expression of gratitude to the U.S. Capitol Police Force, which has awed our nation with their courage and resilience during this devastating time."
This post has been updated.