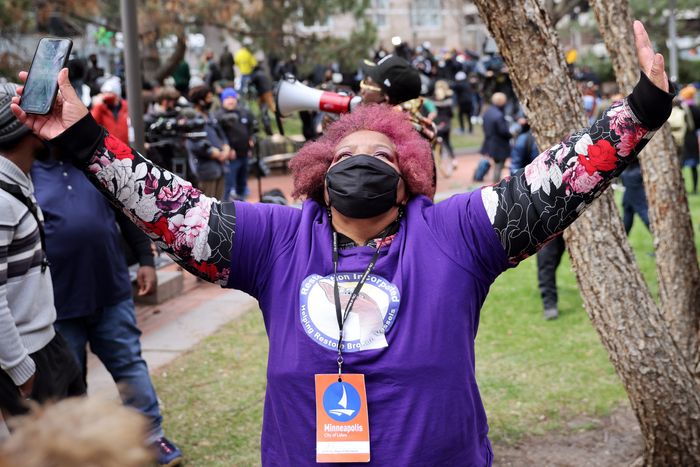 People react after the verdict in Minneapolis.
Photo: Scott Olson/Getty Images
The jury in Derek Chauvin's murder trial has reached a verdict after less than a day of deliberations, finding the former Minneapolis police officer guilty on all three counts: second-degree murder, third-degree murder, and manslaughter over the killing of George Floyd. Below, in reverse chronological order, are the latest updates on the trial's outcome and aftermath.
On Tucker Carlson's show, the verdict was portrayed as "mob justice"
Though several prominent Fox News personalities said the jury reached the right verdict, Tucker Carlson predictably disagreed. As the Washington Post notes, he suggested that the jurors were not swayed by testimony, but by fear of the potential consequences of finding Chauvin not-guilty.
"The jurors in the Derek Chauvin trial came to a unanimous and unequivocal verdict this afternoon: 'Please don't hurt us,'" Carlson said. "Everyone understood perfectly well the consequences of an acquittal in this case. After nearly a year of burning and looting and murder by BLM, that was never in doubt."
He went on to argue that racial justice protests had upended the justice system and perpetrated an "attack on civilization. "No mob has the right to destroy our cities," he said. "No politician or media figure has the right to intimidate a jury."
Several guests agreed, including Candace Owens, who said, "What we're really seeing is mob justice."
One guest did offer some mild pushback, but Carlson didn't seem interested in hearing it.
Police killings of Black Americans persist — even as the verdict was handed out
About 15 minutes before the guilty plea in the Chauvin case was read, Columbus police reported that an officer had shot a 15-year-old in Ohio's largest city. In an interview with the Columbus Dispatch, a woman identified the victim, who is Black, as her 15-year-old niece. According to Columbus Mayor Andrew Ginther, there was body-camera footage of the shooting, which is being reviewed by the Ohio Bureau of Criminal Investigation.
What happens next in the sentencing of Derek Chauvin?
With the jury's determination that Chauvin was guilty of all three counts, the length of the convicted murderer's sentence will now be decided by Judge Peter Cahill. While Minnesota's sentencing guidelines encourage Cahill to stay closer to the minimum of 12.5 years because Chauvin has no criminal history, he could go as high as 40 years, the maximum sentence for second-degree murder.
As Slate notes, there is a possibility that Cahill will hand down a sentencing decision beyond the 40-year max:
Prosecutors are seeking to prove the existence of aggravating circumstances that would justify an upward departure from Minnesota's sentencing guidelines. They have identified three such circumstances: First, that Chauvin killed Floyd in front of children (hence the extensive testimony of child witnesses at trial); second, that Chauvin treated Floyd with "particular cruelty"; and third, that Chauvin "abused his position of authority" as a law enforcement officer. The Supreme Court has held that Chauvin has a constitutional right to require the jury to find each aggravating circumstance beyond a reasonable doubt. However, the defendant waived this right, which means Cahill, not the jury, will decide whether prosecutors proved the presence of these circumstances. If the judge does find aggravating factors, he can impose a higher sentence under Minnesota's guidelines, extending Chauvin's prison term by several years—though the defendant will not face more than double the sentence he would without their presence.
Biden and Harris discuss the guilty verdict
Vice-President Kamala Harris was up first at the address around 7 p.m., describing the verdict as "a sigh of relief," but one that "cannot take away the pain. A measure of justice isn't the same as equal justice." She also called on Congress to pass the George Floyd Justice in Policing Act, which has passed in the House but has yet to be advanced in the Senate. President Biden reiterated Harris's call that one guilty verdict is not enough — that the nation must continue to confront systemic racism "head on" and that law enforcement and the federal government must "step up."
"We are all a part of George Floyd's legacy," Biden said. "And our job now is to honor it and to honor him."
Minnesota's attorney general on the difference between justice and accountability
NIA PRATER: Minnesota Attorney General Keith Ellison spoke at a press conference after his office secured the full guilty verdict against Chauvin.
"I would not call today's verdict justice, however, because justice implies true restoration," Ellison said. "But it is accountability."
Shortly after Floyd was killed, Ellison took over the prosecution of Chauvin from the Hennepin County Attorney's Office, which filed the first charges against Chauvin. Ellison strengthened the criminal complaint against Chauvin from the district attorney's initial version, which appeared more favorable to the police's version of events of Floyd's arrest and death.
"George Floyd mattered, Ellison said. "He was loved by his family and his friends. His death shocked the conscience of our community, our country, the whole world. He was loved by his family and friends, but that isn't why he mattered. He matters because he was a human being and there is no way we can turn away from that reality."
What Biden said to the Floyd family afterwards
Some of the reactions from around the country
The Floyd family's reaction to the verdict
Obamas: Jury did "right thing"
But the former first family added that "if we're being honest with ourselves, we know that true justice is about more than a single verdict in a single trial":
Pelosi thanks George Floyd in cringeworthy moment
House Speaker Nancy Pelosi made an awkward remark alongside the Congressional Black Caucus outside of the Capitol shortly following the verdict, thanking George Floyd — who was murdered — for "sacrificing your life for justice."
Minneapolis mayor Jacob Frey also commented on Floyd's sacrifice:
The reaction outside the courthouse — and across Minneapolis
The reaction inside the courthouse
How George Floyd's brother responded as the verdict was read:
"This Is Not Justice. It's Self-Preservation."
Intelligencer's Zak Cheney-Rice responds to the verdict:
More than a legal referendum on Chauvin's conduct, the trial was a bilateral effort to defend the virtues of policing. The dishonesty this required from both prosecutors and the defense — and the workaday violence it obscured — should leave no doubt that justice for people like George Floyd has nothing to do with the rare officer an unjust institution chooses to rebuke.
Read the rest of his response here.
Chauvin found guilty on all three counts
Intelligencer's Nia Prater reports:
Former Minneapolis police officer Derek Chauvin has been found guilty on all three counts – second-degree unintentional murder, third-degree murder and second-degree manslaughter – in the death of George Floyd. The verdict was announced on Tuesday afternoon, just one day after the defense and the prosecution gave their closing arguments in the trial.




The 12 member jury deliberated for about 10 hours following 14 days worth of testimony and evidence presented by both sides.
Chauvin betrayed little reaction behind his light-blue surgical mask, with his eyes closely watching the judge who read the verdict. After the 12 jurors reaffirmed their verdict, Chauvin was handcuffed and remanded into custody ahead of a sentencing hearing scheduled in eight weeks. (His bail has been revoked, meaning that the convicted murderer will spend that wait in jail.)
Though Chauvin is facing a minimum of 12.5 years in prison on the second-degree murder charge, prosecutors are requesting a higher sentence. The max penalty for such a charge is 40 years.
Read the rest of Nia's news post about the verdict here.
GOP effort to censure Maxine Waters in House fails
ED KILGORE: House Democrats defeated a Republican resolution to censure California Congresswoman Maxine Waters for comments she made in Minneapolis urging a negative reaction to any prospective "not guilty" verdict in the trial. The vote was 216-210, with all Democrats united. On Monday, Chauvin's defense counsel made a motion to have the judge declare a mistrial, claiming her comments could irrevocably taint the jury. Hennepin County District Judge Peter Cahill denied the motion, but went out of his way to say Waters's comments could be grounds for an appeal.
George Floyd's girlfriend says she is convinced Chauvin will be found guilty
What Chauvin faces if convicted
As the New York Times notes, if Chauvin is convicted of any or all charges in the trial, how much prison time he serves will not be determined for weeks, following a pre-sentencing report:
 Judge Peter A. Cahill would also have to determine if there were special circumstances of the crime that would justify a higher sentence than the prison terms laid out by Minnesota's sentencing guidelines. Mr. Chauvin, who has been out on bail since last fall, might also be able to go home after a guilty verdict, as he awaits sentencing. It would be up to the judge to either order Mr. Chauvin to jail immediately, or let him remain out on bail, should he be found guilty. Mr. Chauvin is charged with two counts of murder — second-degree unintentional murder and third-degree murder — and the sentencing guidelines for each, for a defendant like Mr. Chauvin with no criminal history, is 12.5 years. But the maximum sentences for each charge differ: Second-degree murder could be as high as 40 years in prison, while the maximum for third-degree murder is 25 years.
Waiting on the verdict
Congress might be fenced off again, too
Politico reports that "Congressional security officials are in discussions about rebuilding fencing around the Capitol — just weeks after a previous perimeter came down — to help secure the building ahead of President Joe Biden's upcoming address to lawmakers and possible protests expected in the capital":
The anticipated security measures come as Washington, D.C. braces for likely protests following the verdict in the criminal trial of former Minneapolis police officer Derek Chauvin, in addition to separate Capitol preparations for Biden's April 28 address to a joint session of Congress. Those twin events are bringing security to the top of lawmakers' minds, including many who remain on high alert in the wake of the Jan. 6 Capitol riot by Donald Trump supporters.
Other cities have also begun preparing for the aftermath, as well:
Biden "praying the verdict is the right verdict"
Intelligencer's Nia Prater notes Biden's new comments on the trial:
President Joe Biden acknowledged the highly anticipated outcome of the Derek Chauvin trial on Tuesday, saying that he is "praying the verdict is the right verdict."




"I think it's overwhelming in my view," the president said of the evidence, adding that he was only saying this now because the jury is currently sequestered as it deliberates.
Minneapolis has become a fortress ahead of verdict
Intelligencer's Ben Hart explains:
[M]ore than 3,000 National Guard troops and at least 1,100 other public-safety agency employees have been called in to assist local police in a show of force dubbed Operation Safety Net. The militarized presence on the streets of the city — even in residential areas — is an effort to avoid a repeat of the scenes last summer after George Floyd's death, in which rioters burned down a police station and caused widespread damage around the city.




But heavy-handed tactics by police officers during that time alienated plenty of residents and politicians, and many are not thrilled with the authorities' current posture.
This post has been repeatedly updated.