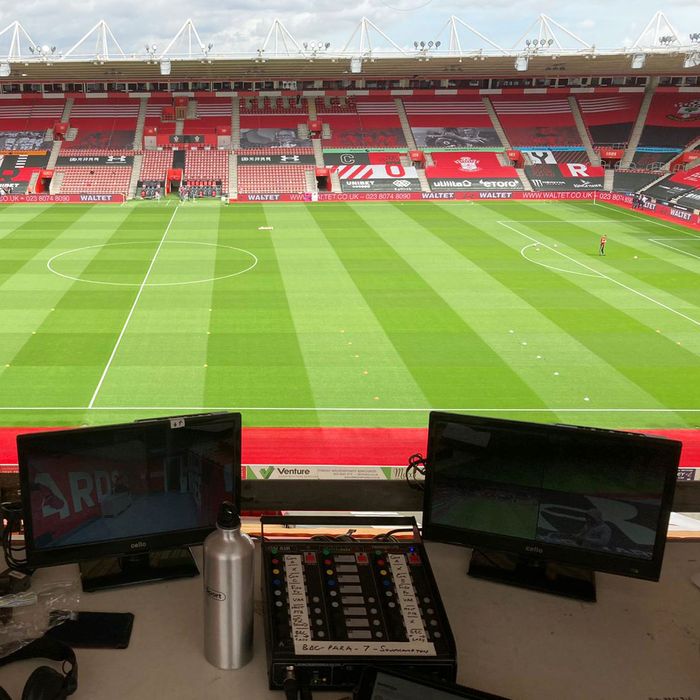 John Roder's commentary setup for an English Premier League game at Southampton FC's St Mary's Stadium.
Photo: John Roder
As the minutes ticked down in an English Premier League crunch match between Newcastle United and Aston Villa last summer at St. James's Park stadium in Newcastle, Ian Dennis, chief soccer commentator for BBC Radio 5 Live, narrated from above. Newcastle, led by manager Steve Bruce, was winning 1-0 and expected to sweep to victory. Bruce was previously sacked as Villa's manager after poor performance in 2018, sweetening his potential win.
Seconds later, Villa's Ahmed Elmohamady fired in a goal and snuffed out Newcastle's advantage with only seven minutes to play. Dennis fired into action.
Dennis recalled saying words to the effect of, "Elmohamady comes back to haunt his former manager," his voice booming toward the pitch. "And as I looked down to the dugout, there was Steve Bruce looking up in my direction," shooting him a steely stare.
As the final whistle blew and the match ended 1-1, Bruce was robbed of the victory, dropping two vital Premier League points and missing the chance to jump two teams in the table. "It was one of those ones where I'm thinking, 'Okay, here we go,'" Dennis said.
Dennis is one of scores of commentators navigating a strange and unprecedented new balance of power. The Premier League, soccer's biggest league by revenue, made up of 20 clubs that play each other twice a season, restarted in June last year after months of coronavirus disruption. When it returned, soccer commentators discovered that players, managers, coaching staff, and officials could suddenly hear their voices thundering around empty stadiums. Without a roaring crowd, commentators are finding their profession is no longer private.
"You can hear the echo around these massive bowls that have been built for 70,000 people," said Clive Tyldesley, a commentator for ITV, talkSPORT, CBS, Amazon Prime, and others. "It's eerie."
Under England's current lockdown restrictions, Premier League teams cannot host fans until at least May 17 for low-capacity games, meaning commentators will be tiptoeing this awkward situation for weeks to come.
Players are also eavesdropping on commentators now, too. When Crystal Palace played Bournemouth in the Carabao Cup, an English knockout competition played alongside the Premier League, the match escalated to a penalty shootout. Players lined up in the middle of the pitch and, when it was their turn, walked the daunting 40 yards to the penalty spot. When winger Andros Townsend approached, the stadium was silent. Almost. As he walked, all Townsend could hear was the commentator announcing his name, piling on the pressure, he told talkSPORT radio. He scored, but his side was eliminated.
Empty stadiums also mean soccer players can no longer ignore coaching instructions, said Vicki Sparks, a BBC commentator. Sparks saw Leeds United defender Luke Ayling caught in the crosshairs. "He bombs forward for Leeds and then he can just hear [manager] Marcelo Bielsa saying 'Ayling! Ayling!' and he knows he's got to get back" and defend, Sparks said.
There are small perks to broadcasting without fans, said John Roder, a freelance commentator for BBC Match of the Day and others. The drive home is a breeze. Plus, "If you need to go to the loo at halftime, you can get straight there," he said. But Roder, like all commentators, desperately misses the fans.
Usually, it's about "surfing the waves of the crowd noise," said Simon Brotherton, a TV freelancer for the BBC, BT Sport, and others. Commentary voices swell and crash in intensity as the crowd hums and crescendos.
Radio is even more intense. "Your voice is their only way to paint a picture," said Conor McNamara, a commentator for BBC radio, TV, and others. He described it as moving up the gears. "I'm almost embarrassed saying this, but I sometimes actually with my hand move it like it's a manual gearstick," accelerating his voice.
Being overheard is rarer at the "big six" clubs that joined the short-lived European Super League breakaway last week — Arsenal, Chelsea, Liverpool, Manchester United, Manchester City, and Tottenham Hotspur — with their big stadiums often placing commentators higher up. But at lower-capacity stadiums — clubs with broadcast boxes close to the pitch — are the worst when it comes to commentators getting into hot water.
At Villa, head coach Dean Smith and his assistant John Terry, the zealous former England captain turned manager, often bark orders from an empty seating platform — typically for fans in wheelchairs — that sits a few yards in front of the radio commentary box.
McNamara was criticizing the poor organization of the defensive line when he noticed his co-pundit had gone quiet. Then he noticed why.
"John Terry was giving me dirty looks every time I was being critical of the defense," McNamara said. "They can hear absolutely every word."