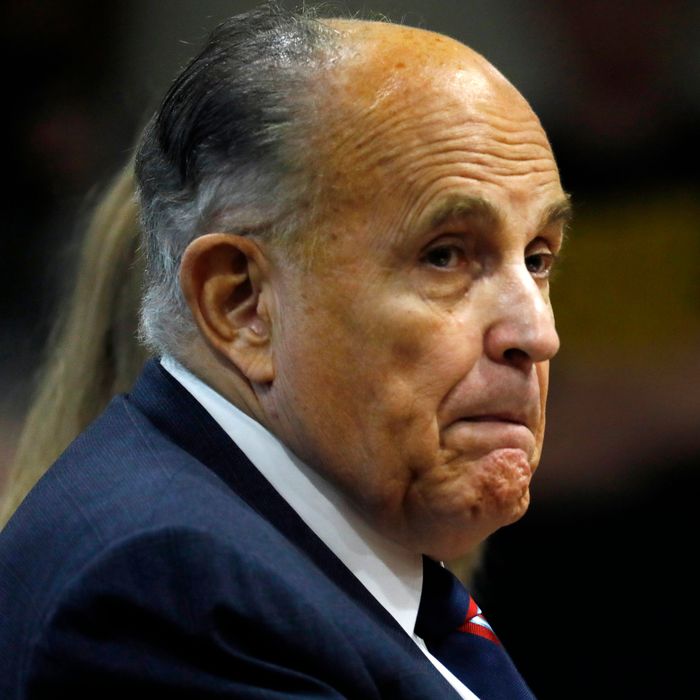 Photo: Photo by JEFF KOWALSKY/AFP via Getty Images
Federal agents in New York searched the home and office of Rudy Giuliani in a predawn raid on Wednesday, seizing his phone and other devices in their investigation into whether he illegally lobbied the Trump administration on behalf of Ukrainians, as part of a scheme to smear Joe Biden. The move is a major escalation of a yearslong Justice Department probe into Donald Trump's former attorney over his efforts to help the former president in the lead-up to the 2020 election.
One of the search warrants served on Giuliani — who was in bed when agents knocked — sought communications between him and "several Ukrainian officials, including the former president, Petro Poroshenko, and two former prosecutors who had helped Mr. Giuliani collect information about the Bidens in Ukraine," according to the New York Times. Agents also sought communications between Giuliani and John Solomon, an American columnist who laundered anti-Biden misinformation from Ukraine, according to the Wall Street Journal.
The Feds didn't stop with Giuilani: They seized a computer belonging to his longtime assistant, who was also hit with a subpoena to testify before a grand jury next month, Giuliani's attorney Robert Costello told ABC News. And on the same day, agents served a search warrant to Solomon's attorney, Victoria Toensing, at her Washington-area home. Toensing represented Ukrainian oligarch Dmitry Firtash, who sought Giuliani's help to fight a U.S. indictment.
In a statement through his lawyer, Giuliani blamed the investigation on "Trump Derangement Syndrome," saying he and his attorney offered to clear up the alleged failure to register as a foreign agent but "twice the offer was rejected" by federal prosecutors in Manhattan. Authorities have not commented on the investigation, which grew out of an investigation into two fixers for Giuliani — Lev Parnas and Igor Fruman — who have been charged with a series crimes, including an alleged effort to oust the U.S. ambassador in Kiev on behalf of Ukrainian officials. Giuliani previously admitted that he had talked to Trump about the ambassador, whom he portrayed as a roadblock in the campaign to pressure Ukraine's government to investigate Biden and his son, and she was eventually recalled to the United States.
Giuliani became involved with the Ukraine scheme after working on Trump's behalf to counter the Mueller investigation. Trump dispatched him to Ukraine in early 2019 to pursue evidence to support a false story that, while serving as vice-president, Biden forced Ukraine's government to fire a prosecutor looking into Burisma, the energy company on whose board Biden's son Hunter served. The quest to slime Biden and sink his chances of becoming the Democratic nominee for president was joined by Trump himself: He ordered U.S. military aid for Ukraine — approved by Congress — to be held up, then in May 2019 asked the country's president in a now-infamous phone call to "do us a favor" and announce an investigation into Biden and his son. The plot was blown by an anonymous U.S. whistle-blower and led to Trump's impeachment.
Giuliani is not formally accused of wrongdoing, but the move by federal prosecutors in Manhattan indicates a new degree of legal peril for him. Prosecutors have a high bar for going after an attorney. In 2018, the same office raided the apartment of Michael Cohen, Trump's former attorney, later convicting him of a variety of charges. Like that raid, such aggressive moves are typically sanctioned by top officials in the Justice Department in Washington, D.C. The Times reported that prosecutors sought DOJ approval last year to execute a warrant on Giuliani but that they were blocked by senior political appointees of Trump, who supposedly cited the possible disruption it could cause so close to Election Day. Biden's attorney general, Merrick Garland, dropped the DOJ's objections. Preet Bahara, the former top federal prosecutor in Manhattan, told Intelligencer he believes Giuliani is in "deep trouble."
No matter what happens next, the raid is a strange twist of fate for the man who served as U.S. Attorney for the Southern District of New York in the 1980s, making his political career as a tough-on-crime prosecutor. Giuliani seemed personally offended that his old office would look into him, when he sat down with New York's Olivia Nuzzi at the beginning of the investigation two years ago. "It's a terrible thing to say because it will get the Southern District all upset, but I know why they're all upset. Because they've never done anything like me since me. They haven't done an eight years like I did since I left being U.S. Attorney. Nothing close."
"If they think I committed a crime, they're out of their minds," he said. "I've been doing this for 50 years. I know how not to commit crimes."