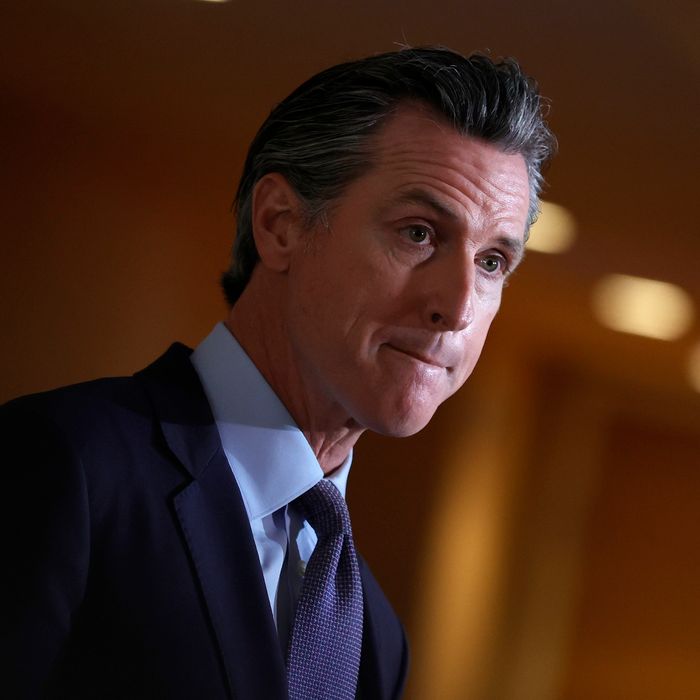 It's going to be a pain for Newsom, but he's likely to prevail.
Photo: Justin Sullivan/Getty Images
It came as no surprise, but California governor Gavin Newsom will face a recall election later this year, which, in theory, could remove him from office, with his successor selected via a secondary "replacement" vote. Secretary of State Shirley Weber certified that recall organizers (basically Republican operatives) had met the threshold of 1,495,709 verified voter signatures — 12 percent of the number of votes cast in the last gubernatorial election — to trigger the special election (actually, according to Weber and election officials in California's 58 counties, they collected 1,626,042 signatures). But as the Los Angeles Times reports, there are other hoops that must be jumped through before the election can be formally scheduled:
Before the recall petition can be certified by Weber, voters who signed the petitions will be given time to withdraw their signatures and state officials will crunch the numbers on the cost to conduct the election, steps that could take up to three months to complete. Only then can Weber issue her official certification, triggering action by Lt. Gov. Eleni Kounalakis to call an election within 60 to 80 days.
That's why most observers figure the recall election won't be held until November or so. And time is probably not on the side of those trying to drive Newsom from office, assuming the COVID-19 pandemic subsides and California's economy (and state revenue numbers) remains strong. Polls have consistently shown a majority of voters opposing the recall, despite broadly visible annoyance with Newsom's COVID-19 policies and a high-profile debacle wherein he violated said policies in order to attend a donor's birthday party at an extremely exclusive Napa Valley eatery. But presumably Republicans have decided they have a better chance of seizing the governorship in 2021 than in 2022. The odds remain strong, however, that they have wasted a lot of time and money, not to mention a period of significant public annoyance with the Democratic governor who won 62 percent of the vote in 2018. And speaking of wasted money, it won't help the recall effort when voters realize this election may cost as much as $400 million in taxpayer dollars.