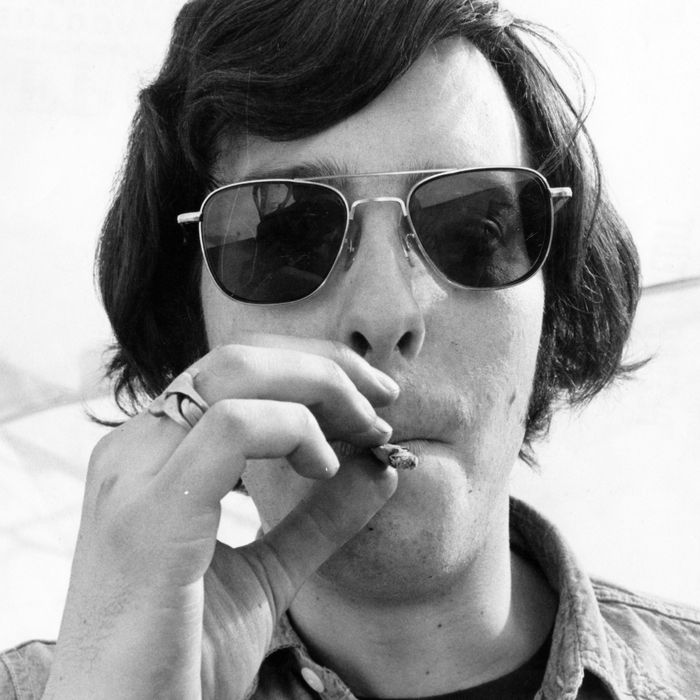 Take it easy.
Photo: Images Press/Getty Images
On March 31, New York became the 15th state to legalize recreational marijuana after a yearslong campaign to decriminalize the drug. The NYPD has instructed officers not to stop and arrest people if they see them smoking pot in public. New "No smoking of any kind" signs have sprouted along with daffodils and hyacinths along the boundaries of Bryant Park and Herald Square Park.
But New Yorkers can't rush out and buy a few spliffs at a neighborhood dispensary just yet. And weed dealers who want to scale up and go legit could wait more than a year to get a license. Naturally any new law, especially one as closely watched as the legalization and decriminalization of a historically banned substance that could spur a multibillion dollar agglomeration economy, comes with a lot of questions. Over the next few months, state officials will be writing regulations that will affect what kind of marijuana you can buy, where you can consume it, and who will be able to sell it to you. Many details still haven't been sorted out yet, but here's what we know so far.
I can smoke anywhere now?
Not exactly. You can possess up to three ounces of marijuana, the equivalent of 50 to 75 joints (or 24 grams of concentrated cannabis) and toke anywhere you can smoke a cigarette, if you're 21 and older. But you can't purchase weed without a prescription or sell it without a license until state regulators write rules for recreational use of the drug.
Police cannot arrest you for carrying a small amount of pot, and prosecutors are not going to run you through the system, according to a memo sent to NYPD officers. Cops can't charge someone for selling marijuana unless they observe cash being exchanged, but it's still illegal to drive under the influence of marijuana, and cops can pull you over for impaired driving.
Of course it's hard to change policing habits overnight. "We've always said that marijuana legalization in and of itself isn't going to fix racist policing, but it removes a tool used for far too long to justify summonses and arrests," said Melissa Moore, state director of the Drug Policy Alliance.
So where can I smoke?
Smoking is strictly prohibited in parks, pools, or beaches and comes with a $50 fine. You can light up anywhere cigarette smoking is allowed under the state's Clean Indoor Air Act, but there are some gray areas. Offices, restaurants, bars, the subway, ferries, and schools are off limits, too, and you could get a $25 ticket or 20 hours of community service if caught. Public-housing units and their grounds are prohibited since the buildings are federally subsidized and subject to federal law, but advocates are challenging this provision of the law. That leaves sidewalks, streets, the inside of a parked car, your roof, and your home, unless your landlord prohibits smoking. Whatever you do, be considerate. "The very first thing is to smoke responsibly," said Saki Fenderson, a Brooklyn-based cannabis educator and activist. "You wouldn't want certain smells or certain smokes coming into your home. Just acknowledge that you live with other people around you."
So I can use it, but I can't buy or sell it yet?
Public officials suggest it could take 18 months before recreational marijuana is available in stores but some companies believe sales won't start before December 2022. "There is no licensing of legal marijuana being grown or sold yet, hence if you buy it the way you always bought it, it's still an illegal product," said Manhattan state Senator Liz Krueger, who wrote the legalization law. "There isn't really a penalty for you buying under three ounces but there may still be penalties for selling it."
What if I bring back weed from elsewhere?
That's not a good idea. Even though recreational marijuana is legal in 17 states now (New Mexico and Virginia OK'd it after New York), transportation of weed across state lines violates federal law. Those caught for the first time with less than 50 kilograms (110 pounds) could face a fine of $250,000 and up to five years in prison.
How can I get high (legally) right now?
The quickest way under the new law is to get a prescription from your doctor and visit a dispensary. The state has expanded the list of medical conditions eligible for a prescription beyond cancer, chronic pain, and HIV/ AIDS to include anxiety, insomnia, muscular dystrophy, and Alzheimer's disease. Once your doctor certifies you as a patient, visit my.ny.gov and register for the state's medical marijuana program.
Some doctors may not be on board and refuse to register with the state for the program. Fortunately there are plenty of practitioners who endorse marijuana's medicinal use (here's a list) and telemedicine has made it easier to connect with them. There are also virtual providers like PrestoDoctor and NuggMD who can help you get a medical marijuana card, but you'll need your identification and proof of residency.
Where do I buy medicinal marijuana?
There are ten medical-marijuana companies operating 38 dispensaries including 12 in New York City as of November. You can get a prescription for a limited number of oils, ointments, capsules, powders, vaporizers, and chewable gummies, but not every dispensary has every variety. The new law will allow dispensaries to offer a wider array of products including whole flower — the dried bud of a marijuana plant and more types of edibles. That's a game changer for consumers because smokeable flower is substantially cheaper than processed products which can cost between $80 and $100 and as high as $350, which insurance doesn't cover. "There's a higher cost on edibles than extract or flower but overall the medical product costs will come down from where it is today," said Hillary Peckham, chief operating officer of Etain Health, a medical-marijuana company. "I would like to be able to sell all products in medical as well as adult use. There's an economic benefit for patients treating their conditions, especially with insurance not being able to cover cannabis since it's federally illegal."
When is bud going to be available in dispensaries?
Existing medical marijuana companies can produce and package smokeable flower pretty quickly but it could take 60 to 90 days for the state health department to approve a new product request. That's because the health labs used to test the safety of new marijuana products are being inundated with thousands of COVID-19 tests. Some new health labs may scale up in the meantime but it takes about a month to run tests on whole flower and new edible products and work out any kinks with the operator before the Department of Health gives its final approval, according to Katharine Neer, a government policy attorney who works with the New York Medical Cannabis Industry Association. Experts believe smokeable flower could be available in medical marijuana dispensaries sometime this summer.
Can't I just grow my own?
The law allows you to cultivate up to six marijuana plants, three mature and three seedlings, or up to 12 per household if you live with another adult. However you can't grow them right away. You have to wait six months after the law passed to start growing if you're a medical marijuana patient. Everybody else must wait 18 months after the first adult-use dispensary opens to allow the market to mature. And details surrounding how seedlings and mature plants will be grown and sold, including licenses for marijuana nurseries, are still in the works.
Where will I be able to buy and consume?
Entrepreneurs will eventually be able to apply to the state for licenses to open storefront dispensaries, hookah bar-style consumption lounges, bakeries, restaurants, yoga studios, hotels, and wellness centers, as long as they don't sell alcohol on the premises. Several existing medical marijuana companies are already planning to offer marijuana to the general public, although they're capped at having a maximum of eight dispensaries with only three three of the eight approved to offer recreational products and two of those must be located in underserved areas. In as little as six years, the marijuana industry could generate $2.6 billion in sales and support 50,806 jobs, according to a Center for New York City Affairs report released in February.
Can I get prior marijuana charges dismissed?
Yes, but that may take a while too. District attorneys in Brooklyn, Queens, and Manhattan have largely stopped prosecuting low-level marijuana offenses, but there are roughly 108,000 cases involving marijuana-related charges that must be removed from people's records. That could rise to 150,000 cases once all records are reviewed and it could take up to two years to expunge the records, according to an Office of Court Administration spokesman. There have been discussions within the court system about expediting requests for individuals who need to pass a background check for a job, housing, or a loan, but short of calling your borough's court, there's no formal mechanism in place.
How will the law help marginalized communities join the industry?
State officials set a goal of offering half of all licenses to businesses owned by women or people of color, distressed farmers, or disabled veterans. In addition, taxes collected from the sale of cannabis will be redirected toward schools, drug treatment initiatives, and community organizations in areas adversely affected by drug enforcement. Entrepreneurs will also be able to access grants and loans, and business development training through the Office of Cannabis Management, although drug advocates are already raising concerns that medical companies could get a head start and dominate the market. "If we do this in a way so everybody rolls out at the same time, you can meet the social equity goal. if you don't roll out at the same time, what are you going to do?" said Fenderson, the Brooklyn cannabis educator.
How do I support entrepreneurs of color?
Marijuana cooperatives are a great way to start. They're trying to urge regulators to allow them to cultivate, process, and sell marijuana directly to consumers from their co-op site, which isn't currently allowed. Co-ops also allow people to pool resources, including those who may have bad credit and criminal records, and access a larger share of capital than an individual would otherwise be able to get. "We had anticipated entering the legal market and our dream is to be vertically integrated," Emily Ramos, a member of the Bronx-based women-owned co-op Hi Mi Madre, said. "We have a right to know there is quality assurance in the process and the only way to get that is to grow the plant yourselves."