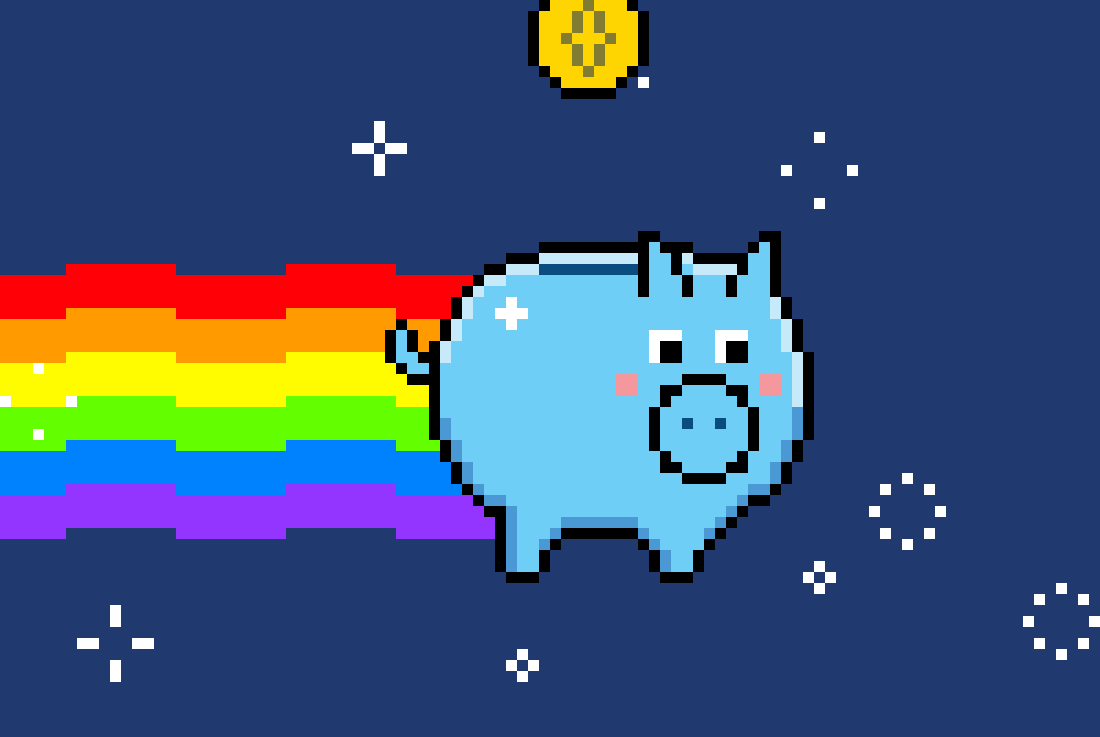 From memes to art to farts — if you can put it on the blockchain, you can buy it as a non-fungible token. Sales of NFTs are up some 2,000 percent this year, and while there are signs the bubble might be bursting, the tokens are forever. Here, just some of the notable collectibles that have been bought and sold this year — and the players who are staking claims.
$1.65 million ➼ January 20
Ten drawings from the co-creator of Rick and Morty are sold on Nifty Gateway, the Winklevoss-purchased NFT platform specializing in fine art and collectibles it calls "Nifties."
$1.5 million ➼ February 8
The largest "digital estate" sale ever is recorded. Genesis blocks are the rarest land plots on the platform Axie Infinity, and a user named Flying Falcon has bought nine of them.
$1.5 million ➼ February 8
The largest "digital estate" sale ever is recorded. Genesis blocks are the rarest land plots on the platform Axie Infinity, and a user named Flying Falcon has bought nine of them.
$58,947 ➼ February 10
Lindsay Lohan sells a portrait of herself.
$450,000 ➼ February 19
A collection of "virtual furniture." (It may look uncomfortable,but that doesn't matter, because no one will ever sit in it.)
$587,241 ➼ February 19
Artist Chris Torres sells a digital rendition of his Nyan Cat meme.
$208,000 ➼ February 22
Video clip of LeBron James dunking. The buyer purchases the clip on NBA Top Shot, a marketplace for trading NBA video highlights.
$30,780 ➼ February 26
As They Say, an NFT racehorse that can run on the virtual track at zed.run, sells for a steal, considering how expensive prize-winning thoroughbreds are these days.
$3.1 million ➼ February 27
Three young entrepreneurs, who go by RTFKT, and Fewocious, a teenage artist from Seattle, launch a virtual sneaker sale that generates $3.1 million in just seven minutes.
$6 million ➼ February 28
The singer (and Elon Musk's partner and mother to X Æ A-Xii) Grimes launches an NFT collection. With cryptoart being scrutinizeed for its environmental impact (cryptocurrencies use a lot of energy), Grimes decides to spend a percentage of her proceeds on carbon-emission offsets, according to Nifty Gateway.
$22,946 ➼ March 5
Deal With It meme.
$6,193 ➼ March 7
A Twerky Pepe collectible sells on OpenSea, one of the most popular NFT marketplaces, which recently raised $23 million in series-A funding led by Andreessen Horowitz.
$37,442 ➼ March 9
Bad Luck Brian meme.
March 10
A young couple mints NFT wedding rings, priceless.
$180,000 ➼ March 11
In what might be the first major media NFT experiment, the Associated Press sells an artwork called "The Associated Press Calls the 2020 Presidential Election on Blockchain — A View From Outer Space."
$7.7 million ➼ March 11
A graphic of a space alien wearing a headband. The image is part of a collection called "CryptoPunks," some of the original, "digitally scarce" NFTs. "CryptoPunk #7804" (a pipe-smoking alien sporting a hat and sunglasses) sold for $7.5 million in March, and "CryptoPunk #6965" (an ape wearing a fedora) sold for $1.5 million in February.
$69 million ➼ March 11
Christie's auctions Beeple's "Everydays: The First 5000 Days." Other traditional auction houses follow suit. Sotheby's is selling a collection by digital artist Pak, and Phillips is preparing its first NFT auction with Replicator by Mad Dog Jones.
$340,000 ➼ March 11
A collection of Alexis Christodoulou's architectural renderings called "Homesick."
$1.6 million ➼ March 13
Rob Gronkowski's digital collectibles.
$289,920 ➼ March 14
A Cristiano Ronaldo card.
$514,557.79 ➼ March 17
The world's first NFT home, a neon-lit glass home called "Mars House," sells to the Art on the Internet foundation.
$3.4 million ➼ March 20
"Museum of Mahomes." Kansas City Chiefs quarterback Patrick Mahomes sells a collection of NFTs.
$436.22 ➼ March 21
A 52-minute audio recording of one calendar year of farts.
$1,800 ➼ March 22
Taking the AP's stunt one step further, Quartz sells the first-ever NFT of a news article, "This Article Is on Sale As an NFT."
$2,300 ➼ March 22
The first post from Marginal Revolution, a libertarian blog by George Mason University economists Tyler Cowen and Alex Tabarrok.
$2.9 million ➼ March 22
Jack Dorsey's first tweet.
$4,300 ➼ March 23
Arrow star Katie Cassidy auctions the first of three NFT nudes.
$117,761 ➼ March 24
Ja Rule's Fyre Festival oil painting.
$143,967, $135,787, $114,519 ➼ March 25
Three special-edition Time covers sell for $143,967, $135,787, and $114,519.
$560,000 ➼ March 25
Kevin Roose's New York Times column puts Quartz and the Associated Press to shame, fetching over half a million dollars for charity.
$688,888 ➼ March 25
Sophia Instantiation, a 12-second video co-created by a human artist and a famous robot named Sophia.
$4,221.98 ➼ March 31
Digital matzo is auctioned at a virtual Seder.
$110,000 ➼ April 1
3-D images of Atari Centipede cartridges.
$140,000 ➼ April 1
Polkamon, a new platform with VC funding that sells images of creatures that look a bit like Pokémon, trades one of its first collectibles.
$7,203 ➼ April 2
A thicc Pokémon card.
$400,000 ➼ April 3
The Overly Attached Girlfriend meme.
$218 ➼ April 4
Tiger King collectible trading card.
$8,345 ➼ April 6
Iowa basketball star (and economics major) Luka Garza becomes the first college athlete to sell an NFT card.
$48,053.25 ➼ April 6
An unauthorized draft of the first academic paper on NFTs.
$359,646 ➼ April 6
"What the Hell's an NFT?," an SNL skit about NFTs.
$100,000 ➼ April 8
Luxury watchmaker Jacob & Co. auctions a one-of-a-kind timepiece that everyone can see but no one can wear.