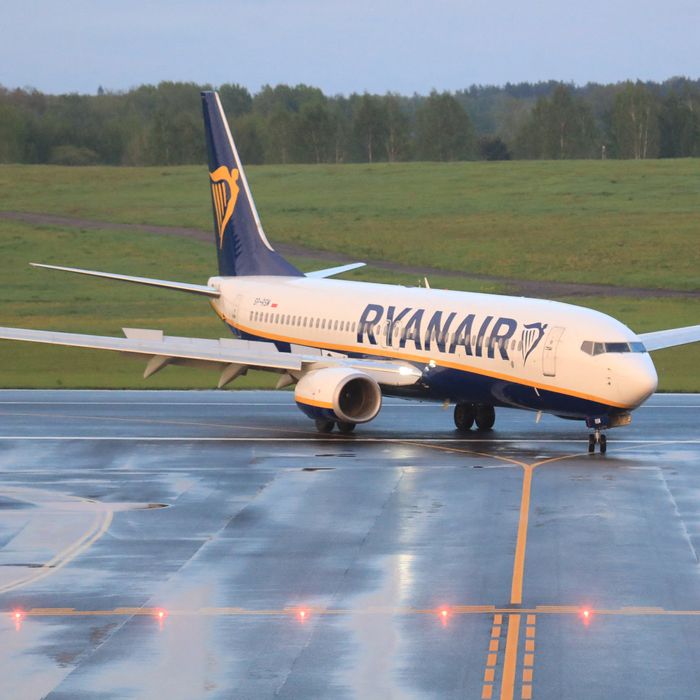 Ryanair Flight FR4978 after landing at Vilnius International Airport on Sunday night.
Photo: Petras Malulas/AFP via Getty Images
Journalist Roman Protasevich, a prominent critic of Belarus's authoritarian president, Alexander Lukashenko, left Athens, Greece, on Sunday morning aboard a nonstop Ryanair flight to Vilnius, Lithuania, where Protasevich, fearing arrest and imprisonment in Belarus, has been living in exile. He never arrived. Near the end of the flight, while the plane and its 170 passengers were almost finished traveling through Belarusian air space, the country diverted it to Minsk for an emergency landing — where Protasevich and his companion were detained before the flight continued on to its final destination. Belarus claims the diversion was necessary due to a purported bomb threat and at the personal order of Lukashenko sent a MiG-29 fighter plane to escort the airliner to Minsk — which was, at the time, further away than Vilnius. Multiple European leaders are now calling the unprecedented incident a state-sponsored hijacking and kidnapping, while some countries and airlines have begun restricting travel over Belarus. Below is what we know about what happened, the aftermath, and the consequences.
European Union bans its airlines from Belarusian air space
Immediately following the seizure of Protasevich, nations and airlines on the continent began questioning whether or not it is safe for commercial aircraft to fly over Belarus. On Monday, the European Union determined that the answer is no, as its leaders voted to apply additional sanctions and to ban airlines based in its member nations from flying in Belarusian airspace. The U.K also advised its airlines to stay clear of Belarus, while U.K. Foreign Secretary Dominic Raab added that the U.K would suspend the operating permit of Belavia, the nation's airline.
The bloc's decision to steer clear of Belarus has huge implications for air travel between Europe and Asia, as the New York Times explains:
Analysts had predicted that the E.U. might be reluctant to ban flights over Belarus because such a move would create difficulties for European airlines. Already, airlines are avoiding Ukraine, the country's southern neighbor, because of its conflict with Russia.




Putting Belarusian air space off limits as well presents serious routing difficulties for flights from Europe to Asia.




"Flying to Asia from Europe without crossing Belarus is likely too costly and challenging," analysts from Eurasia Group, a research firm, wrote in a note on Monday.
The Washington Post also pointed out Sunday that "Flights in Northern and Eastern Europe often try to avoid Russian airspace. [Now that] Belarusian airspace is also a no-go, north-south flights in Europe could become quite circuitous."
A video of Roman Protasevich in custody emerges
On Monday, a video appeared on pro-government social-media accounts in which Protasevich described his situation in a pre-trial detention facility in the capital city of Minsk and stated that he was in good health. "Right now, I am continuing to cooperate with investigators and making confessions regarding my role in organizing mass unrest in Minsk," he said in the video, adding that "the attitude of the [Interior Ministry] employees towards me has been as correct as possible and in compliance with the law."
That comment is a significant departure from Protasevich's usual language and according to exiled opposition leader Svetlana Tikhanovskaya, the video looked as if it were coerced, claiming on Twitter that this is how Protasevich "looks under physical and moral pressure."
Why Belarus violated international law
Longtime aviation journalist Jeff Wise wrote about the incident for Intelligencer on Monday:
ICAO, an agency of the U.N., was established by an international agreement called the Chicago Convention on International Civil Aviation in 1944. The Chicago Convention is the foundational document of international aviation law and has been ratified by virtually every country on Earth, including Belarus. It specifically prohibits the use of military force against passenger flights, stating: "The contracting States recognize that every State must refrain from resorting to the use of weapons against civil aircraft in flight." There are situations in which a state can use force against a civil aircraft, such as self-defense, or if a plane violates its airspace without permission, but neither applies in this case. On Sunday, ICAO tweeted that it was "strongly concerned" by Belarus's actions, "which could be in contravention of the Chicago Convention."




"At the very least this can be construed as a blatant violation of international law and at worst a provocative hostile act against a sovereign state," said [aviation attorney Arthur] Rosenberg.




ICAO is not itself a regulatory agency and does not have an enforcement arm. It's up to individual countries to establish and enforce their own laws, generally through agencies like the Federal Aviation Administration in the United States and the European Union Air Safety Agency in the E.U. In 2019, EASA shut its airspace to 737-Max airliners, following two deadly crashes, and temporarily banned Pakistani airline PIA from its airspace, following revelations that some of its pilots were not properly licensed.
The forced diversion of Flight FR4978
Ryanair Flight FR4978 departed Athens at 10:28 a.m. on Sunday carrying some 170 passengers for what should have been about a nonstop three-hour flight to Vilnius, Lithuania. But while the plane was traveling over Belarus, the country's air-traffic controllers diverted it Minsk over a supposed bomb threat, and the regime sent a fighter plane to escort it there. Minsk was much farther away than Vilnius at the time:
According to Belarus, President Alexander Lukashenko personally ordered the plane to "do a U-turn and land" because of the alleged bomb threat and ordered the MiG-29 fighter jet to intercept and escort it. Belarus's deputy Air Force commander Andrei Gurtsevich claimed that the plane's crew made the decision to land in Minsk, which Ryanair later refuted. In a statement on Sunday, Ryanair said that Belarusian air-traffic controllers had notified the pilots that there was "a potential security threat on board."
Opposition journalist Roman Protasevich and his companion were detained by authorities after the plane landed in Minsk. In a now-deleted statement on Telegram, Belarus's Information Ministry announced that Protasevich had been arrested. The regime also announced that no bomb was found onboard and went so far as to say it was opening a criminal investigation into the false threat. On Monday, it claimed that Hamas was behind the bomb threat.
The plane spent about seven hours on the ground, during which passengers were told to disembark while authorities inspected the aircraft. When the flight eventually departed and continued on to Vilnius, several passengers, who may have been Belarusian security agents, stayed behind.
One passenger told the Associated Press that Protasevich was visibly afraid after the pilot announced the diversion of the flight:
I saw this Belarusian guy with girlfriend sitting right behind us. He freaked out when the pilot said the plane is diverted to Minsk. He said there's death penalty awaiting him there … We sat for an hour after the landing. Then they started releasing passengers and took those two. We did not see them again." 
An unnamed passenger told the Lithuanian news site Delfi that Protasevich "was taken aside" at the airport in Minsk, "and they threw his belongings onto the runway … He was already calmer, but trembling. An officer was standing next to him all the time, and soon the officers just came and took him away."
Tadeusz Giczan, the current editor-in-chief of the opposition Telegram channel Protasevich co-founded, NEXTA, alleged on Twitter that agents from Belarus's KGB security service (it kept its Soviet-era name) were also on the flight. Protasevich had said in Telegram messages that a suspicious-looking person had taken photos of him at the airport in Athens. A senior adviser to Belarusian opposition leader Sviatlana Tsikhanouskaya tweeted that Belarusian state media had also reported at one point that the plane was ordered to divert because of a conflict between a passenger and a member of the crew.
Who is Roman Protasevich?
Protasevich, 26, is the co-founder and former editor-in-chief of the NEXTA Telegram channel, which is one of the most popular opposition media outlets in Belarus. NEXTA played an instrumental role in the mass protests that broke out against Belarus's strongman president Aleksandr Lukashenko last year, after he claimed victory in the country's disputed presidential election. Most of the independent media organizations in Belarus were forced to shut down as a result of the protests, but Telegram remained uncensored amid the crackdown. NEXTA's popularity and reach made its founders some of the regime in Belarus's most wanted, explains ABC News:
The outlet helped coordinate the largely leaderless demonstrations and published videos of them and police violence that helped catalyze the protests, which saw hundreds of thousands peacefully take to the streets calling for Lukashenko to step down. It and its sister channel NEXTA Live have close to 2 million subscribers.




Belarus' authorities placed Protasevich on a terrorism watchlist last year and have opened criminal cases against him on charges of organizing mass riots and inciting hatred, offenses that carry sentences of up to 12 to 15 years in prison. Belarus' opposition have said they fear he could now face the death penalty. NEXTA is based in Warsaw, Poland, where its offices are kept under police protection.
Protasevich has been living in exile in Lithuania for the last few years, but has still been active in the opposition movement. He had reportedly been in Greece this weekend attending an economic conference with Belarusian opposition leader Sviatlana Tsikhanouskaya. He was apparently traveling back to Lithuania on Sunday with his girlfriend, who had accompanied him on the trip.
NEXTA staff said they immediately revoked Protasevich's access to the channel on Sunday after the news of his arrest, so Belarus authorities would not have access to the channel's subscriber data.
On Monday, a video emerged of Protasevich in which he confessed to the charges against him and said he was being treated well in prison:
Seddon then added, "Protasevich's confession recalls the 'hostage video' the KGB forced Tsikhanouskaya to record before she left Belarus. She said they threatened to kill her husband, who's in prison, if she didn't. Can only imagine what they threatened Protasevich with."
European leaders and the U.S. are condemning the incident and calling for Protasevich's release
Belarus's actions on Sunday prompted immediate outrage and condemnation from numerous world leaders and diplomats.
Ursula von der Leyen, the president of the E.U.'s European Commission, warned that "the outrageous and illegal behavior of the regime in Belarus will have consequences." U.S. Secretary of State Antony Blinken said that the U.S. "strongly condemn[s] the Lukashenka regime's brazen and shocking act to divert a commercial flight and arrest a journalist. We demand an international investigation and are coordinating with our partners on next steps."
Lithuania, which, unlike Belarus, is a member of the E.U., described the plane as being "hijacked by military force," which represents an
"unprecedented attack against the international community." Prime Minister Gitanas Nauseda called for Belarus to release Protasevich, for E.U. airports to deny access to Belarusian aircraft, and for Belarusian airspace to be declared unsafe. On Monday, the Lithuanian government told airlines traveling to and from its airports to avoid Belarusian airspace and advises Lithuanians living in Belarus to leave the country.
Greece's foreign ministry called the incident a "state hijacking" as well.
"Not a single person who flies over Belarus can be sure of his safety," said Tsikhanouskaya, who has flown through the country's airspace — aboard Ryanair — while in exile.
The International Civil Aviation Organization, a U.N. agency which coordinates international aviation laws, said in a statement that it was "strongly concerned by the apparent forced landing of a Ryanair flight and its passengers, which could be in contravention of the Chicago Convention," the 1944 accord which established the principles and rules of airspace and international air travel.
In Russia, however, there has been some praise of how Lukashenka — who counts Russian president Vladimir Putin as his biggest international supporter — plucked one of his opponents from the sky, as the New York Times noted Sunday:
In Russia — where the state media described last year's uprising against Mr. Lukashenko as a Western plot — the arrest met with approval among Mr. Putin's supporters. Margarita Simonyan, editor of the pro-Kremlin RT television network, wrote on Twitter that Mr. Lukashenko "played it beautifully." And Vyacheslav Lysakov, a member of Parliament allied with Mr. Putin, described Mr. Protasevich's arrest as a "brilliant special operation."
Ryanair CEO calls forced landing "state-sponsored piracy"
Ryanair CEO Michael O'Leary accused Belarus of state-sponsored piracy in an interview with an Irish radio station on Monday, adding that Belarusian KGB agents may have been aboard the flight when it left Athens. "When the plane landed, either five or six people didn't reboard the plane before it took off again, but only one or two people were actually arrested, so that certainly would suggest that a number of the other people who left the plane were secret service," he said.
The low-budget Irish airline released a statement on Sunday night noting the safe arrival of Flight FR4978 in Vilnius, acknowledging the supposed security threat — noting "nothing untoward was found aboard the aircraft" — and apologizing to "all affected passengers." But the statement said nothing about a fighter plane or the fate of Protasevich and his companion:
Though it appears Ryanair is in communication with aviation authorities over the incident, the information missing from its statement did not go unnoticed and prompted criticism across social media.
Then again, if the Ryanair pilots were facing off against a MiG-29, it's not clear what choice they had in the matter.