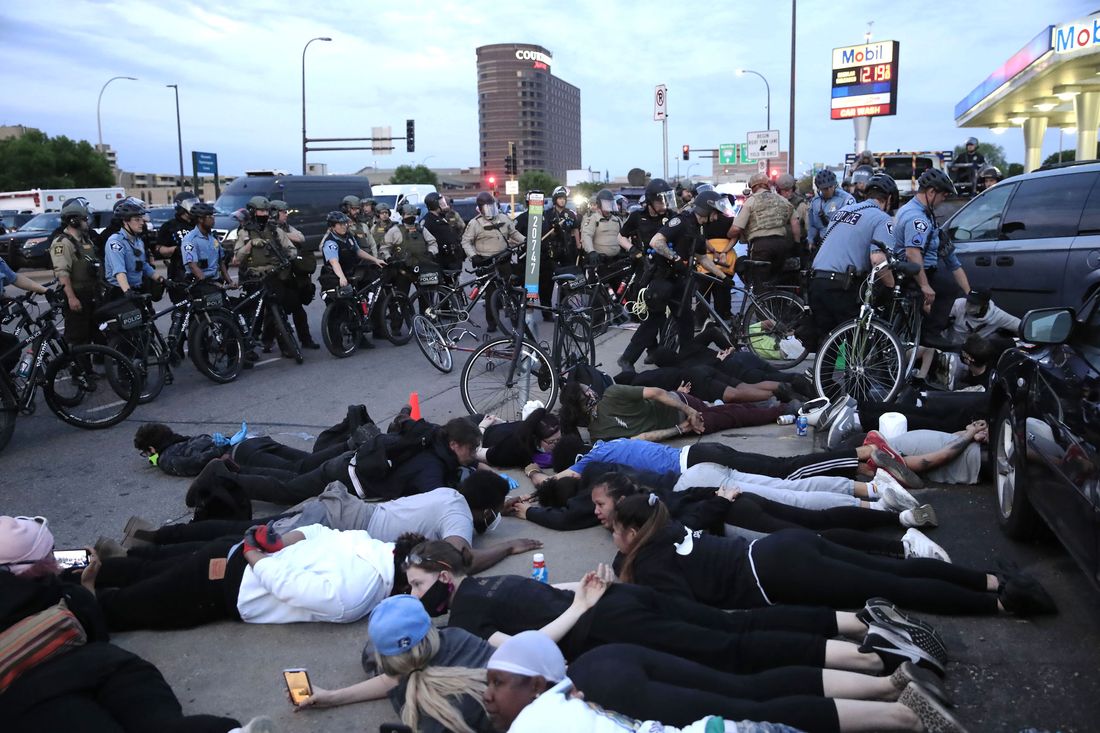 Protesters are arrested in Minneapolis on May 31, 2020.
Photo: TANNEN MAURY/EPA-EFE/Shutterstock/TANNEN MAURY/EPA-EFE/Shutterstoc
In the days following George Floyd's death, Americans watched as hundreds of protestors in Minneapolis got arrested by police. The Minnesota Freedom Fund, a small, mostly volunteer-based organization that pays bail to get low-income people out of jail, immediately noticed a spike in donations. Then, on May 30, Justin Timberlake tweeted about his contribution to the bail fund, which spurred other celebrities to begin matching each other's donations. Soon, social media was filled with people posting their contributions and encouraging their followers to do the same. By mid-June, the Minnesota Freedom Fund had received more than $30 million dollars in donations (before, the fund's monthly average was $16,000.). Mirella Ceja-Orozco and Elizer Darris, who now serve as the bail fund's executive co-directors, witnessed their cash-strapped operation suddenly strain with more money than it was set up to handle.
On the tight budget before George Floyd's murder:
Mirella Ceja-Orozco: I joined the board in December 2019. I was helping to pay bonds for detained immigrants. There were seven or eight of us volunteers along with one and a half paid staff members. We didn't have an office and met at a conference room at the University of Minnesota.
In the years leading up to 2020, we were working with about $150,000 to $200,000 of funding per year. Most of that came from donations, that averaged a few hundred dollars each, and grants. We had to be selective about who we could assist, and we had to regularly deny requests from lawyers to help get people out of jail or detention centers. We focused on misdemeanors because the amount was lower and our monthly budget for criminal bail was between $5,000 and $10,000. The limit for any individual was under $1,000.
Elizer Darris: At the time, I was working for the ACLU, and the Freedom Fund was pretty much the only place we could go for bond money in Minnesota. But most of the bills, even for misdemeanors, are dramatically higher than that. More like $4,000 to $5,000.
On the deluge:
Ceja-Orozco: The day after Floyd was murdered, I went to work. As an immigration lawyer, I was still required to be in court during COVID. I remember getting a bunch of emails from the Freedom Fund and thinking, This is weird. There's a lot of money coming in. It was about $200,000 or something — we had never seen that much at a time. Within 24 hours, I got a call from the board's president about an emergency meeting. I was out on the street distributing water and milk for protesters. She said, "We have about a million dollars."
We had to figure out what to do with the money and, at the same time, use spreadsheets to track the increase in bail requests during the protests. There was no physical space to meet — we were in a crisis, COVID was raging, and the city had imposed a curfew. I was sleeping maybe three or four hours a day.
A few days later, the 3rd Police Precinct burned down. We were hearing about people being shot with rubber bullets, and there were National Guard tanks everywhere. We started to see a massive increase in how many people were being arrested, though not necessarily detained. In some cases, they were just being dropped in the middle of nowhere on the other side of town. Certain board members focused on tracking down who was actually being held in custody, while others were going to the bank to pick up money because you have to pay bail in exact cash.
On the celebrity contributions:
Ceja-Orozco: At first, we couldn't understand why we were getting so many donations since we hadn't actually sought funds. We were fielding media requests — I had to do five or six interviews a day — and calls from the agents of celebrities who had donated and tagged us on social media. Justin Timberlake was the first big donor who tweeted about us. Then we just started getting so many calls saying, "Justin did it, so I'm going to donate." Steve Carell donated, and so did Seth Rogen. By Thursday, three days after Floyd's murder, we were up to $5 million, and it just wouldn't stop. None of us are finance people, and we didn't know how to deal with it. After two weeks, there was more than $30 million. Our PayPal crashed, and we had to call the company to get help. It was the first time we started seeing single donations in the thousands of dollars. People were learning about cash bail for the first time and asking, "Wait, is MFF new?" People didn't even know we had existed since 2016. And now, all of a sudden, we were in the spotlight, and this was all happening because someone had lost their life. That was a very hard emotion to deal with.
We worked with a small bank here, and they were like, "We don't really know what's happening." During the protests, we sometimes took out $10,000 to $100,000 in cash in one day, so we had to call ahead to make sure the bank wasn't busy. Safety was a worry since people were walking out with large wads of cash. We thought, Now we're for sure going to get audited by the IRS.
On the death threats:
Ceja-Orozco: Soon after the donations piled in, it became scary. We started being doxed and threatened for supposedly helping people who didn't deserve it or for being anti-American. Someone sent me an email and private message on Facebook saying, "Watch your back. We're coming to get you." Our addresses were being published on social media, and one board member had their porch light broken and their screen door busted. I believe they had children, and they left the board within a week or two of that happening. We had to tell our relatives and employers to look out for anything suspicious that arrived in the mail. I told my brother not to accept any random Facebook friends. I told my family that if they got an email from me that looked weird, don't open it. Along with thousands of emails to notify us of every donation, we were also getting spammed. In five minutes, I could get 10,000 emails, which would cause Gmail to crash. We didn't know the difference between a virus and a harmless message. We had to hire a security firm to help us with tracking all the malware — that cost $22,000. They put filters on our emails, installed security updates, and told us when the spam was actually malicious. It started to become apparent that we were no longer going to be the same organization and that a tiny nonprofit group couldn't function at this level.
On the criticism that followed:
Ceja-Orozco: After a few weeks, donations started to slow down. The National Guard had left Minneapolis, and the curfew had ended by mid-June. We tweeted that we had paid over $200,000 in bail and were working on doing more. Then came the scrutiny: "Why haven't you spent all this money?" We were a tiny organization dealing with a chaotic situation, which not everyone understood.
People thought we weren't moving fast enough. The issue was that there weren't as many people being held in jails, in large part because of COVID. The police were arresting protesters and dropping people off on the other side of town or bringing them to jails and releasing them after a few hours. But also we knew there would be much higher bails down the line once police identified key protesters using facial-recognition technology, social media, or GPS to arrest them months later. We knew Border Patrol and possibly ICE had come to Minnesota and were using drones and surveillance systems that could lead to big arrests. It would have been irresponsible for us to spend those millions right away, but people assumed we were hoarding the money; some even tweeted that we had bought yachts or whatever. It was frustrating, since we were just trying to be careful with this new level of responsibility. The Tucker Carlsons of the world then capitalized on those comments and targeted us. Trump came to Minnesota a few times to campaign and said we were bailing out harmful people.
On eventually scaling up:
Ceja-Orozco: After the protests, the average total monthly donations grew from $16,000 to $150,000. We had a new capacity to help people with more serious cases. During the summer, our budget for bail went from $10,000 monthly to $100,000 daily. Before, we had a $1,000 limit on individual bails; now, the highest single immigration bail we've been able to pay was $100,000 — the highest ever in the state. Since last May, we've spent about $19 million on criminal bail and immigrant bonds. We also contributed $4.5 million to the National Bail Fund Network, which is the umbrella organization for all bail funds.
On spreading the money around:
Ceja-Orozco: We started redirecting funds within a few weeks of Floyd's murder. We even removed the DONATE button from our website for a period of time.
Darris:  We've gotten more donations, particularly during protests over the killing of Daunte Wright. But we've been intentional about asking people to donate to our partners, who are sometimes overlooked.
On changes to the organization:
Ceja-Orozco: After being a volunteer board member for two years, I was hired as an executive co-director in March 2021 along with Eli. We inherited a staff of eight full-time members who had started over the summer and fall.
Darris:  The first person we brought in ourselves was a finance director; clearly, that person was needed. Some of the money has also gone toward expanding our office. We had rented one in the middle of the pandemic, but everyone was cramped in a teeny-tiny space. Now, we've gotten a larger space. The office and staffers cost less than a quarter of a million.
On scaling down spending:
Ceja-Orozco: In March, we reduced our bail cap to $100,000 a week — an amount we haven't maxed out, with the exception of the week Daunte Wright was murdered in April. So many cases have been postponed or rescheduled or the courts are still closed due to COVID. The money recirculates back to us when people show up to their court dates, but now it isn't coming back as quickly as one might expect.
Darris: After Mirella and I took over, we needed to get a handle on how the organization is run. That meant slowing our spending down and ordering an audit from an outside firm. If we didn't pause on spending, we would run out of money. We have to strengthen ourselves internally by hiring more people. Our ultimate goal is to end cash bail and put our own organization totally out of business.