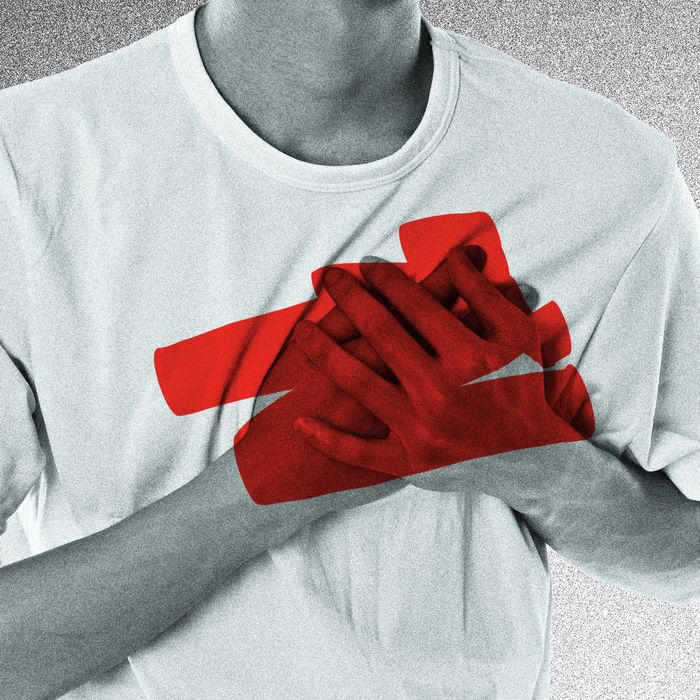 Photo-Illustration: by Intelligencer; Photo Getty Images
One Tuesday last month, I found myself strapped to a gurney on the windy tarmac of a small airport outside the mountain town of Mammoth Lakes, California, a standard-issue face mask concealing the oxygen tubes lodged in my nostrils and a hint of tightness in the center of my chest. A team of flight paramedics was preparing to put me in a small medical plane to fly me over Lake Tahoe to a hospital in Reno, Nevada. An IV was in my arm, and I was trying not to think about the fact that for the next 45 minutes or so, I wouldn't be able to request morphine from a nurse in case the chest pain flared up again. I did my best to make small talk, joking that this wasn't much of a vacation. One of the medics, upon finding out that I work for a magazine in New York, half-joked that at least now I had something to write about.
The trip was meant to be part of a tiptoe back into normalcy. The previous Thursday, April 15, I had received my second dose of the Moderna vaccine, and my initially mild sense of relief had calcified into the feeling that I was home free. (A quick Google search of "Can I drink alcohol after COVID vaccine?" suggested I wasn't alone.) My girlfriend, Ellie, and I had made plans to leave that coming Sunday for a two-week vacation to my parents' vacation home in Mammoth Lakes, where we planned to work remotely and hike in our free time. Even when the anticipated flulike symptoms of the second dose hit hard the following day, they felt like a small hurdle to clear at the end of a long year.
The side effects came and went, but I continued to have bouts of pain in which an inescapable tightness would emanate from the center of my chest, steadily building over the course of an hour or so before dissipating. When the tightness returned in the hours before our flight to California, I dismissed it as anxiety-related, and Ellie and I went ahead with our travel plans. We were an hour into the five-hour drive from LAX to Mammoth when the pain returned more intense than before. We pulled over to stop at an urgent-care clinic outside Los Angeles, where a nurse practitioner assured me that, at 26, I was likely too young to be having a heart attack. When my vitals registered as normal, we bullishly continued on our way up to the mountains and spent that first night in Mammoth feeling safe in the assumption that whatever was ailing me would resolve on its own over the course of our stay.
By six the next morning, I found myself writhing around in bed, fruitlessly searching for a position that might ease the suffering, at which point Ellie insisted I go to the emergency room. A born-and-raised New Yorker, she doesn't exactly describe herself as a confident driver, so I drove us, gripping the wheel with one hand and my chest with the other, all while trying to convince myself I wasn't having a heart attack. Upon admission to the ER, I explained my symptoms through clenched teeth, sweating on a cot in the stuffy facility as the doctors swiftly upgraded my pain medicine to fentanyl. As they ran tests including a chest X-ray and an echocardiogram, I couldn't help but wonder if the hospital was better equipped for handling mountain-biking injuries than whatever it was I was experiencing. There was no in-house cardiologist, but the attending doctor voluntarily stayed on for several hours after her shift ended to consult one based in Reno, who ruled out a heart attack before weighing the alternate possibilities of myocarditis (inflammation of the heart muscle) or coronary vasospasm (sudden constriction of coronary arteries). By this point, my visit had turned into an overnight stay, and Ellie had called for reinforcements in the form of my friend Austin, who drove overnight from L.A. to Mammoth.
When the hospital's head doctor gave the order to ship me to Reno the following morning, a team of EMTs loaded me onto an ambulance, drove me to the local airport, and flew me to Nevada. Reno promised a team of cardiologists to help determine my diagnosis, but it proved less than clarifying. The doctors scheduled me for an angiogram almost immediately and began prepping me for catheterization right after I arrived. Now alone (Ellie and Austin were still driving up from Mammoth), my anxiety compounded, and a nurse helpfully reminded me that I would only receive partial anesthesia for the procedure, meaning I'd be awake, if not exactly lucid. All of the big questions of the past day cycled through my head: Why was I in the hospital for a heart problem at 26? Why couldn't the doctors give me a clear answer as to what it was?
Over the course of my remaining 24 hours in the Reno hospital, I received conflicting answers on all of the above. Prior to my angiogram, the doctor overseeing the procedure said he intended to report my case to the FDA as a potential "adverse event" in response to the vaccine, adding that the timing of my ailment in proximity to the second dose was suspicious but that investigations would take some time. Meanwhile, another doctor dismissed the possibility outright, instead stressing the fact that I've smoked marijuana in the past without further elucidating that theory. Upholding their diagnosis of vasospasm, the doctors prescribed me a calcium channel blocker and nitroglycerin (to take as needed) and sent me on my way. After spending a night in a Reno hotel and winning $20 at the in-house casino on the single bet I placed, Ellie, Austin, and I drove to a friend's apartment in San Francisco, where I spent the next several days rife with paranoia, convinced that every occasional hint of chest pain would land me back in the hospital.
Eager to follow up with a cardiologist back in New York — and by now thoroughly convinced that the vacation was unsalvageable — we bumped our flight up. I managed to finagle an appointment the following week with a cardiologist, who reviewed my already-exhaustive testing and ordered a cardiac MRI, which helped him settle on the original diagnosis: myocarditis. "Interesting case," he said. "You usually don't want to be interesting."
Classified as a rare disease, myocarditis is unlike most cardiovascular conditions in that it often affects younger, healthier people, enlarging and weakening the heart by making it work harder to pump oxygen and blood through the body. It can prove fatal, though most cases resolve on their own without recurrence. While most cases of the disease are of unknown cause, it often results from viral infections — meaning I may have gotten it from a virus that went undetected, possibly even COVID-19. (To my knowledge, I never had COVID, and received semi-regular tests for it, including one upon admission to the ER.)
In recent months, a very small number of documented instances have emerged of patients — generally men under 30 — developing symptoms of myocarditis within 12 to 96 hours of receiving the second Moderna or Pfizer-BioNTech vaccines. (It should be noted that just because an adverse event occurs near the time of vaccination does not mean that it was caused by the vaccine.) When I first began to show symptoms, media outlets in the U.S. were still a month away from reporting that the CDC was investigating rare instances of myocarditis in vaccine recipients. Even as multiple doctors along the way told me the vaccine could not be ruled out as a potential cause, the possibility felt too far-fetched to consider and seemed likely to elicit charged responses from anyone who heard about my case. At one point, Ellie overheard a paramedic mention that "this is why" they had yet to get vaccinated.
In the past month, regulatory bodies around the globe have announced investigations into post-vaccine myocarditis, offering little in the way of definitive answers but confirming, at least, that I'm not alone in navigating this particular set of circumstances. Israel's health ministry said last month that 62 cases had been reported out of an estimated 5 million people vaccinated with a disproportionate number of those cases occurring in men ages 16 to 30. The CDC, in a sparsely detailed statement, said it is investigating "relatively few" cases. In an attempt to get a better idea of the overall number of cases in the U.S., I consulted the CDC's Vaccine Adverse Event Reporting System — an early-warning system used to track possible safety problems in vaccines. (The system's website clarifies that reports submitted to VAERS are voluntary, subject to biases, and "may contain information that is incomplete, inaccurate, coincidental, or unverifiable.") As of May 28, a search for "myocarditis" in COVID-vaccine recipients brought 255 results — one of them, presumably, being me.
I continue to have the occasional lingering chest pain, as can be expected with myocarditis, and have been told to avoid alcohol and strenuous activity for the foreseeable future. All signs point to a full recovery, but every step forward feels tentative — a spike in chest pain this past week alarmed me enough to schedule a last-minute visit to my cardiologist. A follow-up MRI later this summer should provide more clarity on the timeline of my recovery, even if the cause of my condition remains unknown.