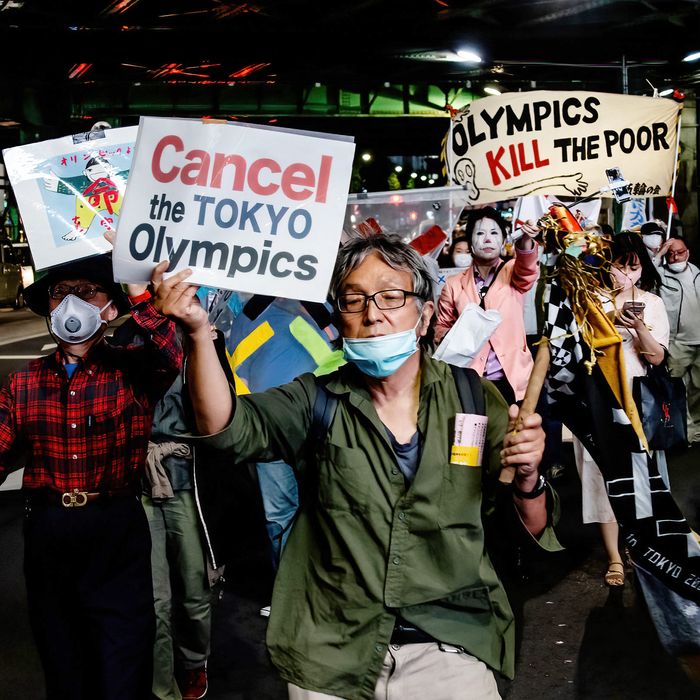 Photo: Viola KamSOPA Images/LightRocket via Getty Images
As Japan battles a surge in COVID-19 infections, the prospect of holding the Tokyo Olympics looks shakier.
With hospitals maxed out and daily case rates topping about 6,000, Tokyo has issued a state of emergency order, keeping strict COVID-19 restrictions that will last through at least the end of May. On Wednesday, Tokyo's governor asked for an extension of the state of emergency. The Wall Street Journal reports that this period could last until June 20 — just 33 days before the Olympic opening ceremony on July 23. Last week, a Japanese association of 6,000 medical practitioners called for authorities to press the International Olympic Committee to cancel the games, saying hospitals "have their hands full and have almost no spare capacity." Meanwhile, Japan has been slow to roll out vaccines compared to other developed countries, with only about 4 percent of its population immunized, according to Reuters. And the United States issued its most serious level of travel guidance on Monday, advising Americans not to fly to Japan.
Public opinion remains strongly opposed to going ahead with the event, which was originally slated for last year, but postponed because of the pandemic. Three separate polls by Japanese news organizations in the past few weeks found that between 60 and 70 percent of the population favor cancellation. The last time the Summer Olympics weren't held was in 1944, during World War II.
Asahi Shimbun, one of Japan's major newspapers and a sponsor of the games, called for them to be scrapped. Tennis stars Naomi Osaka and Roger Federer have voiced concerns about holding the event, and French cyclist Julian Alaphilippe has decided to skip them.
Still, the IOC and Tokyo 2020 organizing committee aren't budging: They've repeatedly said that the games will take place in July, with what they deem appropriate COVID measures in place. "Everything is telling us that the Games can go ahead and will go ahead," IOC spokesman Mark Adams said last week. (The New England Journal of Medicine on Tuesday released a paper questioning the effectiveness of those measures, concluding that the decision "to proceed with the Olympic Games is not informed by the best scientific evidence.")
With years of expensive planning and billions of television dollars at stake, Olympic organizers have a lot to lose. When Japan won the bid to hold the event in 2013, the price tag was $7.5 billion. Now, the games have become the most expensive on record, costing the country more than $25 billion — several billion of which can be attributed to last year's delay. According to the Associated Press, the IOC can hardly afford to lose the games: It earns at least 73 percent of its income — $4 billion in a four-year Olympic cycle — from selling rights to broadcast the games.