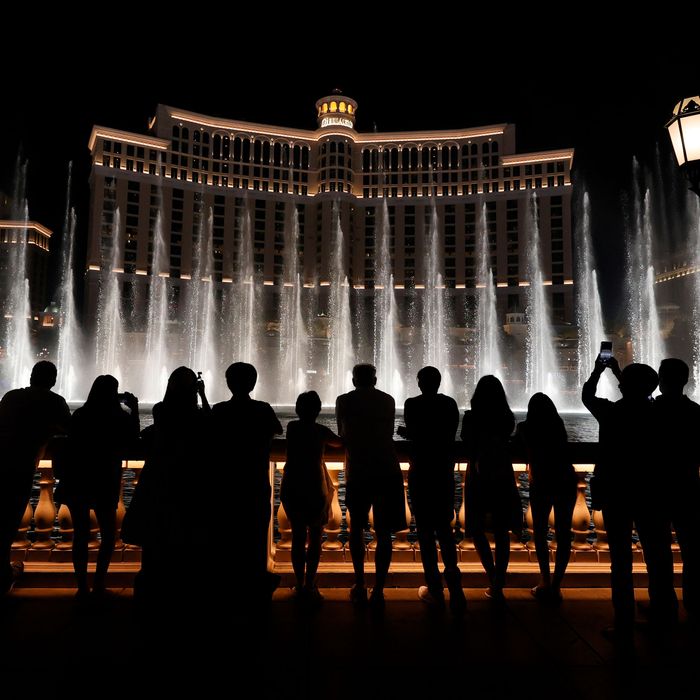 Photo: Ethan Miller/Getty Images
On a recent Friday night in Las Vegas, I made the mistake of going out on the Strip at 11:30 p.m., thinking I could quickly grab a bite and get back up to my hotel room. The streets were jam-packed with drunk people looking to have a good time and/or get more drunk. Upward of 30 people lined up outside a shop selling daiquiris in those three-foot-tall plastic cups shaped like the Space Needle but upside down. A courtyard had the same sort of aggressive costumed characters (a Batman, a Joker, a Mario, multiple Transformers) you'd find in Times Square. A piano bar where everyone was inexplicably chanting "USA! USA!" Sixteen months ago, casinos and all other nonessential business in Las Vegas had been shut down, but now, Sin City is back in full swing.
Even though there are still thousands of people contracting the coronavirus every day, the pandemic is over in the minds of many Americans. We (well, not me) are back to old levels of partying and mayhem. And maybe that's okay? After so long indoors, there's nothing wrong with letting loose like it's 2019, as long as you're vaccinated, of course. But it was jarring to see. The last year and a half has conditioned me to be a little afraid every time I go outside. Readjusting to "normalcy" is about more than getting vaccinated or even going on vacation to the partying capital of the United States. It's about learning to once again feel safe in a sea of strangers.
In the back of one of the Strip's seedier casinos, I found the only place selling food without an unacceptably long line, a stand hocking a footlong hot dog for $2.49, and then went back out into the madness, moving slowly in the horde of what felt like millions of people with a silent desperation, fantasizing about being back in my quiet room at the Venetian. I finally made it back, and walked across the casino floor, looking for the elevators. I have been to many casinos in my life, and I have learned that, as a rule, they are laid out in the most confusing possible way. The Venetian takes the cake. It is the size of a Midwest airport and is connected to multiple shopping malls and another hotel, the Palazzo. In order to get from the lobby to my room, I had to take one elevator to the tenth floor, then turn and walk down a long corridor to a different elevator, in a process that, depending on the flow of traffic, could take upward of ten minutes.
I walked past a crew of security guards, one of them pushing a wheelchair with a woman in an orange mini-dress who was passed out drunk, her chin touching her chest, and hands folded in her lap. Everyone else, however, looked like they were having a blast. There were men sporting dapper blazers and women wearing tight mini-dresses or bodysuits with creatively positioned cut-outs and sparkly six-inch heels. I felt very short (despite being a tall woman) and even more underdressed, wearing my lockdown uniform of black sweatpants and a Nine Inch Nails shirt. No one, except for hotel employees, was wearing a mask.
Many people would have found the hustle and bustle of the Strip on a weekend night thrilling, especially after having been cooped up for so long. But I don't drink, I don't do drugs, I don't party, and I'm not a big-time gambler. So why did I come to Las Vegas at all? Well, I moved to Reno nine months ago, and I thought I needed to have a full-on Vegas experience in order to become a real Nevadan. I was curious about this place that occupies a sizable chunk of the American imagination, a place I hadn't been to since I was a small child, in a simpler time, when you didn't have to stand with your arms above your head in a human-size microwave in order to fly on an airplane to get there. I'm also a rare breed of native New Yorker who loves the disgusting consumerism of Times Square, so I thought I might enjoy the chaos.
Despite repeating "Las Vegas is hell" many times on that first night on the Strip, I soon began to appreciate all it had to offer. On Saturday night, I saw Gregory Popovich's Comedy Pet Theater, which was about an hour of "Stupid Pet Tricks" led by a Ukrainian clown: Popovich and his dogs dressed up as firefighters saving cats from a burning building, a cat riding a dog riding a pony, and unbelievably well-trained cats jumping through hoops and walking on a ball balanced on a tightrope. On Sunday, I went to see the Las Vegas Aces, a WNBA team, annihilate the Indiana Fever. In both places, the crowd was full of enthusiastic children shouting and laughing, which was nice and something I hadn't been around in a long time.
By Monday morning, I was walking through the Venetian like an old pro, no longer getting lost or feeling bitter about the time it took to get from the lobby to my room. I approached one of the many European fountains, a security guard asked if I wanted a picture with my boyfriend in front of the gaudy marble display. "Do you have kids?" he asked. I told him no. "Well, if you decide to have kids, they'll be beautiful. You're a beautiful couple." He looked at my boyfriend, "And I'm not gay by the way." My first bizarre stranger interaction in over a year! I had missed getting to see other people's quirks like this.
It was our last night, and I couldn't put it off for any longer: The time had come for me to gamble. What I mainly look for in a slot machine is a good brand tie-in. If I'm going to let a machine rapidly eat up my money, it better offer me some valuable intellectual property to enjoy while doing it. The Jeopardy! machine was out of order (pathetic) and the Blake Shelton one was in use (not fair). I spent a few bucks at the Live and Let Die machine, but quickly decided that I didn't want to waste my money while thinking about one of the most mediocre James Bond films. Then I finally found a franchise slot machine that I'd happily give all my money to — Mad Max: Fury Road. I pressed the button again and again, contently watching images of post-apocalyptic Tom Hardy and Charlize Theron fall into place. I somehow came out a few dollars ahead, and closed out the night at the roulette tables, winning another $25.
I'd be lying to you if I said that the best part of the trip was the zany animal circus or the Mad Max slots. Going to Las Vegas, a fun place that can also be pretty unpleasant, reminded me of the best part of taking a vacation, something I didn't even realize I missed: watching cable television in my hotel room. I watch my fair share of TV at home, of course, but there's nothing like getting to temporarily do it in a new location. I don't feel guilty about wasting my time doing absolutely nothing because I'm on vacation. The whole point is that I can do whatever I want. I assumed that I would've spent the whole time outside, taking in all the strange sights and unfamiliar people I had so thoroughly missed during a year of isolation. And it's not like I totally secluded myself during the trip, but I was surprised how content I was to lie in bed in my hotel room and watch hours of Diners, Drive-ins and Dives. I was totally overwhelmed by the crowds of people; I think readjusting will take more than just one vacation or the security of knowing I'm fully vaccinated. I have to reintroduce myself to the world in little sips, not one big gulp. By the time I got to the airport on Tuesday morning, I was ready to leave. That's the other great thing about going on vacation: It makes you happy to be home.