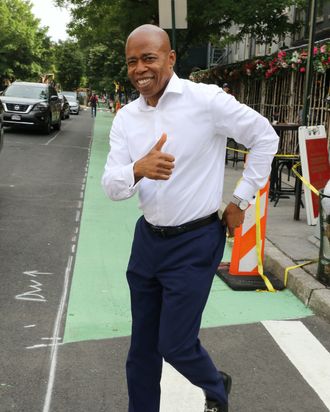 A candidate on the go.
Photo: GC Images
With less than two weeks until the primary election for mayor, Eric Adams finds himself facing a question that is not a scandal but is definitely strange: Where does he live?
At the beginning of the pandemic, the Brooklyn borough president garnered attention for moving into his Borough Hall office, putting a mattress on the ground, and using his desk as a headboard — all meant to convey how hard he was working during the grim depths of COVID. Since then it's been unclear where he's been staying, according to a Politico story published Tuesday night that hit like a bizarre bombshell and resulted in Adams giving the press a tour of what he says is his home to reporters.
Politico reports it is clear that Adams is still "keeping late-night and early-morning hours in the government building where he and his staff work," according to the report. But outside of Borough Hall, there's conflicting evidence about where he has been living. Last summer, Adams gave a political contribution to a Staten Island assemblymember and listed the co-op he owns in Prospect Heights as his residence, though someone else was living in the unit at the time. And while Adams's campaign adviser said he has lived in a building he owns on Lafayette Avenue in Bedford-Stuyvesant for close to a decade, there is some confusion over that, too:
For starters, Adams is registered to vote on the first floor of 936 Lafayette Ave., yet a tenant who has lived there for years is listed under the same unit in multiple documents obtained by POLITICO. And last month, the publication City Limits reported that most of Adams's neighbors did not know he lived on their block or that he is running for mayor.




To further confuse matters, Adams's voter registration form shows a change of address in January — the day after a Daily News article questioned why the Bed-Stuy property was not registered with the city's housing agency as required. Thies said the change was a clerical update to a previous address and that Adams has been registered to vote in Bed-Stuy since 2017. He added that the property has been registered with the city, though the agency's website still indicates it has not.




He also said Adams lives in the basement apartment but rarely sleeps there due to his hectic schedule as an elected official and a mayoral candidate. The confusion over who occupies the first floor likely stems from a recent renovation that led to a change in the unit numbers, Thies said.
Although Adams has had tenants in his Bed-Stuy building for years, he failed to report the rental income in 2017, 2018, and 2019, as Politico revealed in April. The candidate and his partner also own a co-op across the Hudson in Fort Lee, New Jersey, though his campaign claims that he's too busy to stay there and that he and his partner meet in the city.
The irony of Adams's residence possibly being outside of the city was not lost on his primary rival, Andrew Yang, whom Adams viciously attacked as a wannabe New Yorker for spending part of the pandemic upstate.
At first, Adams didn't appear to be too stressed about the report, tweeting on Tuesday night: "You know it's silly season when your opponents are staking out your office late at night so they can attack you for working hard!"
On Wednesday, though, Adams took the story more seriously, giving local media a tour of the inside of his Brooklyn brownstone, showing off the "modest" kitchen, "modest" bathroom, and his bedroom.
When Adams, a vegan, gave a peek inside a fridge containing non-vegan products, he chalked it up to the food belonging to his son. (That set off a Twitter conspiracy that it was proof Adams didn't live there.)
Speaking outside, Adams said that he keeps his life private in part because of a threatening incident that occurred not long after the birth of his son. "Must've been home from the hospital about two days. Someone pulled up next to my car, called my name and I looked to the left and I saw an automatic weapon," Adams said through tears, as reported by NY1. "They let off a shot. Instead of hitting me, it shot out my back windows."
The drama continued into Wednesday night, when Adams said he would release his E-Zpass records "right away," suggesting his toll record would prove he isn't traveling to New Jersey frequently." He added that Andrew Yang can visit Borough Hall on Thursday to come take a look at them.